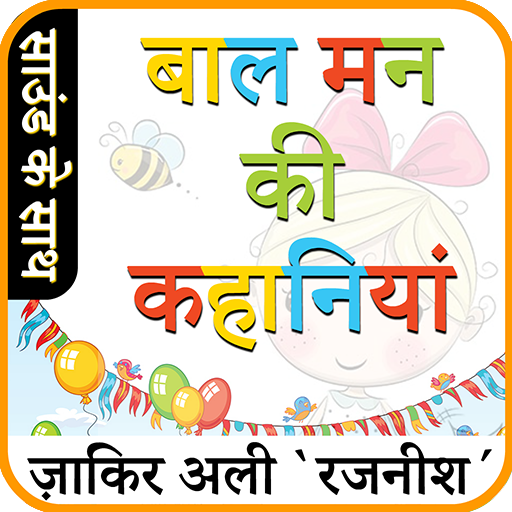 "बाल मन की कहानियां - Stories of childhood"
Free
Offers in-app purchases
Description
'बाल मन की कहानियां' एक बाल कहानी संग्रह ऐप है। इस ऐप में 20 रोचक कहानियां संग्रहीत हैं। 
सभी पृष्ठों के लिए ध्वनि जोड़ी गई है। उपयोगकर्ता पृष्ठ ध्वनि सुनने के लिए शीर्ष प्ले बटन का उपयोग कर सकते हैं या अलग-अलग पैराग्राफ पर क्लिक कर सकते हैं।

इन कहानियों के लेखक डॉ. ज़ाकिर अली 'रजनीश' हैं। आपकी 60 से अधिक पुस्तकें प्रकाशित हो चुकी हैं। 
www.scientificworld.in और www.techgape.com आपके लोकप्रिय ब्लॉग हैं। डॉ. रजनीश को अब तक रेडियो डॉयचे वेले, जर्मनी एवं राष्ट्रीय विज्ञान संचार पुरस्कार, भारत सरकार सहित तीन दर्जन से अधिक पुरस्कार प्राप्त हो चुके हैं। आप डॉ. ज़ाकिर अली 'रजनीश' का विस्तृत परिचय www.zakirali.in पर देख सकते हैं।

जया चौधरी की आवाज में सभी कहानियों को आप सुन भी सकते है।
जया चौधरी को आप उनको ईमेल jayachaudhary03@gmail.com पर सम्पर्क कर सकते है। 

Stories of childhood is a children story collection. In this application, 20 interesting children stories are included. 

Dr. Zakir Ali 'Rajneesh' is the author of these stories. He has more than 60 books published. www.scientificworld.in and www.techgape.com are his famous blogs. He has been honoured by Radio Deutsche Welle, Germany and National Science Communication Award, Govt. of India encluding three dozen prizes. You can read more about him at www.zakirali.in

You can listen all story in voice of Jaya Chaudhary. To contact her send a mail at jayachaudhary03@gmail.com
Permissions required
The following permissions are required to use this app.
Telephone

make and manage phone calls
Storage

access photos, media and files on your device
OVERVIEW
Version
2.0.1 (2019.05.08)
Age restriction
For all ages
Expiration
No expiration date