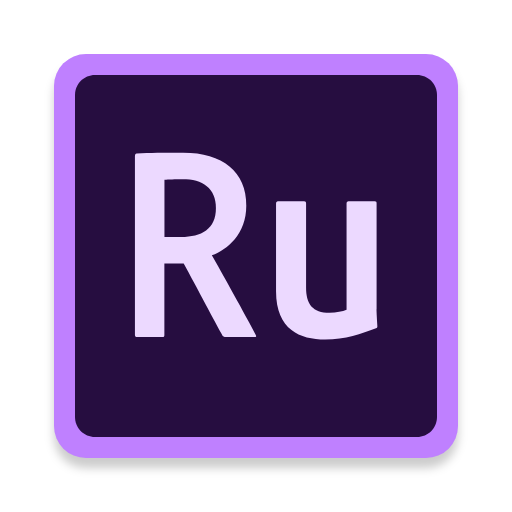 Adobe Premiere Rush for Samsung -  Video Editor
Free
Offers in-app purchases
What's New
Performance and Stability improvement
Description
Shoot, edit, and share online videos anywhere.
Feed your channels a steady stream of awesome with Adobe Premiere Rush, the all-in-one app for creating and sharing online videos — quickly and easily. Powerful tools let you create and edit videos that look and sound professional and just the way you want. Share to your favorite social sites right from the app. And work across all your devices — phone, tablet, and desktop. Use it free as long as you want with a limit of three exports, or upgrade for unlimited sharing.

PRO-QUALITY VIDEO
Built-in camera functionality lets you capture pro-quality videos right from the app and start editing immediately.

EASY EDITING
Arrange video, audio, graphics, and photos by dragging and dropping. Intuitive tools let you trim clips, adjust audio, enhance color, and add video effects, titles, transitions, voiceovers, and more. 

MULTITRACK TIMELINE
Edit videos using four video and three audio tracks for tons of creative flexibility. 

CUSTOMIZE TITLES 
Access built-in templates (some animated) and change the color, size, font, and more to make them uniquely you. Browse 100 more free motion graphics templates on Adobe Stock.

GREAT SOUND
Add music, record voiceovers, and use advanced tools powered by Adobe Sensei artificial intelligence for sound balancing, noise reduction, and auto-ducking. 

MADE FOR SHARING
Easily resize videos from landscape to portrait to square for different channels. Add a thumbnail, schedule your post, and publish to multiple places like Instagram, Facebook, and YouTube right from the app. 

AUTOMATICALLY SYNCED TO THE CLOUD
Your latest video edits are always at your fingertips, no matter where you are or what device you're using — phone, tablet, or desktop.  

TAKE YOUR WORK FURTHER
When you want to do more, open your Rush projects in Adobe Premiere Pro, the industry-leading software for professional video and film editing. 

UPGRADE TO PAID
Get unlimited exports, Premiere Rush on all your devices (phone, tablet, and desktop), and 100GB of cloud storage for just US$9.99/mo (optional in-app purchase) or with select Adobe Creative Cloud membership plans.*

*Rush is included as part of the following Creative Cloud memberships: Premiere Pro Single App and Creative Cloud All Apps. 

SUPPORTED DEVICES
Premiere Rush currently supports the following phones running Android 9.0 or later:
 
• Samsung Galaxy S10/S10+, S9/S9+, Note9, S8/S8+, Note8, S10e, A50, A70

• Google Pixel 3/3 XL, 2/2 XL

• OnePlus 6, 6T
 
If your device isn't listed, please know that expanding device support is a top priority for Adobe. We are working hard to add additional support over the coming months.
 
To help us prioritize which devices to support next, please respond to this one-question survey: adobe.ly/rushdevicepoll

Questions? 
•	Learn & Support: https://helpx.adobe.com/support/rush.html


The Fine Print 
You must be 13 or older and agree to Adobe's terms and privacy policy, viewable at: http://www.adobe.com/special/misc/terms.html 
http://www.adobe.com/privacy/policy-linkfree.html 

Use of Adobe mobile apps and online services requires registration for a free Adobe ID as part of a free, basic level of Creative Cloud membership. Adobe online services require an internet connection, are not available in all countries or languages, and may be subject to change or discontinuation without notice..
Permissions required
The following permissions are required to use this app.
Storageaccess photos, media and files on your device
Cameratake pictures and record video
OVERVIEW
Version1.2.15.3173 (2019.11.11)
Size168.34 MB
Age restriction For all ages
ExpirationNo expiration date
Seller info
Seller : Adobe Inc
Corporate/rep. name : Adobe Systems Inc/Hisa Naito
View details
qtjo**
I'm in Japan and I've tried 3 different mobile apps to edit my videos on the go, so far this is the best one. Maybe it's because I have some experience with using premiere but this has 90% of the functions I need. I can even edit my 120-240 fps footage to make things slow-mo flawlessly. There are some things that I feel could be added, such as being able to control the dB in audio using the time line (such as putting key frames), and I hope this gets added in the future. Otherwise, keep updating this Adobe! You're doing a good job so far. (I. Using the note 10+)
00jo**
When I preordered my phone I was under the impression that everyone who preordered was supposed to get this for free, I will be more than happy to change my rating if you can either show me that I'm wrong or show me how to get it for free
josu**
Will this app eventually let us upload 1080 or higher when it comes to IG or FB ? For fb all I get is 720 and for IG I think I get lower.
digm**
So I'm not a video editor, but we'll give her a whirl. Love it so far, on just a s9 galaxy till I upgrade my phone for note10plus so I have more storage for video that I edit. I'm still a noob so anyway like it so far and creative cloud is neat too
gium**
Awesome, except that you have to upgrade to get unlimited exports.
myia**
I like so far! More functions needed, but loving it.
star**
I had no issues with editing and the app was able to handle large videos to cut. Maybe I didn't see it, but it should have Twitter for sites to instantly share to.
dood**
Was an awsome app but for the last two weeks it is sooo sluggish i have a note 9 up to date on software im not sure what happmed but it takes 10 seconds to load a clip and another 10 to trim it i edit videos and post onve a week this is a huge time waster for me
robe**
Missing speed setting for tab s6. There is simply no option for it, but there is on my galaxy phone. Seems to be a UI bug.
josf**
Not all videos are shown when browsing in directory that files are stored. Also some pics show as upside down. When I look in the gallery all videos & pics are there right side up. I've uninstalled and reinstalled the app with no luck .
h.em**
scam