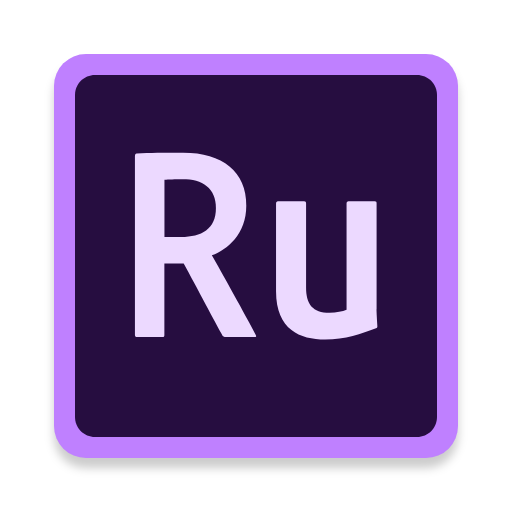 Adobe Premiere Rush for Samsung -  Video Editor
Free
Offers in-app purchases
What's New
Want to share your videos on Instagram and Facebook? Now you can automatically resize your projects to 4:5 aspect ratio. Once aspect ratio is selected, media will automatically be resized to fill the frame.
Description
Shoot, edit, and share online videos anywhere. 

Feed your channels a steady stream of awesome with Adobe Premiere Rush, the all-in-one, cross-device video editor. Create and share professional-looking videos with video effects, such as speed and filters — quickly and easily.  Plus, work across all your devices—phone, tablet, and desktop.

The professional in-app camera lets you capture high-quality content and start editing immediately. Add music and titles to videos for free, use auto-ducking, do voiceovers, and apply video effects to clips within your multitrack timeline with the video editor recommended by influencers, vloggers, and pros. Crop the video screen size to customize and share to your favorite social sites, including YouTube, Facebook, Instagram and Behance, right from the app. Use for free with three exports, or upgrade for unlimited sharing.

PRO-QUALITY VIDEO EDITOR
Built-in professional camera functionality lets you capture high-quality content right from the app and start video editing with no watermarks immediately. 

EASY EDITING
Arrange video, audio, graphics, and photos by dragging and dropping. Intuitive tools let you trim and crop videos, adjust audio, enhance color, and add video effects, titles, transitions, voiceovers, and more. 

MULTITRACK TIMELINE
Edit videos using four video and three audio tracks for tons of creative flexibility. 

CUSTOMIZE TITLES
Access built-in templates 

(some animated) and change the color, size, font, and more to make them uniquely yours. Browse 100s more free motion graphics templates on Adobe 

Stock and add to videos with no watermark. 

GREAT SOUND
Add music to video, record voiceovers, and use advanced tools powered by Adobe Sensei artificial intelligence for sound balancing, noise reduction, and auto-ducking. 

MADE FOR SHARING
Crop videos for social, including Instagram, and YouTube. Easily resize videos from landscape to portrait to square for different channels. Rush also allows you to select a thumbnail and publish to multiple social sites right from the app. 

AUTOMATICALLY SYNCED TO THE CLOUD 
Your latest videos are always at your fingertips, no matter where you are or what device you're using — phone, tablet, or desktop. 

TAKE YOUR WORK FURTHER
When you want to do more, open your Rush projects in Adobe Premiere Pro, the industry-leading software for professional film and video editing. 

UPGRADE TO PAID
Get unlimited exports, Premiere Rush on all your devices 

(phone, tablet, and desktop), and 100GB of cloud storage for just 

US$9.99/mo (optional in-app purchase) or with select Adobe Creative Cloud 

membership plans.* *Rush is included as part of the following Creative 

Cloud memberships: Premiere Pro Single App and Creative Cloud All Apps. 

Questions?

Learn & Support: https://helpx.adobe.com/support/rush.html 

The Fine Print

You must be 13 or older and agree to Adobe's terms and privacy policy, 

viewable at: http://www.adobe.com/special/misc/terms.html 

http://www.adobe.com/privacy/policy-linkfree.html

Use of Adobe mobile apps 

and online services requires registration for a free Adobe ID as part of a 

free, basic level of Creative Cloud membership. Adobe online services 

require an internet connection, are not available in all countries or 

languages, and may be subject to change or discontinuation without notice.

Shoot and edit videos easier than ever with Premiere Rush, the all-in-one, cross-device video editor app. Add custom titles, apply video effects—such as color filters and speed—and quickly crop videos and resize them to share on your favorite social media sites. Download Rush and get started today with what will easily become one of your favorite video editing apps.
Permissions required
The following permissions are required to use this app.
Storageaccess photos, media and files on your device
Cameratake pictures and record video
OVERVIEW
Version1.5.12.3363 (2020.05.12)
Size146.95 MB
Age restriction For all ages
ExpirationNo expiration date
Seller info
Seller : Adobe Inc
Corporate/rep. name : Adobe Systems Inc/Hisa Naito
View details
dami**
Teeth
jreb**
Keeps crashing on samsung s20 ultra... wtf!
tpha**
Nice
kurd**
Not user friendly. Its only free for 3 videos which i think is very misleading. Don't waste your time Adobe tries to milk you for everything nowadays.
bjth**
.
jake**
Every app on my phone runs flawlessly EXCEPT for this one. Consistently awful performance, and I'm using this on what is currently the most powerful smartphone hardware on the planet. (Samsung Galaxy S20 Ultra with 512 GB / 16 GB RAM) Rush for Samsung's bugs greatly outnumber its features. It also lacks many basic features found in many other cheap mobile video apps. It doesn't appear to be compatible with many common video formats and codexes (imported 10-bit 4k .mov clips from DSLR cameras never appear when imported, despite these formats working without issue in every other mobile video editing app I've tried so far). Maximum export bitrates are unacceptably low and greatly diminish video quality to the point of making the Rush app pretty much totally useless for anything video-related.
jona**
asks for payment to export video with limited free exports (i understand it needs to be monitized) navigation is terrible it is extremely difficult to scrub, add length or move clips without messing it up. WORST OF ALL IS THE BORDERS YOU GET AT THE END AFTER EXPORTING
marc**
I cannot edit the text of a title. Fix this bug please. I enjoyed using this app, but I cant use it anymore
that**
Made a few videos with this, worked great. Made a 10 minute one with lots of edits and now it wont export it's even after update.
fros**
I already have to pay for my other Adobe subscriptions... why do I have to pay extra for a subscription in order to export my projects on this app when it was advertised as free with the Samsung Galaxy s10 line of phones.