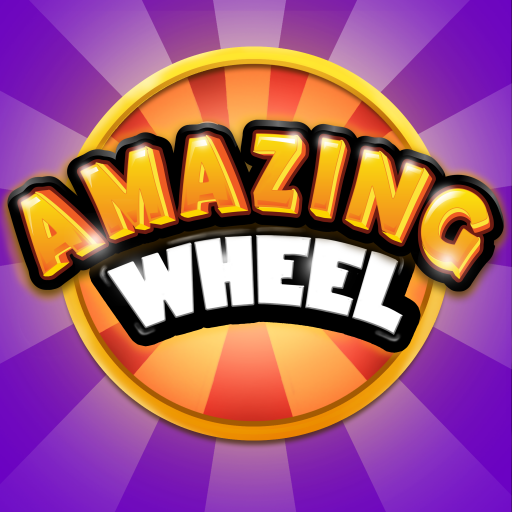 Amazing Wheel - Word & Phrase
Free
Offers in-app purchases
Description
DISCLAIMER: Amazing Wheel has no endorsement from, no relationship with, and is not affiliated with the official "Wheel of Fortune" game or TV Show.
One of the very BEST Word Game and Trivia Game Ever! Polish your quizzes solving skill and solve endless word & phrase puzzles with Amazing Wheel to win millions of coins as similar to the America's No.1 Game show.

SPIN ! SPIN ! SPIN ! It's so Simple yet enjoyable perfect game play that bring fun to you and your love ones. Share the joy with your family members and play together to earn coins and happiness. Train 

Amazing Wheel - Word and Phrase is an addictive and fun quiz game for words and phrases with 25 categories of your choice for free. Challenge your word puzzles solving skills in the WHEEL CHALLENGE by defecting super stars like Hawking, S.Job, Einstein, Warren, Bill, Assimo, Jack, Opprah, Oppa, Jacky, S.R.Khan, Angelina, Paris, David, etc. in our bronzy, silvery, golden, crystal & diamond wheels. Amazing Wheel is the right one for you to challenge your intelligence, wisdom, enhance word skills, train and crack your brain power.

This game is based on spinning a wheel to guess letters, fill up the puzzle and earn a little fortune in virtual coin for free. You can spin on the wheel to get the right sequence of letter so that you can gain a small fortune in virtual coin. Try your luck to collect protective shields and avoid hitting the bust slide. Come and test your brain power trainer and have fun and joy. You may play individually, with your love ones or with your friends. You can expect joyful, fun bonding time with your family, kids, friends, colleagues. It is also suitable for ice breaking or team building session too!

Amazing wheel - Word and Phrase is designed with nice graphics in school environment and supports various categories. To start the game you spin around the wheel to get hold of a fortune with virtual money in coins. You gain revenue in coin after solving the word or phrase quiz with the wheel and to accumulate them in your own virtual wallet.

You can unlock more category to widen your choice of words and phrase to make your wheel game more interesting and challenging. And your will definitely get your word vocabulary polished over the time.

Tips to play the wheel game with fun and having the joy of having a virtual fortune :-
- Make use of the vowel to help your to start
- maximize the 20 seconds time allocation to guess your character or letter
- You may take the risk not to solve the quiz by spinning more letter to gain more coin

A total 25 categories of fortune in this wheel game there are words & phrases related to:
Animal, Fruit, Stationary, Food, ICT, Occupation, Country, Plant, Anime, Sport, Person, Brand, Household products, Fashion, Science, Festival, Movie, Phrase, Song, Game, Book, Event, Jotting, Landmark, Historian.

Suitable for all ages! Even if you have solved the word or phrase for a particular category in the wheel quiz. You can replay any unlocked category anytime to train your memory and brain power. Amazing Wheel is a fun word game that's easy to pick up, easy to master, and impossible to put down. Download the Amazing Wheel - Word and Phrase game apps now for free & unlimited joy!
Permissions required
The following permissions are required to use this app.
Telephonemake and manage phone calls
Storageaccess photos, media and files on your device
OVERVIEW
Version3.8 (2017.07.22)
Size41.88 MB
Age restriction For all ages
ExpirationNo expiration date
rcat**
Hii my name is samantha
debk**
FIRST AND LAST SAMSUNG APP I'LL EVER TRY. DISGUSTING WASTE OF TIME. .INSTALLED AND FROZE ..WON'T LET YOU CHOOSE CATEGORY TO EVEN START.
3184**
I wood say it is very good. $ &! &
alex**
Thiss fucken thing wontt let me install itt ahhhhh help
elan**
Well , and I have a good time . I'm
tcha**
Don't dalond this ap
jgwj**
Doesn't compare with the show.
shae**
This game it horrible. I can almost bet money that these comments are from spam bots. Could be a lot better if the answers weren't so weird
skyl**
Cool
emma**
Cool app, you should down load it. It's actually kinda addicting!
laja**
This is great
aunj**
Its Cool ! Samsung Phones are iffuy but the tablet cool