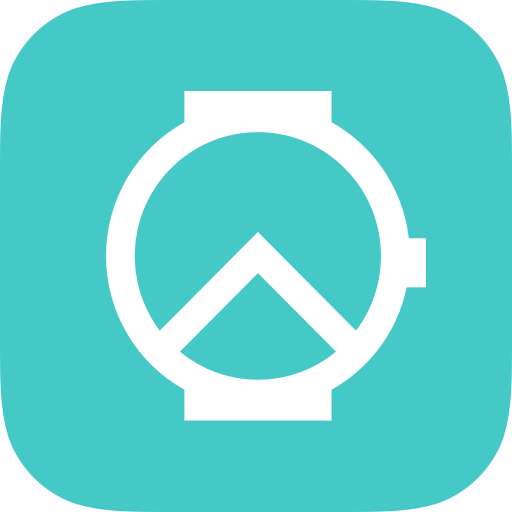 MR.TIME - FREE Watch Face Maker
$0.00
Offers in-app purchases
What's New
- Bugs and performance improvements

If you have any questions, please contact us by the following email :)
(mrtimemaker@apposter.com)
Description
The must-have wearable smart watch app has changed its name from MR.TIME MAKER to 'MR.TIME'.
MR.TIME app is supported by the various smart watch devices of Android Wear and Samsung Gear (Tizen).
Check out our variety of watch designs!
MR.TIME is a free service that can custom design various functional analogue, digital watch and several pictures as GIF moving watch faces.
Design the world's only watch faces, and watch over 400,000 fabulous watch faces made by tens of thousands of users.

[Use tips for Galaxy Wearable users]
1) Download "MR.TIME" app from Google Play Store
2) Connect your Galaxy Wearable with your smartphone through "Samsung Galaxy Wearable" app
3) Make sure bluetooth is turned on for phone and smartwatch
4) Install "MR.TIME" app from "Samsung Galaxy Store" in "Samsung Galaxy Wearable" app.
5) Long press on your Galaxy Wearable and select "MR.TIME"

[NEW EXCLUSIVE FEATURES]
Watch face & wallpaper editor got upgraded!

*Design your home screen with a live watch face!
Move, scale, and rotate your watch face in 3D and make it a lot more realistic on your wallpaper.

Also try Stickers from GIPHY!

*High-quality Presets in a luxurious mood recommended by MR.TIME designers!

Let's go check out the perfect 'Watch Face + Wallpaper' combo!

[BASIC FEATURES]
*Create a watch face in a variety of designs plus smart watch features :0
   • Health - Steps,  Calorie 
   • Weather -  Forecast, Temperature, UV

* Show off private interviews of BEST DESIGNERS!
- New magazine content, Designer of the month!
   • Interviews with selected designers will help you discover more and more rich content.
   • If you are selected as a best designer, we offer various benefits.
   • "I want to be a best designer"! If you are interested, please support us actively.

* STORE of various contents
- Watch Accessories - You can purchase a variety of smart watch straps.
   • If you buy a strap, you can also get a premium label watch face!

* Watch face design possible on mobile
- Design by watch type (analog, digital, digital + analog, motion watch)
- Customizing Smart Watch Wallpaper
- Power saving mode (Ambient)
- Text input
- Free templates in various styles
   • Wallpaper image
   • Index
   • Fonts (Text Effects)
   • Subdial (Days, Date, Battery, Moon Phase, 24 Hours, 60 sec, AM / PM)
   • Battery
   • Hour, Minute, Second hand

* Make Animated GIF's watch face a motion watch type
- Animated watch face making with gallery photo
- Share your awesome animation watch with other users

* 200,000 free watch faces - a wonderful watch face made by 200,000 users
* Search - tens of thousands of watch faces
   • popularity, latest
   • Tag, Theme
   • Watch Type (Digital, Analog, Digital + Analog, Motion)
   • Weekly updated editor recommended watch face

* Communication Service - Share your Wonderful watch with other users!
   • Following / Follow
   • Comments
   • SNS sharing

* PREMIUM WATCH - PREMIUM LABEL(MR.TIME brand) high quality watch face updated every week
   • Available as a point (purchase points from Menu> Store)

* Supports circle, square display smart watches

[Feedback & Troubleshooting]
If you find any inconvenience while using the service, please leave us an e-mail (mrtimemaker@apposter.com)
before the google play review and we will improve it with quick feedback!
We will always listen to the opinions of users and make good reviews :)

[Follow Community]
   • Google Plus: https://goo.gl/ai4ZZm
   • Instagram: https://goo.gl/7r83Jq
   • Facebook: https://goo.gl/itqPLa
   • Official Website: https://goo.gl/Amj8Jf

[Supported wearable devices]
   • Samsung Gear Live
   • Samsung Gear 2
   • Samsung Gear S2
   • Samsung Gear S3
   • Samsung Gear Sport
   • Samsung Galaxy Watch
Permissions required
The following permissions are required to use this app.
Telephone

make and manage phone calls
Location

access this device's location
Storage

access photos, media and files on your device
Camera

take pictures and record video
OVERVIEW
Version
6.3.2 (2019.05.15)
Age restriction
For all ages
Expiration
No expiaration date
Seller info
Corporate/rep. name
: Apposter/경성현
Business license number
: 1078739753
View details
jrui**
Best watch face app I have ever worked with. Very slick and smooth
john**
After the last update it gets stuck on the Mr. Time Loading screen. Samsung Galaxy Note 8
lilw**
Great level of customization and easy to use
drro**
I'll love it when you can Edit watch faces already made, still a good app
alex**
Love it!!!!
oriv**
I love IT. Is awesome
dres**
Best custom watch maker on the market pay if you want but you dont have to if your creative enough
cruz**
Works well
r.21**
Decent
akca**
Wont send watch faces to my watch. Worked great until about March then it quit.
badc**
Working great
cryi**
Very buggy and unstable, also couldn't find a way to upload my own pic to make a watch face. Completely useless app