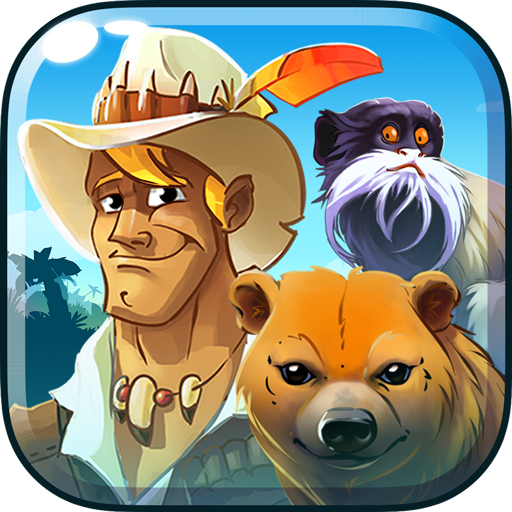 Jungle Guardians: Build animal rescue center and protect wild animals online
Free
Offers in-app purchases
What's New
- Decreased duration of first actions in hero & crafting buildings
- Asynchronous graphics loading while camp is loading in order to reduce loading time and reduce ANR problems.
- New more fluent tutorial scenario
- Amount of gold in gold packages are increasing with levels so they will no longer be overpriced
- New tooltip for questlines: simply tap and hold on questline icon and tooltip will appear with requirements of a currently active quest. So you don't need to explore quests windows to check what you need to do simply tap and hold on each icon and quickly check what you need to do.
- Synchronization with a new platform
- Changes in jungle regrowth: Jungle regrowth was reduced so you will notice that fewer trees and plants will grow on itself while you are away from the game. 
- Many bugs fixes
Description
Features:
- Build and customize your own wildlife rescue center in the heart of the jungle.
- Venture into the Amazon Rainforest to go on dangerous rescue missions.
- Save rare endangered species from extinction, including jaguars, iguanas and capuchin monkeys!
- House, feed and care for your rescued animals at your growing wildlife center.
- Gather an expert team of wildlife heroes to help you guard the jungle.
- Protect the Amazon Rainforest from poachers, deforestation, drilling and more!

Description:
A tropical virgin forest in the heart of the Amazonia. A green canopy of trees, entwined with lianas, and a maze of ferns underneath. Capuchin monkeys and marmosets are jumping from branch to branch, tapirs are sloshing around in a pool of mud, and howler monkeys are calling one another from afar. Boa constrictors are slithering out of their holes, caimans are hunting capibaras, and jaguars and pumas are looking for their prey. The jungle is also full of other extraordinary animals: uakaris, iguanas, ocelots... And all of them are in danger because of human activity: deforestation, extraction of raw materials, poaching.
In Jungle Guardians, it is you who will have to defend the Amazonia and its exotic inhabitants. It is you who will run and develop a wild animal rescue centre in the middle of the jungle. Your task is to bring the forest back to normal life and protect it from human greed. Because there are more important things in the world than profit. Indeed, it is a very difficult mission, but fortunately – you're not going to be alone. You will be supported by other brave men and women who have the Amazonia's welfare at heart. Linda from Africa, who is an expert in treating animals. Jeff – a ranger from America. A former Polish elite forces soldier, Tomek. Well-educated Kim from Japan and Sergey from frosty Russia. The group also includes Ajrun, who was born in the Amazon rainforest, knows the jungle like the back of his hand and protects its inhabitants. This close-knit team will live with you in the forest camp and provide assistance whenever you need it.

While playing Jungle Guardians, you will build and furnish animal shelters. You will take care of injured animals and restore their health and well-being, enabling them to fend for themselves in the tropical forest. As time passes, there will be more and more challenges to face. For example, you will have to follow animals using GPS tracking devices, venture into the wild on dangerous rescue missions or deliver ancient artifacts to museums. You will stand up to fight illegal logging and ensure the reforestation of the area. You will track and chase away poachers and convince gold prospectors that they really should look for their wealth elsewhere. 

This is only a fraction of the excitements that await you in Jungle Guardians. The game features over a thousand tasks! Choose from tens of various buildings and decorations to furnish the camp according to your needs and wishes. Moreover, all animals and plants you will encounter actually do live in the Amazonia and many challenges have been based on facts. While playing at running a rescue camp you can learn a lot of things – the descriptions of endangered animals included in the game are a valuable source of information.

Join our community:
- Web ( https://jungleguardians.com )
- Facebook ( https://www.facebook.com/JungleGuardiansGame/ )
- Twitter ( http://Twitter.com/JungleGuardians )
- Instagram ( http://instagram.com/JungleGuardians )

Jungle Guardians is free-to-play, however, some game items can also be purchased for real money. If you don't want to use this feature, please disable in-app purchases in your device's settings.

Privacy policy and Terms of Service:
http://taploft.com/privacy-policy/
http://taploft.com/terms-of-service/
Permissions required
The following permissions are required to use this app.
Storageaccess photos, media and files on your device
OVERVIEW
Version1.10.0 (2019.03.07)
Size72.95 MB
Age restriction For all ages
ExpirationNo expiration date
Seller info
Seller : Taploft sp. z o.o.
Corporate/rep. name : Taploft sp. z o.o./Jarosław Stelmaszek
View details
1150**
Won't let play game waste of time
nene**
Glitches constantly. Freeze constantly. Reopens by itself constantly. Very irritating game!! The only reason I keep it is because I spent $
sabu**
liked the game but then, couldn't get it open.......what a drag...
fitw**
Fun but boring
knzi**
Great small game! Some things could be tweeked but over all good job people!