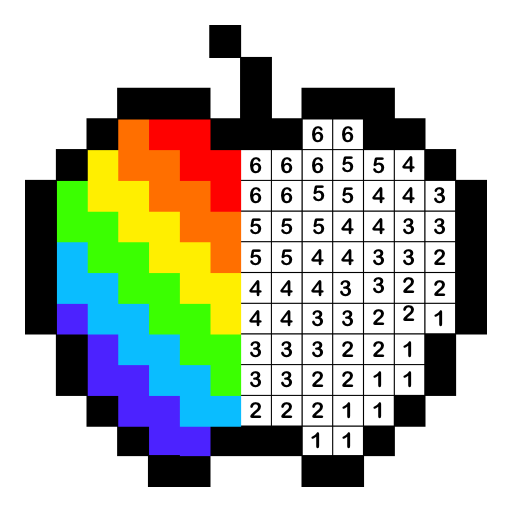 Color by Number Pixel Art Coloring Sandbox
Description
Color by Number Pixel Art Coloring Sandbox  an amazing coloring game designed for adults and children. It's completely FREE! No need to subscribe, all pictures can be unlocked with coins! There're tons of interesting pixel arts for you to color, and more updated daily; you'll never run out of coloring materials!

SUPER EASY GAMEPLAY: Fill the pixel blocks with color by number, and you'll have a piece of super cool pixel artwork!

FREE COINS! Get 1000 coins upon first login! Earn more coins by finishing and sharing your coloring pieces to unlock tons of new pictures and tools!

Draw.ly isn't just incredibly fun to play, it can also help children develop better hand-eye coordination, ability to focus, and recognition of colors and numbers. It also helps them practice drawing and coloring skills.

For adults,  is really stress relieving. Just relax and enjoy a session of nice and comfy color therapy!

Download for FREE now and have fun coloring!
Permissions required
The following permissions are required to use this app.
Storage

access photos, media and files on your device
OVERVIEW
Version
1.3.9 (2019.01.30)
Age restriction
For all ages
Expiration
No expiration date
jdla**
....IT SUCKS! I DON'T THINK I HAVE EVER HIT UNINSTALL SO FAST IN MY LIFE!!!
mari**
This is not what I see in the real game
phoe**
It doesn't work.
jara**
It doesnt even work
sara**
It isn't pixels you just color. Its really bad quality
seun**
Horrible it's the worst it is nothing like the pictures posted so believe this half star i give and don't download this app
smar**
Horrible try a game called Dot Coloring
alex**
THIS IS DUMB!!! I thought I was actally coloring pixels but no!!! This company is a liar!
jami**
I did not get what I expected and the pictures are not the same thing as the game it self
bojo**
THIS app is not what IT claims to be.
dmic**
WHAT THE HECK IS THIS! SO DUMB.
kyra**
It's for baby's it's nothing the way it shows in the pictures
lucy**
It's a baby game
herr**
Worst game ever
noun**
Fake...