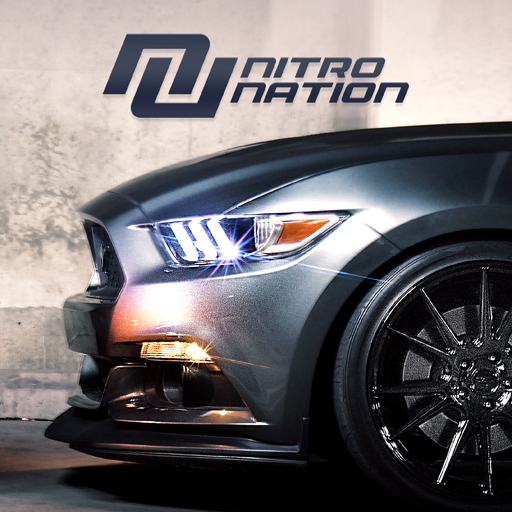 NITRO NATION™ 6
$0.00
Offers in-app purchases
What's New
Racer! Get the full-of-new-cars update now!

The super sports car KTM X-Bow GT4 is making an appearance in Nitro Nation!

For all our dedicated speed fanatics there are more cars to come from brands such as Audi, Ford Mustang, and Nissan!

We have made the best even better with various bug-fixes.                                                                                                                                                                          

See you at the finish line!
Description
For those who live life 1/4 mile at a time, Nitro Nation is the most addictive drag racing game!

Race, mod and tune dozens of real licensed cars. Start a team, invite your friends, win tournaments. Trade parts with other drag racers online and build your dream car.

"It's almost dangerously simple to pick up and play" - Pocket Gamer

"Nitro Nation Online is one of the best drag racers out there... A must have for the speed-addicted." - The App Zine

"Nitro Nation Online is a beautiful drag racing game with a vibrant online community" - Pocket Meta

LOTS OF CARS - Supercars and Exotics? Check. Tuners and Street racers? Check. Classic and Modern muscle? You bet! The best part? There's always more of them coming to the game!
We know you love drag racing cars, we have more than 100 real cars from top international car brands like Audi, BMW, Chevrolet, Chrysler, Dodge, Ford, Jaguar, Mercedes-Benz, Nissan, Subaru, Volkswagen - and many more!

FAIR PLAY - no "fuel" that you have to wait for. Free of "delivery time" for cars or upgrades. Every vehicle is competitive and there are no "premium" upgrades. It's all about player driving skill and dedication.

REAL RACERS & TEAMS – we're all about multiplayer racing, there's always an online rival waiting for you on the street or the track. Start by racing any distance from 1/8 to a full mile, join or create a team, win tournaments with your crew, work your way up the leaderboard rankings, or test your nerves in wager races.
Join a Live Multiplayer race, play in real time with friends and opponents all over the world! Compete in weekly Regional tournaments and work your way up through the Bronze and Silver divisions to the Worldwide Gold Elite Racing division!

EPIC UPGRADES - Upgrade and improve 33 unique car components with 3 tiers of aftermarket blueprints. Satisfy your need for speed and build a one-of-a-kind top drag racing machine. Ever dreamed of smoking an exotic sports car in your 800 HP Volkswagen Golf? Happens every day on the streets of NN.

PERSONAL TOUCH – customize your drag car with cool decals, arrange them the way you like. Choose your own custom paint color and finish for every bit. Add real Toyo Tires and aftermarket Tec Speedwheels rims, install aftermarket bumpers, skirts and spoilers to give your car a unique look!

CAR GEEKS WELCOME – powered by the CarX Physics Engine, we have the most realistic car physics on the market - everything works the way it does in real life. Tune your gears with detailed specs, dyno graphs, gearing charts and advanced race statistics will help you put your racing knowledge to use.

AWESOME COMMUNITY
It's all about the multiplayer experience! Connect with other car game fanatics, make some new friends and enjoy NN together:
Nitro Nation Website: http://goo.gl/RKfHi4
Nitro Nation Forums: http://goo.gl/X3O1D6
Facebook: https://goo.gl/tufLX3
Twitter: https://goo.gl/hIupCP
Instagram: https://goo.gl/aXOjqI

Save up to 85% with a Monthly Gold Pass and never run out of gold again!

TECHNICAL REQUIREMENTS
The fully installed game requires at least (1.5 GB) of free space in your internal storage
OS: Android 4.x or higher 
Device: 1 GB of Ram recommended
Wifi: Internet connection is required to play

TROUBLESHOOTING

- If you forgot your password, you can reset it using the corresponding option on the login screen. Check your e-mail for instructions.
- If you haven't set up a recovery e-mail, or if you forgot your username, please contact us at https://support.creative-mobile.com and tell us everything that can help identify your account.
If you have any questions, make sure you check out our FAQ at https://support.creative-mobile.com
...or use one of the two ways to contact us through our Support system: https://support.creative-mobile.com/Tickets/Submit or via e-mail at support@creative-mobile.com

Privacy Policy: http://nitronation.com/policy/
Terms of Use: http://nitronation.com/terms-of-use/
Permissions required
The following permissions are required to use this app.
Storage

access photos, media and files on your device
OVERVIEW
Version
6.4.8 (2019.05.17)
Age restriction
For all ages
Expiration
No expiaration date
Seller info
Seller
: CREATIVE MOBILE OÜ
Corporate/rep. name
: Creative Mobile/Vladimir Funtikov
View details
josh**
Great game
safe**
it is so boring
jaym**
Why do I need to pay
wrig**
So in fax
luis**
Not the greatest
isla**
The best game ever
orel**
Muy buen juego lo recomiendo
moun**
Doug brown
jp6w**
Enjoying it very much
ardr**
It takes a long time to load but its fine
hols**
Good game
ryla**
So far so good!
srts**
I love the game
jere**
Love the game
alvi**
The best