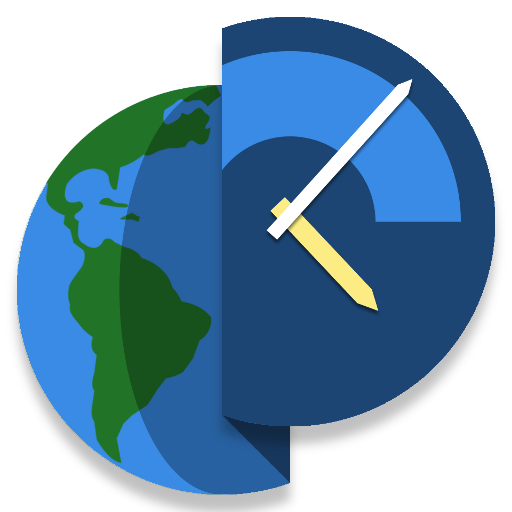 What's New
MAJOR update! Some highlights: 
• New icon 
• Material Design throughout 
• New Globe layers: ocean surface, atmospheric halo 
• New Clock/Compass style (more coming soon!) 
• Date option on Clock 
• Improved Globe shading (Android 4.3+) 
• Full-screen mode for Map & Globe (Android 4+) 
• Easier layer selection in all screens 
• Run-time permission support (Android 6+) 
• Better offline operation 
• Updated time zones 
• LOTS of of other, minor improvements & bug fixes
Description
Visually stunning virtual Earth: Real satellite photos drive a simulation of day/night, clouds, seasons, sun, moon and more. Plus, our unique clock (with widget) tracks daylight, phases of the moon, sunrise, sunset and transit times. It's everything you need to stay connected to the world you live in.

Superbly stylish, incredibly detailed and unbeatably useful - LifeOfAndroid.com
TerraTime is unique. It is bold and different... - AndroidApps Review
Possibly the most beautiful phone app I've seen. Highly recommended. - AndroidAstronomer.com
The overall beauty of the app is well, its beauty! - CoolSmartPhone.com
It's spot-on no matter where you look at it in the world - The Sun (UK newspaper)

Great for travelers, astronomers, weather watchers, geographers, teachers, photographers, fishermen and other outdoor types - as well as just about any geek you can think of.

Features:
• Globe and map depict real-time night-side shadow (on Earth and Moon)
• Photorealistic simulations include clouds, city lights, sea ice, and more, generated from actual satellite imagery
• Daylight clock and compass also show sunrise & sunset; moon phase, rise & set; twilight & transit times
• Experimental Camera View plots sun and moon paths in augmented reality
• Globe and map are fully interactive, using touchscreen or device sensors
• Easily shows any date, any location
• Clock and globe widgets
• Live wallpapers for real-time map and globe
• Multiple clock/compass styles (currently Material, Classic, Wave, and Ouroboros)

Please, if you have any issues, EMAIL us! There's a link in the app's About screen.
Permissions required
The following permissions are required to use this app.
Locationaccess this device's location
Storageaccess photos, media and files on your device
Cameratake pictures and record video
OVERVIEW
Version6.0.1 (2019.08.26)
Size7.4 MB
Age restriction For all ages
ExpirationNo expiration date