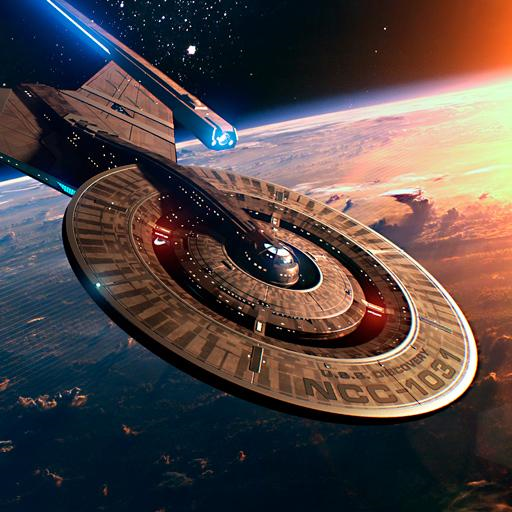 Star Trek Timelines - Strategy RPG & Space Battles
Free
Offers in-app purchases
What's New
- Ship management has been revamped, and will offer an improved look, as well as filtering options!
- Customize your gameplay: Speed Up and Auto Battle are coming for Ship Battles.
- Get a better overview, and strategize your buffs with the new character buff panel.
Please note that the revamped ship management window, as well as Speed Up and Auto Battle will only be enabled once all players are on v7.5.2
Description
Welcome to Starfleet, Captain! Explore new worlds as you voyage through deep space.

STAR TREK TIMELINES is the ultimate Star Trek™ strategy role-playing game. Set your phasers to stun and join Starfleet on an adventure through space and time to save the galaxy from temporal anomalies. STAR TREK TIMELINES brings together heroes and villains from all of Star Trek history.

The first mobile game to include ships and characters from the new series, Star Trek: Discovery

In STAR TREK TIMELINES you take on the role of a Captain, commanding your first starship. Create your ideal team of classic Star Trek characters in this epic sci-fi strategy RPG. Navigate the galaxy by building and upgrading ships, engaging in intense space battles and completing challenging missions. Join a fleet, explore the unknown, and gather your friends to help you take control of the galaxy!

FEATURES:

ASSEMBLE YOUR CREW, with hundreds of characters from all the Star Trek worlds including the Original Series, The Next Generation, Deep Space Nine, Voyager, Enterprise and Discovery. Each character has their own unique skills and abilities. Play as your favorite character: Spock, Picard, Captain Kirk, Data, Worf, Janeway, Burnham and many more to choose from.

COMMAND ICONIC STARSHIPS, including U.S.S. Enterprise, Voyager, and Shenzhou, the Klingon Bird-of-Prey and Sarcophagus ships, or even the Borg Cube - the iconic spacecraft used by the Borg Collective, and many more.

JOIN A FLEET to squadron up with your friends, compete together in weekend events and collaboratively upgrade Starbases for shared bonuses.

ENGAGE YOUR ENEMIES in stunning 3D spaceship battles with exciting PvE play, or in the PvP Battle Arena where you'll test your crew's mettle against the best Captains in the galaxy.

EXPLORE THE GALAXY – boldly go where no man has gone before in your quests to complete your missions and build your ranking. Gain influence among a dozen factions, including the Federation, the Maquis, the Dominion, the Mirror Universe Terran Empire, and the secretive Section 31. Resolve conflicts with other factions through diplomacy and be prepared to go to war when words fail.

CLIMB THE LEADERBOARDS and win rare rewards with special-event missions.

STUNNING 3D GRAPHICS bring the 24th century to life in the most immersive and thrilling Star Trek game experience available on smartphones and tablets.

FREQUENT GAME UPDATES to provide you with even more Star Trek characters, starships and special events. 

© 2019 Disruptor Beam, Inc. All rights reserved.
TM & © 2019 CBS Studios Inc. STAR TREK and related marks and logos are trademarks of CBS Studios Inc. All Rights Reserved.
Permissions required
The following permissions are required to use this app.
Telephonemake and manage phone calls
SMSsend and view SMS messages
Storageaccess photos, media and files on your device
OVERVIEW
Version7.5.3 (2020.07.03)
Size49.43 MB
Age restriction 16+
ExpirationNo expiration date
shan**
Lou5 poo u8oo
mrjo**
Mo l lol 9o mlm mklpplop 09l LLP lppol m.p lo O loom lol llolloo245 Front St, Key West, FL 33040Puma-PS-83711512-P1Z9135VY0Puma-PS-83711512-PPuma-PS-83711512-P311854653lp lol ploop 0pPuma-PS-831Z91Z9135VY031185465Puma-PS-83711512-P1Z9135VY031185465331Z9135VYVY03118546531Z9135VY0311854653711511Z9135VY03118546531Z9135VY03118546531Z9131Z9135VY03118546531Z9135VY0311854653Puma-PS-8371151 245 Front St, K1Z9135VY0311854653Puma-PS-83711512-P1Z9135VY0311854653Puma-PS-83711512-Pey West, FL 330402-P5VY0311Z9135VY031185465Puma-PS-83711512-P31854Puma-PS-837111Z9135VY03118546531Z9135VY0311854653512-P1Z9135VY0311854653653Puma-PS-83711511Z9135V1Z9135VY0311854653Y031185Puma-PS-83711512-P46532-P2-PluPuma-PS-8Puma-PS-83711512-PPuma-PS-83Puma-PS-83711512-P245 Front St, Key West, FL 33040711512-PPuma-PS-83711512-PPuma-PS-83711512-P3711512-Pmpp.p1Z9135VY03118546531Z9135VY03118546531Z913Puma-PS-83711512-P1Z9135VY03118546535VY03118546531Z9135VY0311854653 lol1Z9135VY0311854653Puma-PS-83711512-P
vint**
Lo
davi**
OK IF YOU HAVE A FEW HUNDRED DOLLARS TO WASTE!
musc**
FUN AND EXCITING WITH GOOD SPECIAL EFFECTS AND REALISTIC CAST MEMBERS VOICES VOICES BUT WHEN YOU DOWNLOAD THE GAME YOU HAVE TO DOWNLOAD A GAME CONTROLLER THEN WHEN YOU DOWNLOAD IT AND START PLAYING THE GAME YOU START TO SEE HOW MUCH YOU HAVE TO PAY FOR THE USE OF CERTAIN THINGS THAT YOU NEED FOR THE GAME TO KEEP GOING ON!!!
bigg**
Very fun, also like all the characters from the universe
kcop**
Very fun!!
kr.s**
High school hip
rich**
Very slow
jfos**
I wish it was less pay to play and more control. It's a great game
king**
Fun love it
anub**
Good game
noah**
Not 100%pay to play. Earn items along the way..which is refreshing
para**
Awesome strategy game
dyne**
Love it.