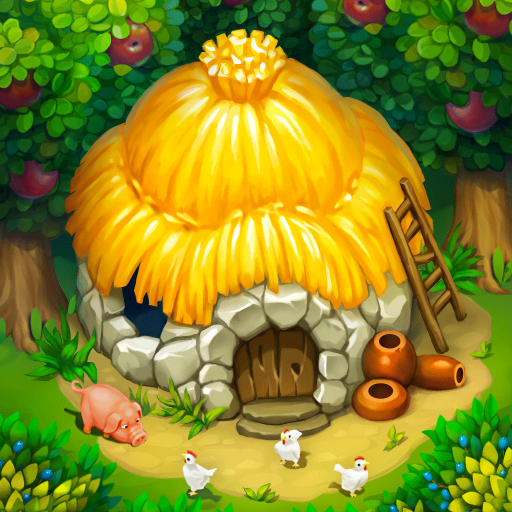 The Tribez: Build a Village
Free
Offers in-app purchases
What's New
Dear players! Don't miss the lucrative Mother's Day sale at the very beginning of May!
This update also features new Cats that will decorate your island!
 
Hurry to the game and have fun with The Tribez!
Description
Tribez is not just a game! Tribez is an adventure, where you travel to a distant past full of secrets, mysteries and many hours of addictive discovery of an unknown, but beautiful world! 
You are invited to visit a primitive world inhabited by a peace-loving people, who have been hidden behind a miles-deep portal from time immemorial. Build your own stone-age village, explore territories hidden by mountains and seas, and lead your tribe, who considers you sent by the gods, to prosperity. 
Tribez is a world in which you feel alive! 

KEY FEATURES:
• FREE TO PLAY! 
• This game works when you're offline too – play it on a plane, in the subway or in the car. Enjoy! 
• Simple, intuitive controls. 
• Cute and adorable characters you'll love! 
• Beautiful vibrant world you'll get immersed into instantly. 
• Lively animations make the prehistoric world come to life. 
• Tons of objects, characters, buildings and decorations. 
• Truly inexhaustible possibilities to develop your own stone-age empire. 
• Hundreds of captivating quests: search for treasure and artifacts, discover distant islands, explore mysterious caves and much, much more! 

REVIEWS:
'The Tribez' is the insanely popular empire-building game that's revolutionizing the idea of social gaming.' (www.thedailybeast.com) 
'The design is so beautiful and there is so much detail that it's a real pleasure to navigate through the scenes and help the villagers.' (appszoom.com) 
'There is tons of content, quests, and things to accomplish in the game.' (pocketfullofapps.com) 
'What makes The Tribez genuinely pleasant to play is the attention paid to the graphics.' (http://www.gamezebo.com) 

WHAT OTHER PLAYERS THINK:
• "I have been playing about 9 months and am totally addicted I think the thing that keeps me going in the goals. There is always something to work towards". 
• "I like that after all this time, there is always a major goal to work towards and something new to discover. I look forward to playing every day (er...playing any time I'm awake and my ipad is accessible), and since health limitations have recently robbed me of many activities, this has given me something else I can enjoy". 

The game contains in app purchases. In-app purchases required to speed up gameplay. 

Official Page on Facebook: https://www.facebook.com/TheTribezCommunity
Game Trailer: https://www.youtube.com/watch?v=6wogFrbM-aQ
Permissions required
The following permissions are required to use this app.
Storageaccess photos, media and files on your device
OVERVIEW
Version12.6.1 (2020.05.22)
Size117.0 MB
Age restriction For all ages
ExpirationNo expiration date
Seller info
Seller : Game Insight, 2020
Corporate/rep. name : Game Insight UAB/Antanas Miseikis
View details
king**
Nice time passer.
wyat**
Great
brya**
Fun game goid time killer
chic**
Good
zone**
Awesome fun
acyd**
Just starting the game, but its VERY slow moving. At a very early level you're left waiting to do simple advancements. Which, in my opinion, makes it easy to lose interest in this game
pame**
Live it
ambe**
Didn't realize it required ingame purchases
ccmc**
Fun
phen**
Early stages of the game. Not enough to actually make a review. Wish apps would stop the early stages rate push...
melt**
Good
isaa**
Grest
juli**
Awesome
bark**
Fun.
toni**
Fun and easy to play. Got lost for hours on this game.