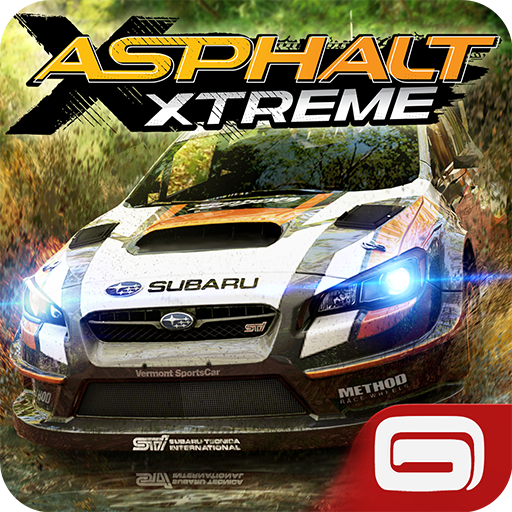 Asphalt Xtreme
Free
Offers in-app purchases
Description
NO ROAD. NO RULES! 

Break free from the ordinary and enter uncharted territory with Asphalt Xtreme: Rally Racing! 

So forget everything you know about racing, because all you need here is your instincts, real skill and a fearless desire for speed. You'll race around sand hills, charge through canyons, drift across the dirt and climb past your opponents to reach the finish line as part of an absolutely extreme racing experience! 

• 50+ MONSTER MACHINES: Set your inner beast free in a 4x4 Monster Truck. Feed your passion for fast wheels with a Muscle Car. Or just go wild on the track as you drive an agile Buggy, a hard-hitting Pickup, a dirt-loving Rally Car, a power-packing SUV or unstoppable Truck!

• UNLEASH YOUR STYLE: There are no limits to the custom options, as you pick from 7 offroad vehicle types, each with a unique flavor of gameplay. This allows you to constantly discover fresh, challenging experiences. And thanks to regularly added updates, there's always something new to try out.

• THE BIGGEST BRANDS: We've unleashed Jeep, Ford, Mercedes-Benz, Predator, Dodge, Chevrolet and loads more of offroad racing's best licensed motor machines.

• REAL-TIME MULTIPLAYER: Pick up some head-to-head online racing in 8-player simultaneous free-for-alls! You'll be facing some tight competition, so stay on top of your game as you climb the leaderboard and rise above all your friends!

• THE WORLD IS YOUR RACETRACK: Race in a variety of exotic and extreme locations from all over the globe. Prepare to shred the glaciers of Svalbard, summit the Alps, speed through the hills of Coachella Valley, cut through the jungles of Phuket, power through Detroit's steel mills & much more. Plus, there's always a twist around the bend as new tracks get added in the future. 

• CUSTOMIZE YOUR RIDE: Need to pump up your motorsport car's engine power? Feel like decking out your rally racer in style? There's an impressive collection of custom setups and upgrades for all of that to make every set of wheels a personal speed machine.

• GET THE FULL OFFROAD EXPERIENCE: There are always new obstacles to climb and experiences to try with 5 game modes, over 300 Career events, more than 1,100 Mastery challenges, Limited-Time Events, Daily Missions, Special Projects and truckloads more on the way every update! The only question is, are you extreme enough to handle it all?

• AN EXTREME EXPERIENCE: No other racer pushes the limits of graphics this intensely, real physics this insanely, or high-speed nitro action this far! So gas up and take off fast, because this game can't wait to get you in the driver's seat and peel out for some amazing speed!

Are you revved up yet? If not, you might just need a shot of octane in your life! This is the racer for anyone who doesn't like conventional racers. It's the game for those who break the rules, think outside the box and can't be constrained by the limits of a race track! A game for fans of rally cars, real extreme sports, drift racing, getting down in the dirt and free-flying offroad adventures! Are any of these you? Then download Asphalt Xtreme: Rally Racing right now for FREE! 

Find out more about the game on the official site - http://asphaltxtreme.com/ 

_____________________________________________

Visit our official site at http://gmlft.co/website_EN
Check out the new blog at http://gmlft.co/central

Don't forget to follow us on social media:
Facebook: http://gmlft.co/AXTR_Facebook
Twitter: http://gmlft.co/AXTR_Twitter
Instagram: http://gmlft.co/AXTR_Instagram
YouTube: http://gmlft.co/AXTR_YouTube
Forum :  http://gmlft.co/AXTR_Forum

This app allows you to purchase virtual items within the app and may contain third party advertisements that may redirect you to a third party site.

Terms of Use: http://www.gameloft.com/en/conditions-of-use
Privacy Policy: http://www.gameloft.com/en/privacy-notice
End-User License Agreement: http://www.gameloft.com/en/eula
Permissions required
The following permissions are required to use this app.
Locationaccess this device's location
Storageaccess photos, media and files on your device
OVERVIEW
Version1.0.0b (2019.06.11)
Size35.26 MB
Age restriction 12+
ExpirationNo expiration date
swan**
Why cant I install this game on my galaxy s8?
este**
Blablablablablblablabla.
catb**
Nice game
panm**
The game is good but when is the game fully operational....? Some vehicles r yet 2 b released or should I say "coming soon"
hayd**
This game is fun
marq**
Why is there two versions of this same game?Why hasn't this one been updated?There need to be an update.There are so many features missing
grea**
You guys need to update the game because the playstore has a full upgraded version with Camaros and porches, this oldie is good tho.
brya**
1 gigabyte to even start? Not to mention the game isn't even being displayed correctly on Samsung's own devices
jake**
Terrible. There are times that the computer just stays in front of you no matter how much you speed up they speed up more
sdhj**
38MB?and then another 1000 wtf???
vang**
Installed but will not open on my new Samsung note 8.
25al**
Stupidest app from Gameloft, EVER!!!!!!! :( Very disappointed
keac**
I paid for credits six days ago, I haven't received them yet! Contact customer service thru the OPTIONS, TOUR EMAIL WASN'T SENT.
blac**
Bad bad bad bad
dptc**
Will not load on Galaxy note 3, have the same problem with asphalt 8. Play store version does the same thing.