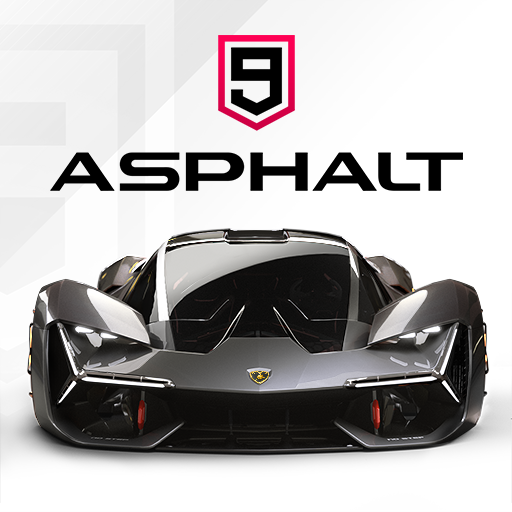 Asphalt 9: Legends - 2019's Action Car Racing Game
Free
Offers in-app purchases
Editor's comment
Redeem your exclusive gift
* Available on Galaxy devices : Galaxy S10, S10e, S10 plus, Note9

1. Download Asphalt 9 on your Galaxy S10e, S10 or S10+ from the Samsung folder > Galaxy Store and tap on the Asphalt 9 Banner.
2. Tap INSTALL AND OPEN in the Quick Installation Pop-up, then read through and accept the terms and conditions.
3. Complete the Game tutorial and a Welcome Screen banner will appear inviting you to redeem the exclusive gift from Samsung, right after you unlock your first car.
4. Accept the Welcome Screen gift to receive the Lotus Evora Car.
5. Press on "Unlock Car" to get it ready for racing.
What's New
Discover more rewards, more customizable cars, and impressive new beasts!

NEW SPECIAL EVENT
Drive the Aston Martin DBS Superleggera, Vanda Electrics Dendrobium, Pininfarina Battista and more!

MORE CUSTOMIZABLE CARS
Customize the Bugatti Chiron and Porsche 911 GT3 RS!

SWAP CONTROLS ON THE FLY
Switch between Touchdrive and manual controls during a race with just a tap.

GARAGE UPGRADES
Can now upgrade to level 18. Get Premium Packs each time you upgrade!

Changelog: https://gmlft.co/A9ChangeLog
Description
Get in gear and take on the world's best, most fearless street racer pros to become the next Asphalt Legend – from the creators of Asphalt 8: Airborne.

Asphalt 9: Legends features a top roster of real hypercars for you to drive that is unlike that found in any other game, from renowned car manufacturers like Ferrari, Porsche, Lamborghini and W Motors. You're free to pick the dream car you need and race across spectacular locations against rival speed machines around the world. Hit the fast track and leave your limits in the dust to become a Legend of the Track!

A CONSOLE EXPERIENCE IN THE PALMS OF YOUR HANDS
Immerse yourself in one of the most hyper-realistic arcade racing games, with meticulously detailed real cars, cool HDR techniques, and stunning visual and particle effects that turn every race into a real blockbuster race movie.

THE MOST PRESTIGIOUS MOTOR CARS
Collect over 50 of the world's best speed machines. Each cool vehicle has been carefully selected based on its aesthetics and the top driving performance you need in the most desirable line-up of any Asphalt games to date.

CUSTOMISATION AT YOUR FINGERTIPS
Use the new car editor to define the exact color and material of your car. You can also pick the color of the Rims, and more, to look your best on the track.

A BLAST OF ARCADE FUN
Charge your nitro to unleash the ultimate Nitro Pulse for the ultimate boost of speed you need to make your car break the sound barrier! Double-tap the brake to do a 360° at any time to take down your multiplayer or AI opponents in style and watch the burnout behind you!

BECOME A STREET LEGEND
Start your street journey in Career mode by completing over 60 seasons and 800 events. And become a real Asphalt racer legend by racing against up to 7 rival players from all over the world in the online multiplayer mode.

ULTIMATE RACING CONTROL
Master the innovative TouchDrive, a new driving control scheme that streamlines car steering to free your mind to focus on the arcade fun and fast speed.

STRENGTH IN NUMBERS
For the first time in any of the Asphalt games, you can create your own online community of like-minded racer friends with the Club feature. Collaborate with your fellow speed freaks and motor heads to race your best and unlock the best Milestone rewards as you drive up the ranks of the multiplayer Club leaderboard.

The perfect game for fans of free games, arcade racing, driving fast, drift racing, weaving through traffic, and nitro-charged, power motor competition!

_____________________________________________

Visit our official site at http://gmlft.co/website_EN
Check out the new blog at http://gmlft.co/central

Don't forget to follow us on social media:
Facebook: http://gmlft.co/A9_Facebook
Twitter: http://gmlft.co/A9_Twitter
Instagram: http://gmlft.co/A9_Instagram
YouTube: http://gmlft.co/A9_Youtube
Forum : http://gmlft.co/A9_Forums

This app allows you to purchase virtual items within the app and may contain third-party advertisements that may redirect you to a third-party site.

Terms of Use: http://www.gameloft.com/en/conditions-of-use
Privacy Policy: http://www.gameloft.com/en/privacy-notice
End-User License Agreement: http://www.gameloft.com/en/eula
Permissions required
The following permissions are required to use this app.
Storageaccess photos, media and files on your device
OVERVIEW
Version1.8.1a (2019.10.16)
Size1.77 GB
Age restriction 12+
ExpirationNo expiration date
pegl**
Love it!
tknh**
Nice
king**
Fun
sher**
Fun
xiom**
The best game game for any Samsung Galaxy phone fast And fun awesome
alva**
Just plain awesome
rome**
MUY BUENO
trck**
Super fun
wino**
this game is really fun but the races are too short they should have met some racist it is an Asphalt 8 but it's fine anyway have fun everyone enjoy this game
jz64**
Perfect for any fan of NFS,Midnight Club or any arcade racing game. If you've played Modern Combat 5,you know how the upgrade system works,and how the monetizing method is,then you'll feel right at home. But at least on here you dont have to worry about there not being enough SP content,there are over 1500 medals to collect for all chapters,with more being added as Updates. There is always something to grind,edit,join or earn,and of course buy. If you want a long grind with fun gameplay & the most beautiful graphics of any racing game to date,Asphalt 9 is highly recommended. I'm personally on a GS10 running the game at a 1440p resolution at its max graphics,fps settings on the app itself while on a Performance mode built in the phone.The game runs so smooth and handles polycounts,fps,aa,and motion blur with weather effects while maintaining a near 55-60 fps with minor drops at very high settings.On its perfomance mode,its runs at a stable 60fps,no dips. *This varies by device*
timo**
Rly fun and awsome
caba**
Fun and very easy
lxpe**
It's the best game I ever played
c.is**
This is amazing! I love the game and it's simple use of controls! My friends love it and I just honestly think that it's amazing, and I'm surprised that graphics are this good! I love it and I hope there is weekly updates!
asus**
Nice