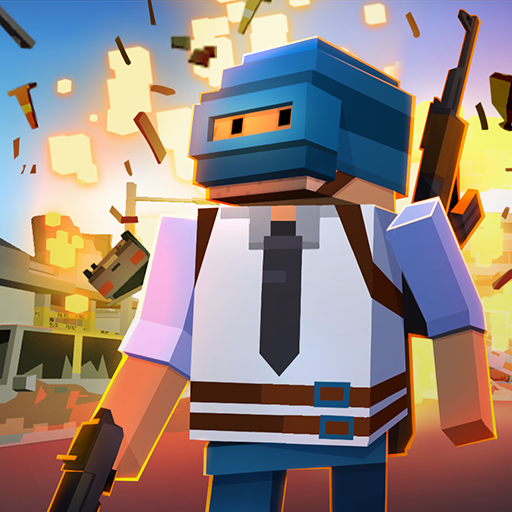 Grand Battle Royale: Pixel War
Free
Offers in-app purchases
Description
Grand Battle Royale Season 2018! If you like military blocky pixel games and battle royale games then you will definitely like Grand Battle Royale!
 
BATTLE in online multiplayer games when you play the new massive open world game! Survive the battlegrounds, improve your shooting skills, and develop new PVP tactics for FREE!
Jump out of the survival plane on the dead island, find the best loot, kill the enemies. Players are spread around the island unarmed and must find and use various weapons and items to eliminate opponents. Find the best weapons you can: Assault Rifle, pixel gun, smg, shotguns and other weapons. Dominate the battlefield by taking on each opponent and become last survivor #1! Grab your pixel gun and get shooting! 

The location of the battlegrounds is a distant island with dead city somewhere in the sea surrounded with a mysterious Blue Zone. Your main task is to stay inside the safe zone and eliminate all your enemies. 

Features: 
• Pixel Graphics & Blocky Characters: Battle as hilarious blocky characters and show your style of gameplay.
• Survive gun games against other players!
• Battle in Online Multiplayer Games: Intense PVP gameplay against players around the world!
• Guns will randomly appear, so search the ground thoroughly! Survive by collecting more guns so you have an advantage over other players.
• Just like in true 3D block survival games, you can purchase any pixel block strike skins.
• Grab a pixel gun and dive into battle: Fun pixel graphics great for intense shooting battles!
• Big radiation island this is the place where you have to survive while you playing in the blocky city. 
• Multiplayer game is absolutely free online game for download. 

Become the last man standing, the last hero, the king of the battlefield! Good luck, good hunt!
This game requires an internet connection.
Don't miss out on the latest news:
Like us on Facebook: https://facebook.com/GameSpire
Follow us on Twitter: https://twitter.com/GameSpire_org
Here is the promo code for a free reward: XXXYYZZZ
Permissions required
The following permissions are required to use this app.
OVERVIEW
Version
3.3.0 (2019.01.30)
Expiration
No expiration date
Seller info
Corporate/rep. name
: GameSpire Ltd./Konstantin Mukhopad
View details
wayl**
You copied pubg
afg.**
nice game
chri**
It sucks
s114**
This game is great theres so many unlockaple skins and acceroices its so cool
yosh**
Good game but need more player or computers something do in like two people join can still play the game
jade**
I'm only getting into lobbies with about 2 or 3 people, maybe because it's 3 am but different timezones are a thing too. Needs more ppl
mask**
Good game for on the go and really fun to play with a big lobby.
craz**
I can't find a game to play
mdro**
I can't find a game to play
cart**
I LIKE The game just nearly any one plays so it's boring tell ur frieands about it because it's good just needs more players
zman**
It doesnt work
gavi**
It is just like fortnite but it is pixels yay Lol ha ha ha ha ha ha ha ha
andr**
5
blak**
More peoaple play this game its fun
adri**
5 stars