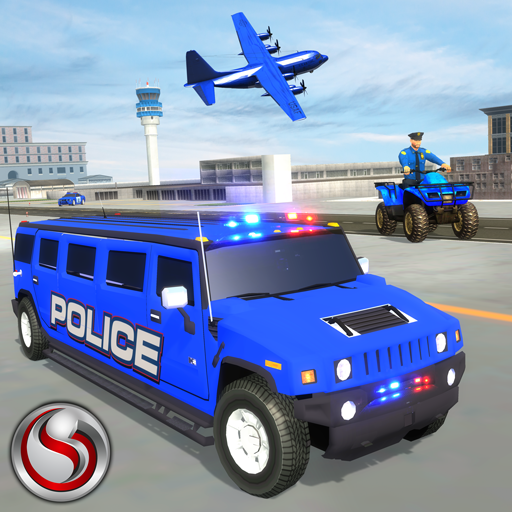 Description
With so many US Police Transport games on Google Play games, it's time to experience something different with US Police Hummer Car Quad Bike Transport Plane in a realistic 3D environment where you will experience driving Modern US Police Hummer Car, ATV Quad, Quad Bike & Police Transport Plane in this Police Quad Bike Transport Hummer Car Offroad Driving games Adventure. Ever thought of becoming a NY Police Officer who is always ready to fulfill any kind of police hummer car driving 3D and US Police ATV Quad Bike riding driving transport plane duty assigned? If yes, then it's the real time to show off your Hummer Car Games offroad car driving 3D in US Police Car driving & Police Transport plane Quad Bike riding skills where you are given difficult multiple tasks of Hummer car games 2018 and truck driving games on rocky mountain environment. In US Police Plane Transport best Police games Hummer Car Parking Games you will be driving games two vehicles; one Police Bike and the other Police Transporter Truck to start your driving day in US Police Transporter Hummer Car Plane Transport Games. Fly US Police Plane Transport & Police Transport Truck to transport police ATV Quad Bike offroad police trucks and be the best Police Car driver that everyone envies. 


It's a high time to show off your super amazing police ATV Quad, police car, hummer car driving 3D & truck driving simulator games skill whether it be US Police bike or heavy duty offroad Police Cargo Truck Transporter. You need to be balanced and fully focused on your police hummer car driving & US Police transporter duty. This police transport plane offroad hummer car games 2018 adventure will drive you crazy and gives you the best chance to fulfill your cop car driving, hummer car parking games & ATV Quad Bike Transport games Truck Driver duty successfully. Enjoy the most realistic Police Car Driving ATV Quad Bike Offroad Driving game with the challenging tasks of US Police Transport Plane games. Police Bike Transport and driving huge police trucks in hilly areas and rocky mountain is real fun & excitement so keep rocking as the police Quad ATV rider extreme offroad and Cop Car Transport Truck Driver Police games.



US Police Hummer Car Quad Bike Transport Plane Innovative Features
•	Challenging Police ATV Quad Bike Transport games tasks with extreme time limit.
•	US Police Transport Hummer Car Driving games with Realistic HD graphics.
•	Superb Offroad driving games Plane Transport adventure with most addictive gameplay.
Permissions required
The following permissions are required to use this app.
Telephone

make and manage phone calls
Storage

access photos, media and files on your device
OVERVIEW
Version
1.0.0 (2019.01.30)
Age restriction
For all ages
Expiration
No expiration date
Seller info
Seller
: The Game Storm Studios Incorporated
Corporate/rep. name
: The Game Storm Studios Incorporated/Jawad Amjad
View details
rfbr**
Little kids get into a stroller