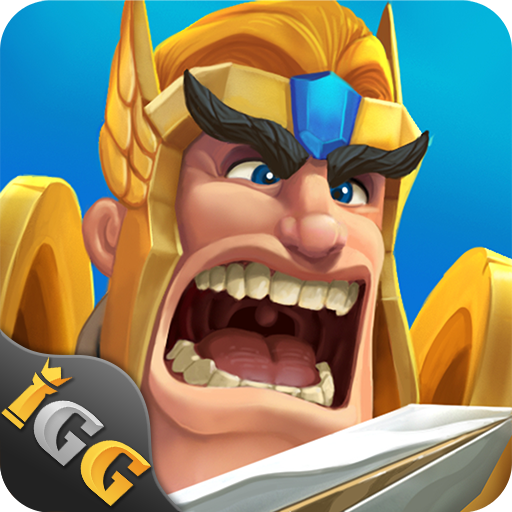 Lords Mobile
Free
Offers in-app purchases
Editor's comment
10% off all in-app purchases
* Galaxy Store only
10% off all in-app purchases

* Event Period : 27. May. 00:00 ~ 8. Jun. 00:00 (GMT)
What's New
Feast your eyes and ears on this massive Hero update!
We've got brand new Hero models, with better graphics and better animations, and all Heroes are now voiced!
(Update your game and tap on your Heroes to listen to what they have to say!)

# New Feudal Wonders: Baron's Frost & Baron's Glacier! (Check in-game for more details) 
# Updated rules for guild invites, guild applications, changing guild's home Kingdom, and guild leadership transfers for restricted/protected Kingdoms
# New Settings: Toggle [Route Display]: Strong/Medium/Light; Toggle [Voices]: On/Off; Toggle [Hero Shadow Quality]: High/Low
# Cracked down on fraudulent activities: Optimized troop deployments
# Various UI adjustments
Description
Are you ready for a REAL fight?

The true Emperor has fallen. We need a real hero, a true Lord who can unite the Kingdoms. Recruit heroes from various backgrounds, from dwarves and mermaids to dark elves and steampunk robots, and assemble your army in this magical world! Fight and conquer to establish your empire!

[Game Features]:

▶ ▶ Build Your Own Kingdom ◀◀
Upgrade buildings, conduct research, train your troops, level your Heroes and lead your Kingdom well to prosper!

▶ ▶ Utilize Troop Formations ◀◀
4 different troop types, and 6 different troop formations for you to choose from! Plan your lineups, take advantage of the counter system, and pair your troops with the right Heroes! Perfect your strategy to defeat your enemies!

▶ ▶ Powerful Heroes Await ◀◀
Create a strong team of 5 Heroes to fight through an RPG-style campaign! Let them lead your kingdom to glory as war generals!

▶ ▶ Forge Alliances ◀◀
Join a guild to fight alongside your allies! Ride into war together to conquer various exhilarating events: Guild Wars, Kingdom Versus Kingdom battles, Battle Royals, Wonder Wars, Darknest Invasions, and much more!

▶ ▶ Clash Online with Global Players ◀◀
Brawl with 330 million players from all over the world, and defeat those who stand in your way! Seize the throne and rule over all!

▶ ▶ Animated Battles ◀◀
Experience the thrill of war as your armies clash in beautiful 3D graphics! Watch as your Heroes unleash their skills and harness their mystical power! 


===Information===
Facebook: https://www.facebook.com/LordsMobile
Instagram: https://www.instagram.com/lordsmobile
YouTube: https://www.youtube.com/LordsMobile

Note: This game requires an internet connection to play.

Customer Service: help.lordsmobile.android@igg.com
Permissions required
The following permissions are required to use this app.
Storageaccess photos, media and files on your device
OVERVIEW
Version2.21 (2020.04.07)
Size518.28 MB
Age restriction 12+
ExpirationNo expiration date
Seller info
Seller : © IGG All Rights Reserved
Corporate/rep. name : IGG SINGAPORE PTE. LTD./Richard Chua Choon Kiat
View details
brai**
4KUY45
robe**
Fun Easy to plau
jpiz**
good way to pass the time
sava**
Great Game!!!
sain**
Can y'all add Deck Heroes on the Samsung store, thanks in advance.
jusi**
Good
zakh**
Good
john**
Did the promo and got a code. Was told the code was invalid. And I'm done.
u.s.**
Samsung code offer is invalid.
cutt**
City builder
henr**
Its honestly pretty good
norm**
Awesome game. However I was promised a in game credit if I installed and completed requirements. Requirements have never been explained and I haven't received anything and cant find requirements mentioned in apparent false promises. Out of principle when a relationship starts with a lie and isn't resolved I will sever the relationship and never look back. Reviews in your court... deliver said promise or eat my dust as review is adjusted accordingly and I'll take .y money elsewhere. Sneaky liers
mill**
Reserving judgment until I've had more time to evaluate the game. Will adjust rating when I can play a bit longer.
hunt**
Awesome
24he**
Lws