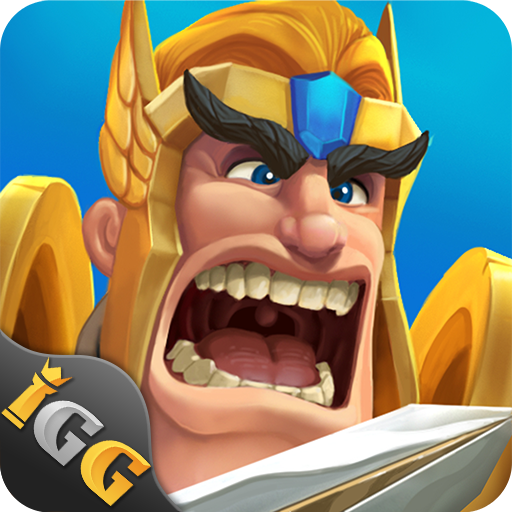 Lords Mobile
Free
Offers in-app purchases
Editor's comment
Start playing the hit strategy RPG game
※ Completing tasks makes it more interesting and the events for different heroes are thrilling

※ Find the best guild to help you grow and making friends through your guild is the best part.

※ Battle different kingdoms and defeat new heroes as you dominate the game
What's New
Unveiling the [Sanctuary]!
The Sanctuary takes in wounded troops that cannot enter the Infirmary. The Goddess will bless those with Devotion with the power to revive these poor souls!

Introducing [Auto Use]!
Automatically calculate and use multiple Speed Up or resource items to complete your projects! What a breeze!

# New Building: Sanctuary (found besides the Transmutation Lab; does not require upgrades). The Sanctuary takes in wandering souls, those who have fallen in battle but cannot enter the Infirmary. However, souls lost in Wonder battles are not allowed in the Sanctuary. (See in-game for more details.)
# New [Auto Use] feature for building upgrades, research, training troops, healing wounded troops, resource exchange, etc.
Automatically calculate and use multiple Speed Up or resource items required for a project!
# New [Bonus Displays]: Your bonuses will be displayed in building upgrades, research, training troops, Trap building/repair, Gear crafting, Pact/Skillstone merging, etc.
# Optimized [Captured Leaders]: Leader boosts (includes Talents, Equipment, and Hero's Battle Skills) will remain active even when they are captured. Deployed boosts will remain inactive.
# Made changes to allocated number of Newbie Relocators and their expiration date
# Optimized Speed Up items obtained from Castle upgrades, Voyage Quests, transmuting Dark Essences
# Optimized mail sending feature
# Updated Building UI
Description
Are you ready for a REAL fight?

The true Emperor has fallen. We need a real hero, a true Lord who can unite the Kingdoms. Recruit heroes from various backgrounds, from dwarves and mermaids to dark elves and steampunk robots, and assemble your army in this magical world! Fight and conquer to establish your empire!

[Game Features]:

▶ ▶ Build Your Own Kingdom ◀◀
Upgrade buildings, conduct research, train your troops, level your Heroes and lead your Kingdom well to prosper!

▶ ▶ Utilize Troop Formations ◀◀
4 different troop types, and 6 different troop formations for you to choose from! Plan your lineups, take advantage of the counter system, and pair your troops with the right Heroes! Perfect your strategy to defeat your enemies!

▶ ▶ Powerful Heroes Await ◀◀
Create a strong team of 5 Heroes to fight through an RPG-style campaign! Let them lead your kingdom to glory as war generals!

▶ ▶ Forge Alliances ◀◀
Join a guild to fight alongside your allies! Ride into war together to conquer various exhilarating events: Guild Wars, Kingdom Versus Kingdom battles, Battle Royals, Wonder Wars, Darknest Invasions, and much more!

▶ ▶ Clash Online with Global Players ◀◀
Brawl with millions of players from all over the world, and defeat those who stand in your way! Seize the throne and rule over all!

▶ ▶ Animated Battles ◀◀
Experience the thrill of war as your armies clash in beautiful 3D graphics! Watch as your Heroes unleash their skills and harness their mystical power! 


===Information===
Facebook: https://www.facebook.com/LordsMobile
Instagram: https://www.instagram.com/lordsmobile
YouTube: https://www.youtube.com/LordsMobile

Note: This game requires an internet connection to play.

Customer Service: help.lordsmobile.android@igg.com
Permissions required
The following permissions are required to use this app.
Storageaccess photos, media and files on your device
OVERVIEW
Version2.24 (2020.06.12)
Size557.39 MB
Age restriction 12+
ExpirationNo expiration date
Seller info
Seller : © IGG All Rights Reserved
Corporate/rep. name : IGG SINGAPORE PTE. LTD./Richard Chua Choon Kiat
View details
john**
Alot of cheats/mods on private servers, its a joke. I like the unlimited gems and money though its just boring..
pb_w**
Absolutely riddled with bots. I mean millions of bots. This game has 100+ Million downloads, I guarantee you that 3/4 of them are bot accounts.. There will be hundreds of them that suddenly appear and ruin the entire area. I'm not exaggerating! Also this game is heavily leaning on the Pay to Win aspect. Eventually certain upgrades and research will take hundreds of DAYS to complete.
jaxs**
I have part of my life jk
plex**
⁸
bdra**
Great
v_ti**
Muy adictivo y entretenido!
kris**
Ok
cris**
Mur entretenido
cvph**
[
coll**
Useful
gich**
Í889oo
fmun**
Goi lp==$%$6684
tait**
Super good
fpnj**
NOT USER FRIENDLY!!
john**
Epic and Addictive