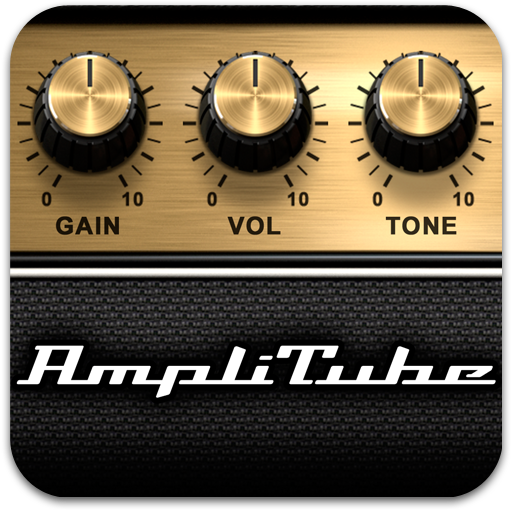 AmpliTube
$19.99
Offers in-app purchases
What's New
- Now supports also Samsung GALAXY S5 running Android 5 Lollipop
Description
Turn your smartphone into the ultimate mobile guitar and bass multi effect processor! Use IK's new high-definition iRig HD-A digital instrument interface — or the iRig or iRig STOMP — to connect your guitar or bass to your smartphone and you'll be ready to rock!

Play and practice anytime and anywhere on your guitar or bass with ultra-realistic virtual representations of some of the most coveted amplifiers, stompboxes and effects of all time. You'll be able to jam with confidence — all have been painstakingly modeled by the leader in analog gear modelling software for professional recording studios.

With AmpliTube, you'll have an entire guitar and bass rig at your fingertips. Just like a traditional live setup, you get 3 stompbox effects running into an amp-head which you can pair with a cabinet and virtually mic in a number of different positions. Choose from 11 built-in stompbox effects: delay, noise filter, chorus, flanger, wah, fuzz, overdrive, octave, envelope filter and phazer (plus distortion once registered). You also get 5 amps with full controls: lead, clean, crunch, metal  and bass plus 1 speaker cabinet and 2 microphones: dynamic and condenser. 

AmpliTube has an enhanced preset system for effortless and efficient management of your sounds. A digital chromatic tuner is also included. 

AmpliTube features:

- Real time guitar and bass mobile multiFX 
- Full rig with 3 simultaneous stompboxes + amp + cabinet + mic
- 11 Stomps, 5 Amps, 5 Cabinets and 2 Mics
- Powerful preset system for managing presets and favorites
- instantiable as a plug-in in Soundcamp
- Chromatic tuner included
- Digital audio in/out
- Low-latency for real time playing
- Free versions also available

AmpliTube is compatible with Android devices that support Samsung Professional Audio technology, like the Samsung Galaxy Note 4 and Galaxy Note Edge. Samsung Galaxy S5 and Galaxy Note 3 require Android 5 Lollipop.

More information:

www.ikmultimedia.com/amplitubeandroid

Accessory information:

www.amplitube.com/irig
www.irighda.com
www.irigstomp.com
Permissions required
The following permissions are required to use this app.
Telephone

make and manage phone calls
Call logs

read and write phone call log
Location

access this device's location
Storage

access photos, media and files on your device
OVERVIEW
Version
1.0.4 (2019.03.18)
Age restriction
For all ages
Expiration
No expiration date
Seller info
Seller
: IK Multimedia Production Srl
View details
jman**
This thing SUCKS! 20 bucks down the drain for the same app that's free! Sounds lousy and TONEBRIDGE is great for iRig2 for FREE! Awesome!
scot**
Total garbage, doesn't work well at all. Sound is garbled and crackles, constantly nags you to download other apps you don't need.
rbmp**
Disaster. I bought this piece of ****and not working properly on my Galaxy Note 4. I can not slide left & right on Crunch AMP & other bugs
brad**
So far the app is great however I thought buying the full version would remove the adds I was wrong. Get rid of those and you get 5 stars
curb**
Awesome! Older irig hd (bought a few years ago for ipad works great). : )
sage**
Had to change a setting in pro audio to get it to work. So far, everything is good to go. Instructions need to be updated.