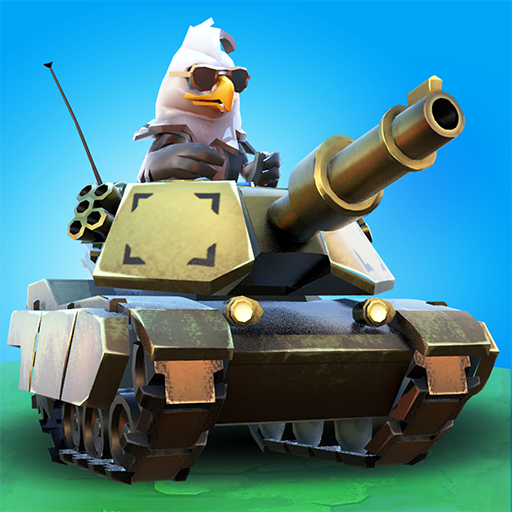 PvPets: Tank Battle Royale
Free
Offers in-app purchases
What's New
A new and improved version of PvPets is here. Want to know what's inside this update?

- New Star Ranks feature: Defeat other players and gain ranks!
- New time-limited events: Compete for special rewards!
- Many new tanks added to the roster!
- Get ready for a whole new Battle Pass season!
- Bug fixes

Ready for a wild ride?
Description
Ever thought how Battle Royale can look like if it were between cute pets driving the coolest tanks in history?

Smash into action-packed Multiplayer Tank Battle Royale!
Intense online PvP games with players from all over the world, experience the best in tank game action with PvPets: Tank Battle Royale!

READY FOR A WILDE RIDE?
- Pick your favorite pet, strap them into a customized tank and watch the brawl unfold in real-time online PvP.
- Hunt with up to 20 players in quick 3-minute PvP games.
- Unlock and upgrade many tanks with powerful special skills.
- Smash the ranks of the leaderboards to become the star of the PvPets world.

FEATURES
- It's survival of the fittest with large multiplayer online PvP games of 20 players.
- Thrill of the hunt, fast-paced easy to learn action brings the best of io free games.
- Gun down opponents with shooter controls in a colorful pixel world.
- Stalk your prey like a sniper or smash into close combat with different playstyles for each tank.
- Cute but deadly, customize your pets and their tanks for varied looks and performance.
- Devour your enemies and increase your tank's size and gun power.
- Take aim with unique shooter skills for every tank including snipers, rockets, flamethrowers and more!
- Lions and tigers and bears oh my! Explore a world filled with crazy pets!
- Tons of treats! Earn epic loot just by playing.
- Who's a good boy? Complete missions to earn a lot of rewards.
- Be the star of the show with a lot of competitive multiplayer leaderboards.
- Smash the ranks and become a tank ace to unlock new tanks and skins.
- Upgrade your tanks and pets to get more powerful guns and armor.
- A living world with special events and updates on a constant basis.

DOWNLOAD NOW and survive in PvPets: Tank Battle Royale!
PvPets Tank Battle Royale is a free io game, but you can use in-app purchases to progress a bit faster and you may want to keep the game away from your kids, so they won't spend from your credit card or smash your high score!
Permissions required
The following permissions are required to use this app.
OVERVIEW
Version1.3.1.10188 (2020.01.28)
Size93.86 MB
Age restriction For all ages
ExpirationNo expiration date
Seller info
Seller : IUGO Games, Inc
Corporate/rep. name : PENGTAI INTERACTIVE ADVERTISING CO.,LTD/南龙植
View details
c.my**
Cool
sffm**
It's the best dâmn game iv'e ever played
shel**
Dope
begg**
I was not even able to play the game because it kept crashing before I even saw the title page.
thre**
1¹¹¹q+11¹+q+qqqq++
shan**
It is good
eita**
i7
myso**
Cool game but could be better
pmoo**
I like this game because it is to easy to play and it fun. And your guy should play and download papers: Tank Battle Royale. and it is so so much fun
jbut**
I think this game is going to be fun!
tres**
Minerva
dolp**
It's okay
drag**
Pop good for live streaming views right twitch & frivvifox Lauren likes kitty's & most of the world dose Don't want to play or try no Frivolousfox ASMR frivvifox Lauren frivvay disability smart fake love scam artist no love giving to pokimane poki pokiasmr Foki evan for days I hope shannen doherty beats cancer 90210