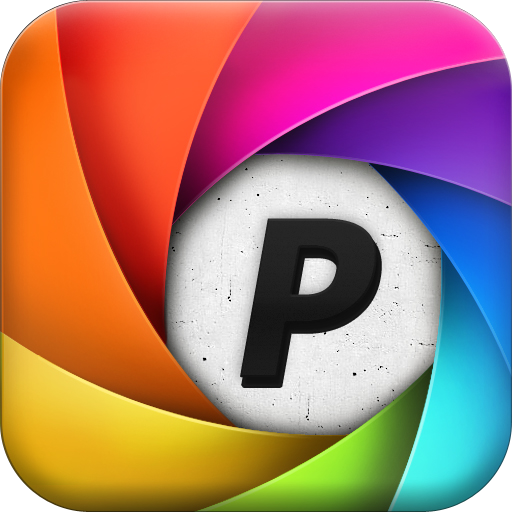 What's New
We gave our best to give you the optimized version for Android 5.0. More PicsPlay updates are on their way, so stay tuned. :) 

- Optimized for Android 5.0 (Lollipop)
- Minor bug fixes
Description
Spotlighted on Forbes as one of "Best Photo Apps For iOS And Android Tablets" by Amadou Diallo, July 3rd, 2013 

More than 10 million downloads!

★★★★★ PicsPlay, The Incredible Photo Editor! 
PicsPlay contains 200 filters and all editing features which allow you to express the best moments of your life. 

Photos of your daily life and travelling can be depicted as the most memorable moment. 
PicsPlay is easier and more convenient than any other editors. Touch and touch! With few taps your photo will be amazingly changed. You can be a professional photographer! 

• Youtube Video clip Review : http://youtu.be/2FiOPVRg00g

"It's an incredibly comprehensive picture editing tool!" 
- Paul Wilks, Androidtapp.com

"if you think that your current photo-editing app isn't enough for your needs, JellyBus Inc. has introduced a great new Android app that you might want to try out."
- Waqas Ahmed, Addictivetips.com

"Global Partners of Samsung in IFA and Photokina 2012" 

[ Special Features ] 

• Take a photo and Load a photo 
• Undo, Redo, Reset 
• Compare with an original photo anytime 
• Crop, Straighten & Rotate 
• Environmental Settings 

• 200 Professional filters in 10 themes 
Themes : Scene, HDR, Blur, ART, Vintage, Grunge, Beauty, Professional, Color Splash, Black & White 
Control the opacity of filters 
Favorite and History List 
Get your own unique effect from unlimited combinations of filters 

• Live Tilt-Shift (Pro Version Only)
3 types of Blur effect - Linear, Radial, Oval 
Control the blur area and watch your effect simultaneously 

• Time Matrix with temporal photographic effects 
Like a time machine, you can travel time with Time Matrix and apply a variety of effects according to the time you set. 

• Powerful Editing Tools for both beginners & professionals 
Exposure -Brightness & Contrast 
Color - Hue & Saturation 
White Balance - Color Temperature & Tint 
Colored Curve & B&W Curve 
Histogram
Smart Sharpen 

• Photo Decoration 
Text - More than 40 Fonts, 80 Colors & Patterns, Color Palette, 14 Styles, 32 Labels 
Painting - Size Options, 32 Colors & 48 Color-Patterns, Color Palette, 30 Bokeh, 20 Roll-Stamps, Eraser 
Stamp - Tens of stamps and Speech bubbles, Making a stamp with your photo 
Border – 34 Border styles, Control roundness and thickness 
Texture, Lomo Style Vignetting and so on.

• Photo Sharing to Instagram, Facebook, Twitter, Flickr, Kakaotalk, Line etc! (Official apps should be installed)

• Save in various resolutions
PicsPlay Pro allows you to save a photo in from SNS optimized sizes up to the size of 2048 px. 
(The saving size can be differentiated in some Android devices.)

• Manual
PicsPlay Pro is designed for everyone to use conveniently and easily.

Your precious 5 stars encourage us to develop and improve our application constantly. Thank you very much!
We are waiting for your feedback:)

Facebook : http://www.facebook.com/PicsPlay 
Email: contact@jellybus.com 
Homepage : http://www.jellybus.com

Since our launch, we've received so much love and countless feedbacks from you. 
Of those, we've been keeping in mind the features you've wished to see in PicsPlay Pro,
and carefully picked out the ones that would bring the greatest value to you for this update.
Thank you for the love and we hope you enjoy!

[Notice]
Buy Pro Version to use freely all features of PicsPlay Pro!
- No AD Banner
- 10 Perfect Themes, 200 Filters
- High Resolution Support
Permissions required
The following permissions are required to use this app.
Storageaccess photos, media and files on your device
OVERVIEW
Version3.6.1 (2018.11.13)
Size26.19 MB
Age restriction 12+
ExpirationNo expiration date
Seller info
Seller : JellyBus Inc.
Corporate/rep. name : JellyBus Inc./김세중
Business license number : 1138645118
View details
ks**
Very interesting but I could not save my picture without buying the app.
jenn**
It's NOT free! Also, it doesn't let me uninstall it.....it sucks!!!
kwin**
I installed this app to put text on pictures. After adding text and saving the pic, the text is so blurry you can't read it. Worthless app
kadi**
Not running well didn't liked
evan**
Evanasato@gmail.com
ruth**
Works super great. Amazing work
dulc**
Esta buena
larr**
1st use. load photo from Galaxy Note 2 gallery. Clicked photo & screen went blank 2s returned to app. - 1☆ 140 characters 4 review sux
ole.**
This looked good til I read a comment bout it having permission 2 check my calls, I checked n it says it does, wth would a photo chopping app need any info on our calls??? That's absurdly ridiculous, the phone will "ring" no matter what we're doing@ the time if it's set up 2. I feel it's an invasion of privacy, n no app is worth it.
howa**
Why are people rating this 5 stars when they want to uninstall this piece of junk?
mrsg**
In order to uninstall go to the settings then go to application manager once you find it click on it and uninstall
flor**
It was working fine now it suxxxx big time.. ay que borrarla
elij**
0 stars
elij**
App is lame. Limited options. Can't uninstall app. Wish I didn't get this app. If anyone finds a way to uninstall this app please share the info. Galaxy s3
tere**
Como borrar descargas no deseadas de samsung apps.????