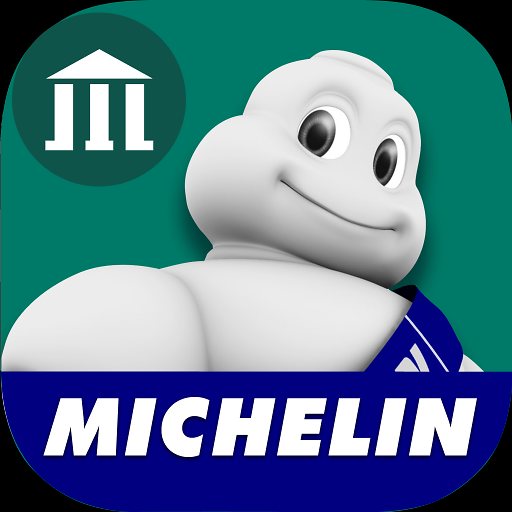 Description
Discover and travel the world with MICHELIN Travel FOR FREE! 

MICHELIN Travel is a free application that will guide you across 85 countries and 30,0000 tourist attractions selected by the MICHELIN Green Guide. Descriptions, recommendations, photos, notes, reviews: the world in your pocket for free! 
Personnalise your travel book and download it to view offline free of charge anywhere in the world: Nice, Paris, London, New York, Barcelona and even Bangkok… 

Benefits of the MICHELIN Travel Mobile application 

Simple search 
Search via the search engine or via maps 

GEOLOCATION 
Geolocalise-via GPS, identify all the nearby tourist attractions to and display the route to get there. 

RICH CONTENT, QUALITY, RECOMMENDED BY MICHELIN 
- descriptions of thousands of destinations and tourist attractions compiled by tourism professionals and with masses of useful information 
-types of tourist attractions: museums, castles, parks, gardens… 

A PERSONALISED TRAVEL BOOK 
Create your travel books and add the destinations and tourist attractions you want to visit, download them to locate from your homepage and view offline (text and photos). 

SHARE EXPERIENCES 
- Compare the ratings, reviews and photos of other travelers 
- Add your own photos, notes and reviews 
- Share your travel books and favourite tourist attractions with friends. 


A TOURIST GUIDE FOR THE WHOLE WORLD: 85 countries and hundreds of cities… 
Examples of countries and cities 
North America 
United States: Chicago, Los Angeles, New York, San Francisco… 
Canada: Montréal, Vancouver… 
Cuba: Havana… 

Central and South America 
Brazil: Rio de Janeiro, 
Mexico: Mexico City, Oaxaca… 
Chile: Santiago… 

Europe 
Netherlands: Amsterdam, Rotterdam… 
Spain: Barcelona, Madrid, Valencia, Seville… 
Germany: Berlin, Munich… 
Great Britain: London, Edinburgh 
France: Paris, Nice… 
Italy: Rome, Venice… 
Czech Republic: Prague… 
+thousands of other cities in our world travel guide application 

Asia Pacific 
Thailand: Bangkok, Chiang Mai… 
China: Peking, Shanghai… 
Hong Kong 
Singapore 
Japan: Tokyo… 
Australia: Sydney… 

Middle East 
- United Arab Emirates: Dubai… 

This application requires a 3G internet connection or wifi for search connection, but enables the creation of personalised travel books that can be downloaded for offline viewing (text and photos).



MICHELIN Mobility Apps

Take the smart road with the MICHELIN App Collection

Discover a package of free interconnected applications that enable you to better monitor and manage your journeys:
-	Maintain your tyres and your vehicle:
o	MICHELIN MyCar (tips on checking and maintening your vehicule) 
-	Drive more safely: 
o	MICHELIN Navigation (guidance and traffic information in real-time)
o	ViaMichelin (mapping and route planning)
-	Make the most of your mobility : 
o	MICHELIN Hotels (real-time booking)
o	MICHELIN Restaurants (restaurant search and booking) 
o	MICHELIN Travel (the wealth of tourist information from the Green Guide)
Permissions required
The following permissions are required to use this app.
Telephone

make and manage phone calls
Location

access this device's location
Storage

access photos, media and files on your device
OVERVIEW
Age restriction
For all ages
Expiration
No expiaration date
pakr**
I am very pleased with the app. I feel very comfortable using it.