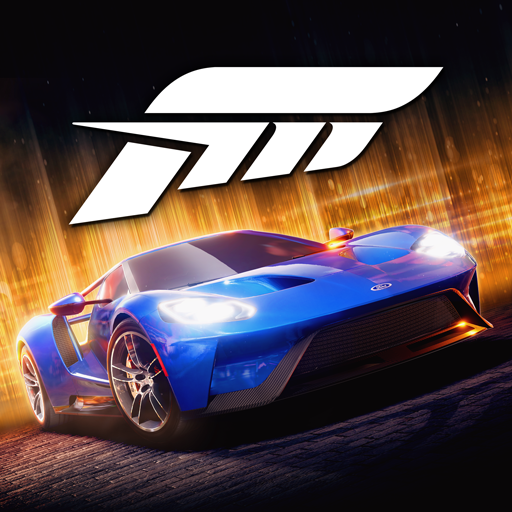 Forza Street
Free
Offers in-app purchases
Description
Race through the ultimate street racing scene at dizzying speed! Have fun winning the racing car collection of your dreams. Pick an event, choose a lineup of cars from your collection, and start racing for infamy in the first Forza game for mobile.

COLLECT AND UPGRADE ICONIC CARS
Race to collect legendary cars at intense speed – from classic muscle to modern sports and retro supercars – turning your garage into a trophy case of iconic racing cars, with all with the fun, attention to graphics detail, and speed Forza is known for.

TRUE CINEMATIC RACING
Streamlined controls focus on the fun - timing your gas, brake, and boost are the keys to victory, as action cams chase the racing adrenaline up close showcasing amazing graphics. It's a fun, new, and wholly unique way to enjoy Forza.

RACE ON YOUR TERMS 
Race your collection of cars anytime, anywhere. Squeeze in a fun, quick one minute race, or dive into immersive story driven events with multiple paths to victory in the cars you love. Forza Street something fun for you any time you feel like racing at high speed.
Permissions required
The following permissions are required to use this app.
Storageaccess photos, media and files on your device
Contactsaccess your contacts
OVERVIEW
Version31.2.2 (2020.05.20)
Size1.69 GB
Age restriction For all ages
ExpirationNo expiration date
thah**
Needs more of you know DRIVING not just pressing the brake
tran**
Great racing game
stil**
AMAZING!!!
kevi**
Incredible!
pkue**
Fun game.
atin**
It's too boring, you barely control your car and you only get to press and release gass
jone**
Fun and easy to play
nava**
Really easy to play
rams**
Perfect mobile racing experience
jaib**
Awesome Game, Great Controls....Good story as well.
nsti**
Love all things Forza, and this game does not disappoint. Been playing since this was released on the Windows store. Love being able to sync game play between devices. I already have a level 13 garage and completed the first chapter and half of the second chapter.
denn**
Super repetitive and has bugs. I will say the graphics are decent. Music leaves much to be desire. Format of game play gets old fast - if you did one race, you did them all. Basically a reaction based game based off of start and "cornering" by taking your finger off the accelerator and then putting it back down. Sometimes the camera angles (that automatically change) make it hard to see what's coming to plan for boost use. Additionally, there are two noticeable bugs: 1. Messages should be able to be cleared. I have 3 that have been reviewed and rewards received but they still show as unread. (one is slated to last 274 days before being deleted 😳) 2. Challenges should be relative to progress in the game. One came up today about winning spotlight races - I tried to enter but I don't have cars that meet the requirements. Unless changes are made, I will definitely be deleting this - and seriously, having a pay to play strategy for a game this poor in playing depth.... That's sad.
regu**
Love it love it LOVE IT!!!
aodh**
I've always loved forza and this let's me play on my phone wherever I want!!
jtre**
I enjoy it. Different than most racing games on handheld. Way more relaxed racing.