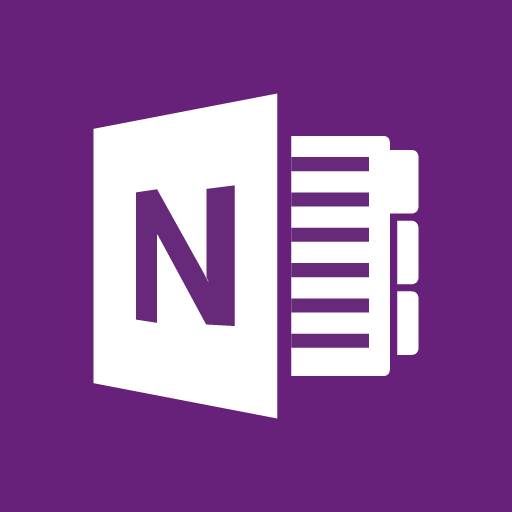 What's New
1. Add a password to a section to keep your notes safe from prying eyes
2. Use your fingerprint to unlock password protected sections
3. No need to remember a password. Sign in to OneNote using just your phone number
4. OneNote is now integrated with Office Lens to provide scanning, cropping, and rotation of photos, documents, whiteboards, and business-cards.
5. Press and hold the OneNote icon to quickly create different kinds of notes. (Supported for Android Version 7.1 and above)
6. Bug fixes and performance improvements
Description
All your notes—in one place and with you, anywhere. OneNote is a digital notebook for your to-do lists, lecture and meeting notes, vacation plans, or anything you want to organize or remember. 
Type or jot down notes, record audio or snap a picture and OneNote saves it. Your notes sync across your devices so you can access them wherever you go. And you can easily share your notes with others.
OneNote has free apps for PC, Mac, Windows Phone, iPhone, iPad, and Android devices. And you can browse to onenote.com to get to your notes.

Key Features:
•	Create and update notes and checklists.
•	Bold, italicize, underline, highlight, indent - format notes like you do on a computer.
•	Organize your notes using notebooks, sections and tags.
•	Take handwritten notes or add handwriting and drawings to notes. 
•	Your notebooks sync across your computers and devices. 
•	View notes you created on your computer, including formatting, video, and attached files.
•	Search your notes and files for anything you've captured – even text inside pictures. 
•	Home screen widgets let you quickly create picture, audio and text notes without opening the app. 
•	Get to your most recent notes right from your Home screen with the OneNote Recent widget. 
•	Add your favorite page, section, or notebook to the Home screen for quick access.
•	Access your work notes stored on SharePoint Online sites from your tablet or phone.
Here are some ideas on how to use OneNote: 
•	Capture and format notes for classwork, meetings, or research. 
•	Take handwritten notes during lectures and have them available everywhere.
•	Add audio and video to your notes. 
•	Snap a picture of the whiteboard and add it to your meeting notes. 
•	Share a shopping list with the family and mark items off when you're in the store.
•	Create an itinerary and keep track of your travel plans for your next big vacation.
•	Take pictures of receipts and bills to get rid of paper clutter.
•	Collaborate and share ideas with your team.
•	Research products and prices to make the best purchasing decision.

You can find answers to Frequently Asked Questions about OneNote for Android at http://aka.ms/OnenoteAndroidFAQ 

Requirements: 
•	Requires Android OS 4.1 or later. 
•	A free Microsoft account is required to use OneNote. 
•	OneNote opens existing notebooks created in Microsoft OneNote 2010 format or later.
•	To sync your notes to OneDrive Pro, sign in with your organization's Office 365 or SharePoint account.

Like us on Facebook, follow us on Twitter, or visit the blog for the latest news: 
http://facebook.com/MicrosoftOneNote
https://twitter.com/msonenote
https://plus.google.com/102199506601015331367/
http://blogs.office.com/b/microsoft-onenote
http://OneNote.com
https://plus.google.com/communities/113633281646135322395/
Permissions required
The following permissions are required to use this app.
Telephone

make and manage phone calls
Storage

access photos, media and files on your device
Camera

take pictures and record video
Contacts

access your contacts
OVERVIEW
Version
16.0.11601.20100 (2019.05.08)
Age restriction
For all ages
Expiration
No expiration date
tyle**
Simple Notepad from Microsoft for Android
bebo**
AURELIOCORTEZIGOOGLECHROME.COM
sloa**
Good
eric**
:Ying:
yang**
Big deal true all everything is fine
egni**
With one note the future can be navigated or traver through it all the way to the past. Life is a circle.
kyle**
For the love of God add s-pen button functionality for the eraser or other things. Also make the app more like the ipad or desktop apps.
dkwd**
Works great. Connects to my personal and work O365.
this**
App has been crashing over and over with in the last month - after a new Update was pushed by Samsung. WTF FIX SAMSUNG or MICROSOFT PLEASE!
lolo**
App keeps crashing with WiFi on, if it's off it works, like it can't sync. Very annoying
cav3**
Won't stay open. App keeps closing. Tried to uninstall still nothing. Seems to be all the Microsoft office apps
rebe**
Wont stay open, tried uninstalling and still no help. Important to fix this people have personal items on here!
pame**
Brand new galaxy note tablet running android nugget, did update, was working, now won't open. Pls fix!!!! Very Important!!
sonj**
Can't believe this is so easy to use and makes it very convenient to make lists, take notes and organize tasks. Thanks!
emig**
kmnb k931 760-409-5569