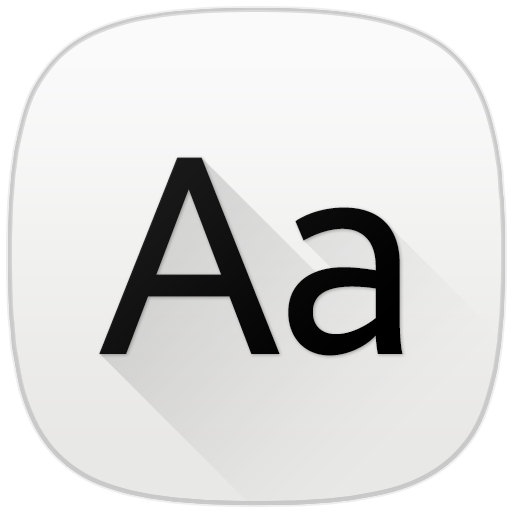 Description
Samsung Sans is a sans serif typeface that soft, unique and very legible.

You can download free for your Galaxy phone.
OVERVIEW
Version2.0.00-1 (2019.07.26)
Size287.55 KB
Age restriction For all ages
ExpirationNo expiration date
Seller info
Seller : Samsung Electronics Co.,Ltd.
Corporate/rep. name : Samsung Electronics Co., Ltd./김기남, 김현석, 고동진
Business license number : 1248100998
View details
chri**
Now I can see what she's writing lol
mark**
Makes what I write look good and it's fun
luci**
Very nice font, I use it often.
kham**
Yeah I think to myself
avag**
I wanted a new font, so I went on playstore, and found a few different apps to try out. Of course, none of them worked, so I clicked GET MORE FONTS in settings, it took me to galaxy store. Which is an absolute rip-off. If you're reading this and, you bought s two dollar font, that is kinda sad tbh. So in the end, I'm currently using the font Rosemary. I normally like the fonts, that look hand written. So for you I suggest l, dont buy jack-squat off of galaxy store. Just use the free fonts, such as Rosemary. The font, is actually really cute too. Tbf, I wish I could give this crappy app a 0. The font it "adds" is the default.
john**
AN AWESOME APP
rosi**
Pretty good for free fonts :)
dras**
This Font looks just like *Default Font on my Galaxy S9.
thel**
👍🏽
arya**
Touch is hard and wrong tips
love**
Samsung need to do something about their review section. Junk and idiotic feedbacks from junky people are amazing
rawr**
Open apps
pica**
Welp True ! Y'All know your guys are!
moon**
1)Default Font 2) Bad on Samsung for new control/monetization on font. Very Apple of you. What's the point of Android here? 3) Fvck you.
john**
Josh Smith