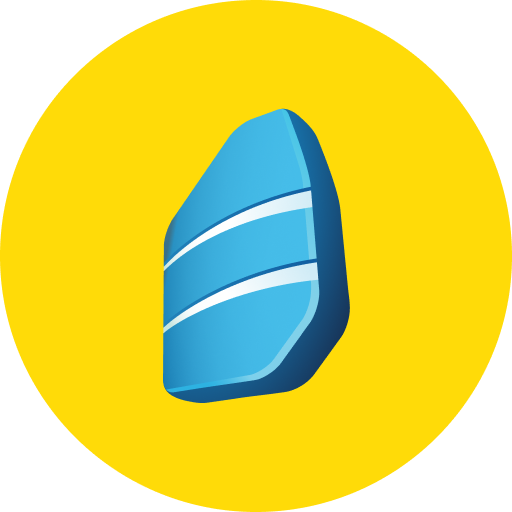 Rosetta Stone for Samsung
Free
Offers in-app purchases
Description
Learn to speak a new language intuitively with Rosetta Stone—the most trusted name in language learning. Train yourself to gain context from conversations using our proven immersion method in dozens of languages—including English, German, Italian, Japanese and more.

Rosetta Stone's award-winning mobile app teaches you to think in a new language by connecting words with images and your surroundings. Explore a natural way of language learning that grows your speaking and reading abilities. Study grammar and vocabulary intuitively and learn to speak any new language, from French to Korean, without translation.

TOP 3 FEATURES

1. Practice pronouncing words and reading stories aloud with TruAccent®, the world's best speech recognition technology. 

2. Study your grammar and vocabulary with Rosetta Stone's immersion method. Learn to speak words, followed by phrases, and how to start conversations. 

3. Practice your language skills offline by downloading all your lessons in your language of choice. Learn Spanish, English, French, Korean, or any of our other languages wherever you are in the world with your Audio Companion®.

YOUR ROSETTA STONE JOURNEY

1. Choose from 24 languages.
Discover a new language: Learn Spanish (Latin America), Spanish (Spain), English (US), English (UK), French, Japanese, Italian, German, Korean, Chinese, Portuguese, Russian, Arabic, Dutch, Tagalog, Greek, Hebrew, Hindi, Irish, Farsi, Polish, Swedish, Turkish, or Vietnamese.

2. Build a foundation.
Learn the basic words and grammar you need to build a basis of fundamental vocabulary and essential language structure. Practice Spanish, German, or Japanese accents with our TruAccent® technology. Start reading stories aloud and listen for instant feedback. What you learn now is the foundation of your journey.

3. Explore our extended learning features.
Learn English or Italian common sayings and discover how to live like a local. Order food and drinks, ask for directions, haggle over an item, or make a new friend. Out and about without internet access? Listen to our audio companion or study downloadable lessons for offline learning. Consult our easy-to-access Phrasebook for greetings, phrases, and useful expressions.

4. Express yourself.
You're now beginning to feel confident expressing feelings and opinions in your new language. You can talk about everyday life, ask for advice, make appointments and communicate with service providers. You'll be surprised at how much you can speak and understand.

5. Converse with ease.
You're thinking, expressing feelings, and dreaming in your new language. You can start to learn Spanish or any of our other languages through your own life experiences. You can conduct business, read novels, and socialize. You're expressing yourself on a range of topics, from politics to sports, and everything in between. Congratulations! Strangers become friends and the world becomes a smaller place when you're confident in a new language.

Download Rosetta Stone and start your language learning journey today!

• 2018 PCMag Editors' Choice
• 2017 Platinum Award for Best Educational App by the Best Mobile App Awards
• 2017 Best Productivity & Utilities App by Mobile UX Awards
Permissions required
The following permissions are required to use this app.
Telephonemake and manage phone calls
Cameratake pictures and record video
OVERVIEW
Version1.2.0 (2019.04.17)
Size87.15 MB
Age restriction For all ages
ExpirationNo expiration date
Seller info
Seller : Rosetta Stone Ltd
Corporate/rep. name : Rosetta Stone Ltd/Ryan Svedin
View details
carm**
Though I'm having a hard time it's kind of fun. Wish they had the English version to see what I'm learning but to each his own.
rock**
It's a wonderful app!
bott**
Easy to learn new languages
blit**
It's easy to follow along and the meanings of the words are integrated into an easy to use interface. I love it! Need more access please.
step**
Easy to use and it is audio visual an hands on learning which makes it fun and I am not discouraged THANK YOU ROSETTA STONE
samm**
Awesome learning 👍
jkba**
It would be nice if they were transparent and let you know the monthly/yearly cost and cancellation process. I can't blindly purchase anything or deal with a company that cannot be upfront with its potential customers.
kimg**
O my God this app is apps good but I wish they had bots or reel people that you can practice to talk to
will**
Same as the regular Rosetta Stone app.
mich**
Fun and easy to use
mcve**
I learned Spanish 40 years ago in high school. I have not needed it until now. Great refresher. Made me realize how much I had forgotten!
13pu**
Works very smoothly. Thought it was too easy at first, but it builds to really challenging my abilities
smal**
Having the visuals helps you learn much easier. I love this app!
hhen**
Very helpful