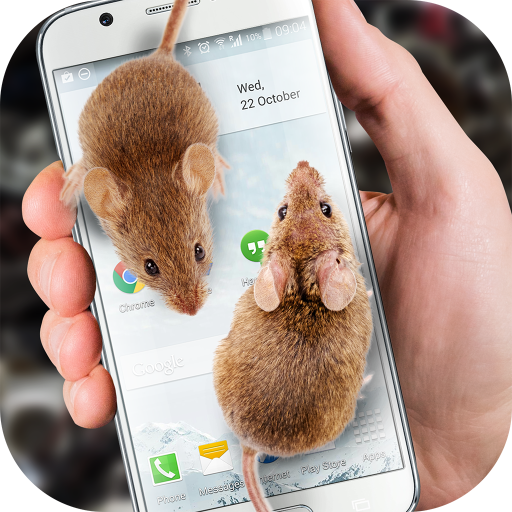 Mouse on Screen Scary Joke
Description
"Mouse on screen scary joke" is an entertainment application which will display an animation of shaggy mouse on the screen of your phone. An animal will be walking from one edge of the screen to another one.  Mice will be running, looking around, sniffing, running away. Horrifying animation of mammal will be always displayed in the foreground. It doesn't matter what you are doing, if you are browsing the Internet, playing the game or writing an email, the vermin will always be visible.  You can set by yourself on which edge of the phone animal is going to move. The frightening effect of rodent is so realistic that you can scare your friends in an easy way. They may believe that a real mouse is walking on the screen of their phone. 
Additionally we give you possibility to set a transparent icon of removing the rodent. Thanks to it, it will be easier to prank your friends.

This application can be also serve as a toy for your cat. Show the virtual mouse to your cat and for sure he will be chasing after it and be eager to eat it:)

How can you prank your friends?
1. Take their phone under pretext of checking something on the Internet.
2. Install our great application.
3. Set the appearance of vermin few seconds/minutes ahead.
4. Give the phone back to your victim.
5. Look at his reaction and laugh as much as possible:)

Main features of the application:
- natural and fluent movements of mouse.
- choice of the screen edge of animal's movements.
- setting the time after which the animation will appear.
- an animation of the mammal always displayed in the foreground.
Permissions required
The following permissions are required to use this app.
Storageaccess photos, media and files on your device
OVERVIEW
Version1.0 (2020.03.24)
Size15.22 MB
Age restriction For all ages
ExpirationNo expiration date
Seller info
Seller : Just4Fun Mobile Sp. z o.o.
Corporate/rep. name : Just4Fun Mobile Sp. z o.o./Dawid J.
View details
druc**
Awesome