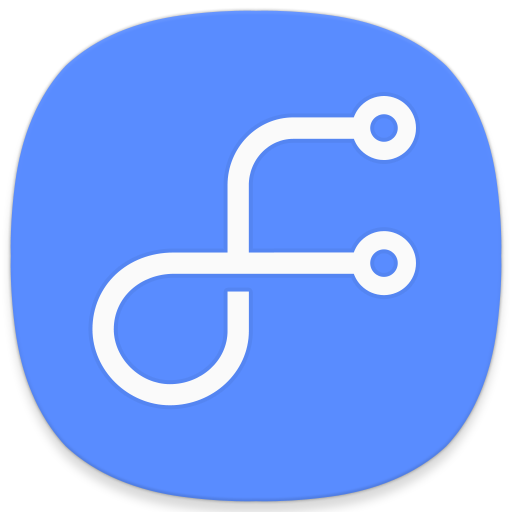 What's New
- You can control your phone's screen from your Galaxy tablet using Samsung Flow's Smart View feature.
  (Using the Multi window feature on your Galaxy tablet, you can also control both your phone and tablet simultaneously.) 
- You can now transfer folders, not just files.
Description
Samsung Flow is a neat trick to unlock your PC by tapping your unlocked Galaxy smartphone and scanning your fingerprint. You can easily enable your mobile hotspot to keep your PC connected, and check and reply directly to your phone's notifications. (*For some of Instant Messenger apps, this feature may not be supported.)
Before using this service, you should have at least one fingerprint registered on your Galaxy phone, and pair the two devices via Bluetooth if you have not done so. Please make sure you unlock your phone before tapping the phone on your PC.

You need devices that meet the Samsung Flow system requirements:

PC: Windows 10, Bluetooth 4.1 enabled PCs
Smartphone: Android OS Marshmallow (6.0) or newer, touch type fingerprint sensor enabled
Bluetooth pairing between devices, NFC function should be turned on, a fingerprint should be registered.

Supported Devices : 
Windows PC: Galaxy Tab Pro S

Galaxy Smartphone:
S7 / S7 edge
S6 / S6 edge / S6 edge+
Note 5

Before using Samsung Flow, please check below : 
1) Samsung Flow app/driver must be installed on both your Samsung Flow supported Windows PC and Galaxy smartphone.
(http://www.samsung.com/samsungflow/)
2) There should be at least one fingerprint registered on your phone, and your phone should be unlocked at the time of using the service.
3) We recommend you to turn on the bluetooth on both devices to pair them up before using the service for smoother service setup.
4) If screen saver is running on your Windows PC screen, you need to exit it first to unlock your PC with Samsung Flow.
Permissions required
The following permissions are required to use this app.
Telephonemake and manage phone calls
SMSsend and view SMS messages
Locationaccess this device's location
Storageaccess photos, media and files on your device
Contactsaccess your contacts
OVERVIEW
Version4.5.11.1 (2020.01.20)
Size10.29 MB
Age restriction For all ages
ExpirationNo expiration date
Seller info
Seller : Samsung Electronics Co., Ltd.
Corporate/rep. name : Samsung Electronics Co., Ltd./김기남, 김현석, 고동진
Business license number : 1248100998
View details
matt**
Not giving it a real rating because you only allow usb connection on Android 10 devices which you didn't have until recently. I'll wait until my note 9 gets updated
robb**
What am I doing here I keep forgetting I have a Pixel lol
bsmi**
Not a fan of all the permissions needed...
alex**
Excellent. Like apple airdrop but on steroids.
486p**
Very nice app for connecting your phone (note9) to your laptop. Actually provides desktop window of your phone. But now with a mouse and keyboard! Transfer files between them. Can use wifi which I watched movie very clean. 1st day use will discover more. The worst thing is the name flow, had to search for app to connect/ link phone to pc. Hp laptop. I was able to run any phone app from laptop window. The app has a nice tool bar full of what we would use. Works great and fun.
wild**
Wildcat58uk
stru**
Amazing... When it connects. I hate that every time I use it I have to approve screen security on my phone (maybe a lifetime PIN or password or something can be a future enhancement?). But once it finally connects it's really useful and really cool to see and operate my phone from my tablet. It would be great if there was a browser-based lite version for older devices to use some of the functionality
link**
game changer. this is precisely how you get so any X apple users while nexus and pixel users just don't reproduce anyway