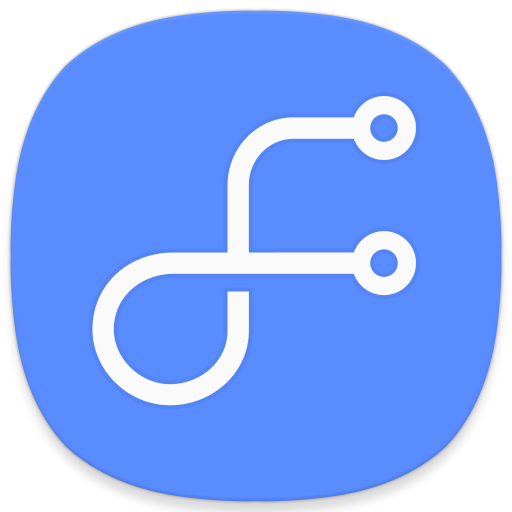 What's New
- Registration is now much easier between your phone and tablet/PC.
  (You can enable the Windows Unlock feature using the Samsung Flow PC version.) 
- Smart View's features have improved. 
  (Full screen/Rotation/Do not disturb)"
Description
Samsung Flow is a software product that enables a seamless, secure, connected experience across your devices. You can authenticate your Tablet/PC with your smartphone, share content between devices, and sync notifications or view contents from your smartphone on your Tablet/PC. You can turn on the smartphone's Mobile Hotspot to keep your Tablet/PC connected.
You can also log in to your Tablet/PC with your biometric data (Iris, Fingerprints) if you register with Samsung Pass.

You can also use Samsung Flow on Galaxy Watch. Unlock and Sign in to your Tablet/PC using your Samsung Wearable. Using watch to unlock Tablet/PC, you can also view notifications on your phone and check the flow history of your shared content.
The following devices support Samsung Flow:
1. Windows Tablet/PC : Windows 10 OS Creators update (V1703) and June patch build (15063.413)
(Galaxy TabPro S, Galaxy Book, Galaxy Book2,  PC)
2. Android Tablet: Android Marshmallow OS or newer (Galaxy Tab S4, Tab S3, Tab S2, Tab A (2018, 10.5), Tab A2, Tab Active 2, Tab A 10.1, Tab A (2017))
3. Android Phone : Android Marshmallow OS or Newer
It may not be supported by some models, depending on the smartphone specifications.
4. Samsung Wearable: Tizen 3.0 OS or Newer
Samsung Galaxy Watch, Samsung Gear S3, Samsung Gear Sports

* Samsung Flow will operate only on official software released by Samsung Electronics.
* Windows: Bluetooth (Bluetooth LE optional) or Wi-Fi/LAN, Wi-Fi direct

Windows 10 users can find the Samsung Flow app on the Windows App Store.
Go to the Samsung Flow webpage where you can find the setup guide: 
www.samsung.com/samsungflow
If you have not updated the Samsung Flow app to the latest version, please go to Windows Store > Menu > Downloads and Updates to update the app.

The following permissions are required for the app service. For optional permissions, the default functionality of the service is turned on, but not allowed.
[Required permissions]
 - Location: Used to search for your phone using your tablet or computer connected through Bluetooth
 - Storage: To store content shared among registered devices to an external storage device and view the stored content
[Optional permissions]
 - Phone: Used to answer and decline calls to your phone on your tablet or computer
 - Contacts: Used to obtain information about callers or senders when you receive calls or text messages on your phone
 - SMS: Used to receive and reply to text messages to your phone on your tablet or computer
 - Microphone: Used to record and send the audio from your phone to your computer or tablet while using Smart View
Permissions required
The following permissions are required to use this app.
Telephone

make and manage phone calls
SMS

send and view SMS messages
Location

access this device's location
Storage

access photos, media and files on your device
Contacts

access your contacts
OVERVIEW
Version
4.0.13 (2019.07.10)
Age restriction
For all ages
Expiration
No expiration date
Seller info
Seller
: Samsung Electronics Co., Ltd.
Corporate/rep. name
: Samsung Electronics Co., Ltd./김기남, 김현석, 고동진
Business license number
: 1248100998
View details