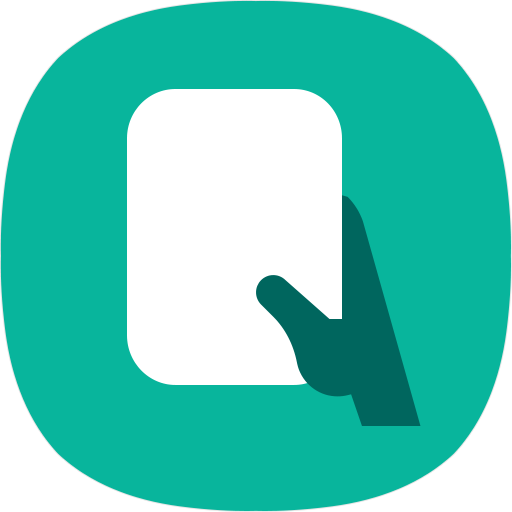 What's New
< Version.2.5.41 > 
- Added new functions on "Quick tools". ( BT, Wifi , Rotation, etc ) 
- Added "Start application" feature. 
- Added "Hide on lock screen" setting. 
- Enhanced "Quick tools" as GUI version. 
- Enhanced "Task switcher" by adding "starred app" feature. ( by long press app item ) 
- Modified to set size/position of left/right handle separately 
- Fixed some bugs.

< Version.2.4.19 > 
- Fixed that handle does not deliver click event to running apps. (Tablets/P-OS)
- Fixed the Bixby page showing problem on some devices.
- Fixed the right handle disappear problem on Tab S5e.


< Version.2.3.33 >
- Added Quick Tools editing function. 
- Added new functions ( Apps screen / Close app / Finder search / Split screen view / Night mode )
- Fixed some bugs.

<2.2.23>
- Changed default icon. 
- Added new functions. ( Media controller / Screen brigtness / Flashlight )
- Added "Quick tools" which offers function group.
- Added "Quick action" setting on Advanced settings. ( Start action without finger release )
- Fixed not to work on KidsHome mode.
- Fixed an unexpected initialization problem in "App Exceptions".
- Fixed a service restart failure problem. (Pie)

<2.1.25>
- Added "Task Switcher"  function. ( Oreo or higher )
- Added gestures "App exceptions" setting.  ( Oreo or higher )
- Modified to run as Foreground service to prevent service termination.  (Battery usage notificaion is displayed)
- Modified to save separately when adjusting gesture handle size / position on landscape / portrait orientation
- Added "Open notification" function.

<2.0.65>
- Fixed to work "Pull screen down". (Pie)
- Fixed auto start problem when rebooting even if the setting is OFF. (Pie) 
- Changed the landscape mode setting to Default Off.
- Modified to always show gesture recognition area in setting screen. 
- Improved long swipe recognition performance
- Changed the size of the handles in landscape orientation to be smaller.
- Fixed gesture recognition error in some areas in landscape orientation.
- Fixed to display at gesture point instead of fixed position when open Floating navigation key.
- Applied multilingual translation.

<1.9.3>
- Support Android 9.0 (Pie)

<1.8.29>
- Implement the Routine interlock functionality. ( Oreo )
- Fix touch malfunction on tablet devices
- Fix memory leak problem when setting On / Off.
- Fix problem that could not set "none" for short horizontal direction.
- Fixe problem of Back key operation even if "none" is set for short diagonal direction.
- Adjust long diagonal-down gesture angle. (to distinguish with long horizontal swipe)


<1.7.11>
- Implemented arrow animation during gesture operation. ( On / Off possible )
- Added "Forward" function setting that works in browser.
- Changed the Edge to work when the position overlaps with the Edge handler.
- Fixed the problem that the Quickpanel icon is displayed big after updating.
- Added setting menu for S Pen operation. ( for Note/Tablet )


<1.6.09>
- Fixed a problem that left / right setting is changed to both.
- Fixed a problem that screenshot does not work on HW key devices. 
- Added notification to turn handler display on / off. (Prevent service termination)
- MENU key function setting has been added. 
- Improved swipe gesture recognition performance.
- Changed to recognize swipe gesture by S-Pen. 

<1.5.13>
- Implemented to support in landscape mode.
- Implemented so that each function can be set to the left / right handler.
- Added "Screen capture" function setting.
- Modified that it does not work when swiping by SPen.
- Fixed a problem where handler remain in screen saver operation.
- Fixed a problem of "Previous app" on Home screen.
- Fixed a problem that handler does not move up when 3rd party IME appears.
- Fixed service stop problem due to battery saving function. ( Need to reinstall after uninstall )
Description
Control your phone or tablet more easily with just one hand.

Small gesture handles will be displayed on left/right edge of screen. 
By swiping this handles, configured actions will be executed.  below is default action.

- Short horizontal swipe : Back key.
- Diagonal up swipe  : Recents key. 

You can set various functions on horizontal / diagonal up / diagonal down direction gestures. As you become accustomed to using short gestures, you can set up more functions on long gestures.

Currently available functions are as follows, and we plan to provide additional function upgrades.

 - Back key
 - Home key
 - Recent key
 - Menu key
 - Previous app
 - Forward ( web browser )
 - Open notification panel 
 - Open quick panel 
 - Screen off 
 - Assistance app 
 - Screenshot 
 - Floating navigation buttons
 - Pull screen down
 - One-handed mode
 - Flashlight
 - Start application
 - Task switcher 
 - Quick tools 

Depending on the size of the user's hand, the thickness of the thumb, or the shape of the bumper case being used, various handle settings are provided to optimize gesture recognition.

The handle will receive user's touch above the running app. So, as long as the gesture recognition is possible, it is recommended to set handle to be thin.

And once you are fully familiar with the use of gestures, It is recommended to enable [Quick action] on [Advanced settings].

In addition, when the touch interference is severe with running application such as game, you can set [App exceptions] in [Advanced Settings], then the gesture handles will not work when the app is running.


Experience the convenience of gestures on your phone and tablet with One Hand Operation +. 

Thank you.

#GoodLockFriends #5
Permissions required
The following permissions are required to use this app.
Cameratake pictures and record video
OVERVIEW
Version2.5.41.0 (2019.09.09)
Size2.37 MB
Age restriction For all ages
ExpirationNo expiration date
Seller info
Seller : Samsung Electronics Co., Ltd.
Corporate/rep. name : Samsung Electronics Co., Ltd./김기남, 김현석, 고동진
Business license number : 1248100998
View details
carl**
LOVE LOVE LOVE this!!!!!! No more hand gymnastics for me lmao
patr**
Uuugh.. Why did you add so much on the quick tools section.. I liked the simple design before the update.. PLEASE BRING BACK THE MUTE TOGGLE
andr**
The last thing I was truly missing from iOS and my iPhones was the universal back gesture from the left hand side of the screen. Thnk u!
yala**
Does what the app is designed to do, but I wish the recent app switching animation were different based on swipe side. Left or right side.
tgle**
Why just take list view away? Coule we get it back as an option?
kayl**
Love this app! The updated quick panel is cool but you should let usrevert to og list view if we want and let us change the color scheme ♥️
aaro**
Since the update it won't stop crashing
chin**
Absolutely love this and this is what I've been using on my Google pixel with the Q beta. Would like options bottom of the screen as well.
Isaa**
This app is beyond awesome!!! Please add bottom bar option.
noth**
Must have for any Galaxy user. With phones being so tall, OHO+ allows me to quickly take screenshots with, well, one hand!
supe**
Good just like normal gestures better but good
rber**
Bien diseñada
dann**
This is an amazing application! My only concern is that the best feature (quick mutiwindow) is not available for the Tab S4? Why so?