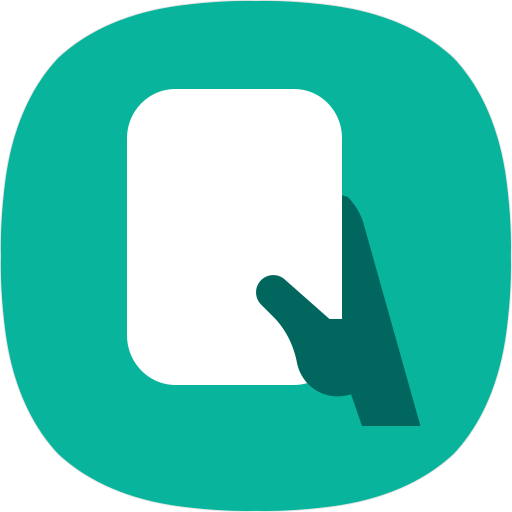 What's New
< Version.3.1.11 >
- Fixed dark mode problem.
- Support multiple gesture handles. 
- Enhanced [Task Switcher] function. (Close all , Sub menu) 
- Enhanced [Quick Tools] function. 
- Enhanced [Home screen shortcut] function.
- Enabled to use system's touch vibration. 
- Added detailed color setting for animation.

<2.8.11>
- Fix handler showing problem after running game. (WQHD resolution)
- Fix vibration problem on Android 10 OS.

<2.7.13>
- Revert swipe gesture recognition angle.
- Modify to set always use "Landscape mode", when device uses Android 10 gesture.

<2.6.41>
- Add new animations ( Curved line, Arrow )
- Support for Android 10
- Add [Home screen shortcuts] launching function
- Add [long swipe duration] setting slider
- Add volume up/down and adaptive brightness on [Quick tools] 
- Hide gesture handles in case Edge panel of Game Booster(Game Tools) is OFF. 
- Fix other bugs 



< Version.2.5.41 > 
- Added new functions on "Quick tools". ( BT, Wifi , Rotation, etc ) 
- Added "Start application" feature. 
- Added "Hide on lock screen" setting. 
- Enhanced "Quick tools" as GUI version. 
- Enhanced "Task switcher" by adding "starred app" feature. ( by long press app item ) 
- Modified to set size/position of left/right handle separately 
- Fixed some bugs.

< Version.2.4.19 > 
- Fixed that handle does not deliver click event to running apps. (Tablets/P-OS)
- Fixed the Bixby page showing problem on some devices.
- Fixed the right handle disappear problem on Tab S5e.


< Version.2.3.33 >
- Added Quick Tools editing function. 
- Added new functions ( Apps screen / Close app / Finder search / Split screen view / Night mode )
- Fixed some bugs.

<2.2.23>
- Changed default icon. 
- Added new functions. ( Media controller / Screen brigtness / Flashlight )
- Added "Quick tools" which offers function group.
- Added "Quick action" setting on Advanced settings. ( Start action without finger release )
- Fixed not to work on KidsHome mode.
- Fixed an unexpected initialization problem in "App Exceptions".
- Fixed a service restart failure problem. (Pie)

<2.1.25>
- Added "Task Switcher"  function. ( Oreo or higher )
- Added gestures "App exceptions" setting.  ( Oreo or higher )
- Modified to run as Foreground service to prevent service termination.  (Battery usage notificaion is displayed)
- Modified to save separately when adjusting gesture handle size / position on landscape / portrait orientation
- Added "Open notification" function.

<2.0.65>
- Fixed to work "Pull screen down". (Pie)
- Fixed auto start problem when rebooting even if the setting is OFF. (Pie) 
- Changed the landscape mode setting to Default Off.
- Modified to always show gesture recognition area in setting screen. 
- Improved long swipe recognition performance
- Changed the size of the handles in landscape orientation to be smaller.
- Fixed gesture recognition error in some areas in landscape orientation.
- Fixed to display at gesture point instead of fixed position when open Floating navigation key.
- Applied multilingual translation.

<1.9.3>
- Support Android 9.0 (Pie)

<1.8.29>

<1.7.11>

<1.6.09>

<1.5.13>
Description
Control your phone or tablet more easily with just one hand.

Small gesture handles will be displayed on left/right edge of screen. 
By swiping this handles, configured actions will be executed.  below is default action.

- Short horizontal swipe : Back key.
- Diagonal up swipe  : Recents key. 

You can set various functions on horizontal / diagonal up / diagonal down direction gestures. As you become accustomed to using short gestures, you can set up more functions on long gestures.

Currently available functions are as follows, and we plan to provide additional function upgrades.

 - Back key
 - Home key
 - Recent key
 - Menu key
 - Previous app
 - Forward ( web browser )
 - Open notification panel 
 - Open quick panel 
 - Screen off 
 - Assistance app 
 - Screenshot 
 - Floating navigation buttons
 - Pull screen down
 - One-handed mode
 - Flashlight
 - Start application
 - Task switcher 
 - Quick tools 

Depending on the size of the user's hand, the thickness of the thumb, or the shape of the bumper case being used, various handle settings are provided to optimize gesture recognition.

The handle will receive user's touch above the running app. So, as long as the gesture recognition is possible, it is recommended to set handle to be thin.

And once you are fully familiar with the use of gestures, It is recommended to enable [Quick action] on [Advanced settings].

In addition, when the touch interference is severe with running application such as game, you can set [App exceptions] in [Advanced Settings], then the gesture handles will not work when the app is running.


Experience the convenience of gestures on your phone and tablet with One Hand Operation +. 

Thank you.

#GoodLockFriends #5
Permissions required
The following permissions are required to use this app.
Cameratake pictures and record video
OVERVIEW
Version3.1.11.0 (2020.02.17)
Size2.46 MB
Age restriction For all ages
ExpirationNo expiration date
Seller info
Seller : Samsung Electronics Co., Ltd.
Corporate/rep. name : Samsung Electronics Co., Ltd./김기남, 김현석, 고동진
Business license number : 1248100998
View details
turi**
Mantap 👍😊
somo**
This is great. Please add the "back" to bypass the keyboard. It's really cumbersome. Other than that it's perfect. (UPDATE: thank you for the reply. Actually, what I meant was when I use the "back gesture" that it would firstly close the keyboard and then I'm required to use back again to return to the previous page or content that I'm trying to get to. In short I need to always press back twice in order to get to the page I want. The new android 10 gestures includes this feature that once you press back it closes the keyboard and always takes you back to the other page all with just one use of the back gesture. However, I like your app functionality much better. Was hoping if maybe you can include this function into this app) I would be more than happy to donate of course
mari**
📍🔏🧲🛡📡🔗⚙🗡⚔🔐🗜⛏🧬🔬🧪🎾🎈🧨🎊🎉
stan**
finally
char**
I absolutley love this gesture navigation system! So much more customizable and usefull than any other nav system I use! It takes a little while to get used too and it can be overwhelming if you start with 6 gestures all at once but once you get used to it there is no going back!
wrec**
Came here after softkey edge was nerfed. This is a much better solution for locking the phone with gestures, and a good app in general. There are some improvements that could be made. This should be part of the OS.
**369
uesful but need improve, it close after I lock the screen and I want to turn it on as long as possible. I solve this by reset. perfect !
auro**
Perfect!!
timo**
Outstanding! Should be built into the OS
mdbr**
This update did NOT fix issues with dark mode support. I have the regular system dark mode enabled as well as force dark mode inside the developer options. The handle is still white. It didn't used to be.
2019**
Easily the best Good Lock mod and honestly the best gesture navigation.
**228
Perfect
redo**
Excellent additional control over the phone. Used to have to root and install aftermarket ROMs to get this kind of customization! Excellent work, 수고하셨습니다!