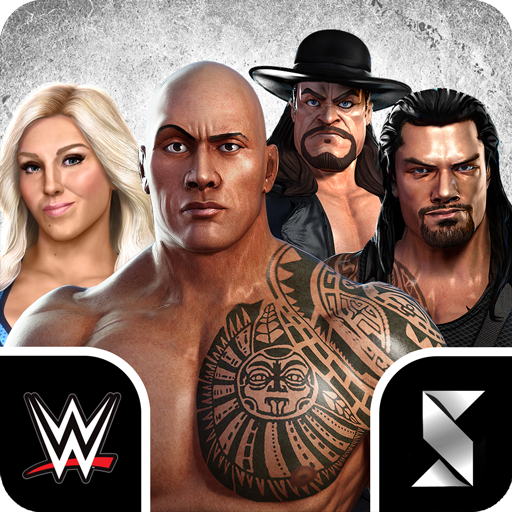 WWE Champions 2019
Free
Offers in-app purchases
What's New
Introducing Superstar Titles - A new way to improve and customize your Superstars. PLUS, compete in the month-long ATTITUDE ERA REUNION event.

NEW Superstar Titles
* Equip Straps to improve members of your roster.
* Seek out and equip Medals that increase or add new strengths to your Superstars.

NEW Attitude Era Reunion Event
•Relive famous feuds like The Rock vs. Stone Cold, NWO vs. Sting, Undertaker vs. Kane, and more.
•Compete in multiple contests featuring fan favorite Attitude Era Legends
Description
Play the NEW WWE Champions 2019. Join over 35 million fans in the #1 downloaded WWE game.

Enjoy NEW features like new PvP Showdowns, enhanced graphics, and faster-than-ever in-ring action. Battle your way to the top with hundreds of the newest Superstars & all-time greats. Compete worldwide in mens, womens, and mixed tournaments. Play solo or join a Faction. Battle in puzzle RPG combat to climb leaderboards. Compete on the Road to Wrestlemania and feel the excitement of the WWE Universe!

**WINNER! 2018 Webby People's Voice Award (Sports Games)**

===GAME FEATURES===
NEW WWE CHAMPIONS 2019 UPDATES
* NEW PvP Showdowns
* NEW PvP Showdown Shop
* Enhanced graphics & animations!
* Faster than ever action with no load times!
* New Superstars & Legends every month

NEW! PVP SHOWDOWNS
* Multiplayer VS. update with more ways to compete & win
* New Showdown Shop store delivers exclusive rewards & prizes
* PvP WWE battles with enhanced worldwide matchmaking
* New simultaneous tournaments for men, women, and mixed tag teams.


NEW WWE SUPERSTARS AND 100+ ALL-TIME GREATS
* NEW Superstars & gear include Becky Lynch and Wolfpac Sting
* Download now to start with The Rock, Roman Reigns, Alexa Bliss, and John Cena
* Recruit Seth Rollins, AJ Styles, Shinsuke Nakamura, and all of today's top Superstars
* Choose The Undertaker, Stone Cold Steve Austin, and all-time Attitude Era icons.
* Becky Lynch, Alexa Bliss, Asuka and top Women's Superstars compete in their own division.
* The NWO, New Day, DX, and all the greatest factions are here.

WWE ROLE-PLAYING GAME ACTION
* Use RPG skills to earn XP in this unique RPG Puzzle Battle Game.
* Win matches to customize moves and upgrade your team.
* Epic RPG gameplay lets you combine a variety of skills.
* Hire Trainers to boost your Superstars' abilities.
* Strategize! Pick the best Class to beat opponents. Choose from Technicians, Strikers, and more.

WWE EVENTS & CONTESTS
* Join the WWE Universe in new weekly bouts and fighting game events
* WWE Monday Night RAW and SmackDown Live themed battles
* From WrestleMania to SummerSlam, play events inspired by the Pay-Per-View events
* Enter monthly title events and recruit up-and-coming WWE Superstars
* Travel The Road from NXT to arenas around the world
* In-game Contests update every week to match on-air and Pay-Per-View schedules

MATCH 3 GAME. WWE MOVES
* Match 3 gems to obliterate rivals
* Use signature WWE Superstar moves
* Upgrade to use the Rock Bottom, Attitude Adjustment, Styles Clash and more.
* Puzzle RPG combos and finishing moves

FACTIONS & ALLIANCES, WWE STYLE
* Join a Faction to play with friends and to heal and help teammates
* Strategize with Faction members in your own Headquarters
* Exclusive Faction Missions earn rewards and loot

VIP MEMBERSHIP SUBSCRIPTIONS
* Subscribe to WWE Champions exclusive memberships 
* Play as Triple H - King of Kings, DX Triple H, or DX Shawn Michaels
* Access to exclusive content, contests and special rewards

Free trials will convert to a recurring subscription after 7 days (if applicable). The  payment shown in the price and payment schedule at time of sign up for the tier selected will be charged to your account when the subscription begins, and it will auto-renew as described unless turned off at least 24 hours before the end of a subscription period. Renewal payments will be charged within 24 hours before the end of a subscription period on the same price and payment schedule you selected . Unused portions of free trials will be forfeited upon purchase of a subscription. You can manage subscriptions and turn off auto-renewals in your device account settings.

Terms of Service: http://scopely.com/tos/
Privacy Policy: http://scopely.com/privacy/
Permissions required
The following permissions are required to use this app.
Telephonemake and manage phone calls
SMSsend and view SMS messages
Storageaccess photos, media and files on your device
OVERVIEW
Version0.393 (2019.11.22)
Size95.46 MB
Age restriction 12+
ExpirationNo expiration date
jame**
Don't buy anything from them they'll give you a hard time and ripp you off and not give you what you payed for
brit**
I love this game I love it
tlov**
There's a bug in this game that Completely IGNORES the SFX and music OFF settings. I shouldn't still hear sounds if I have them off.
chri**
Very fun
1000**
when I downloaded it, I didn't want to work, I already deleted it and I went back down more 5 times and it doesn't work ..
hoop**
This game is awesome and i think everyone should play it.if you dont like IT then thats your opinion.
tyle**
WORST GAME EVER DO NOT DOWNLOAD ITS A WAIST OF SPACE TAKING UP IN YOUR PHONE DO NOT DOWNLOAD
terr**
hope don't run into any errors... installing it haven't played... owner needs feedback Too Perfect the perfect beautiful game TH
mama**
I love it
saan**
This game literally steels your money, after you pay for stuff it gives you an error message and takes your money