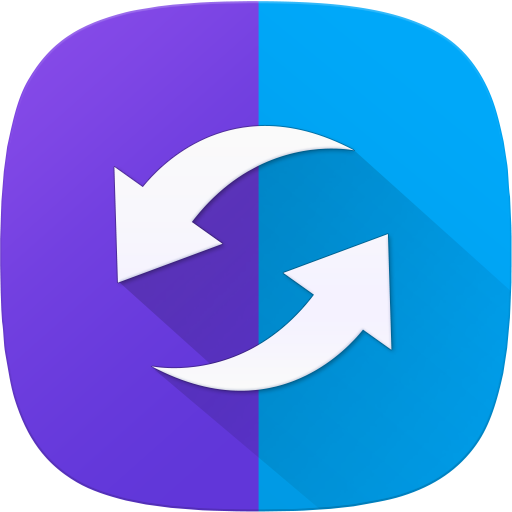 What's New
<ver.4.7.9.3>
1. Support for Android Pie(9.0)
Description
SideSync is a new PC-Mobile solution that enables screens, windows, and data to be shared easily. Share between a PC and a Galaxy smartphone, or between a Galaxy Tab and Galaxy smartphone.
You can see exactly the same screen displayed on your smartphone or tablet on the other device. Then drag and drop files, type text messages on your keyboard, and much more.

■ Instructions
1. Install SideSync on your PC and your Android device.
- PC: SideSync is pre-installed (http://www.samsung.com/sidesync/)
2. Run the software on your PC and your Android device.
3. Connect your Android device to your PC with a USB cable or connect the devices to the same Wi-Fi network.
4. If you previously used SideSync with your PC and device connected to the same Wi-Fi network, SideSync will automatically reconnect using the same settings for added convenience.
*) Please refer to SideSync Help for more details.

■ Features
1. Mobile Phone Screen Sharing
- You can use Screen Sharing to mirror the screen of your Samsung Android device on your PC screen. You can also control your Android device from your PC.
- Easily navigate to the desired screen by using Favourites on the Dashboard.
2. Keyboard & Mouse Sharing
- In Keyboard & Mouse Sharing Mode, you can use your Android device as your PC monitor and control the device easily using the PC's keyboard and mouse. Try using your device and PC at the same time.
3. Helpful Features
- You can receive your device's notifications on the Dashboard in real-time.
- You can easily share URLs between the PC and the device using the Internet sharing feature, and open them on your PC or your device.
- You can seamlessly transfer music or video playback from your device to your PC.

■ Supported PCs
- All PCs (OS: Windows XP, Vista, 7, 8, 10)

■ Supported Android Devices
- All Samsung Android devices with a supported OS (Galaxy smartphones, tablets)
· Supported Android OS: KitKat and above

■ Supported Models
- Mobile phones running Android KitKat or higher, and are model S3 or later (excluding some models in certain regions) are supported. Some features may be unavailable depending on the device.
- Tablets running Android KitKat or higher can be connected to a mobile phone. Connecting tablets to a PC is supported from Android Lollipop onward.

■ Restrictions
- Some features may not function properly on the Note 2 NE6 version. Please upgrade your device to the latest version before using SideSync. You can check your device's software version by checking the last 3 digits of the build number in Settings > More > About device.
- Drag & drop file moving is not supported for models released prior to Galaxy Note 3 (Note 2, S3, S4).
- Certain features, such as the smart phone's NFC and sensors, may not function identically on mirrored tablets or PCs.

■ Permissions
The following permissions are required to use SideSync. You can use SideSync without allowing optional permission.
[Required permissions]
- Phone : Read phone status through Call forwarding
- Microphone : Directly call through Call forwarding
- Contacts : Find accounts on the device during Call forwarding
- SMS : Read and send text messages
- Storage : Read and send the contents
[Optional permission]
- Camera : Scan QR code
Permissions required
The following permissions are required to use this app.
Telephone

make and manage phone calls
Storage

access photos, media and files on your device
Camera

take pictures and record video
Contacts

access your contacts
OVERVIEW
Version
4.7.9.3 (2019.05.15)
Age restriction
For all ages
Expiration
No expiaration date
Seller info
Seller
: Samsung Electronics Co., Ltd.
Corporate/rep. name
: Samsung Electronics Co., Ltd./김기남, 김현석, 고동진
Business license number
: 1248100998
View details
bebo**
https://www.youtube.com/?0app=desktop&persist_app=120AURELIOJUAREZCORTEZ51483342085c4d86bf88cf50c7252078rQIIAYWQOUsDQQCFd3JsDguDiKSSgClEmM0/
suns**
Wants access to record, the circus sucks. Doesn't really matter if they left.
tari**
Refuses to connect, on my laptop it ask me to confirm the pass key which for some reason refuses to pop up on my Note5
erns**
Keeps shutting down after connecting my Tab E to my S8+. Pretty much useless.
tjsi**
Love the app! Super easy.
jay.**
Convenient for easy file transfers, PC to mobile, and mobile to PC.
seek**
Doesnt work on my galaxy s8plus. Just closes
elit**
I really enjoyed Sidesync on Note 8. I just got a Note 9 and I can't install Sidesync. Will the Note 9 eventually support Sidesync?
gcwi**
Great product
shan**
Play sotore