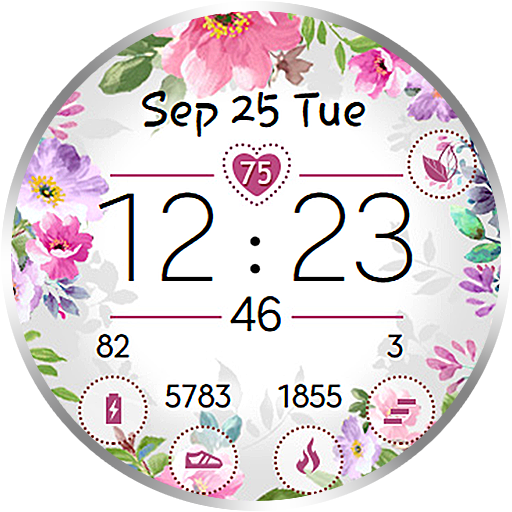 12/24 Aquarelle Watch Face
What's New
ver 1.0.2 New themes added
Description
12/24 Aquarelle Watch Face is a special and beautiful interactive watch face for your Galaxy Watch, Gear S3, Sport or Gear S2.
The time format you need: 12hr or 24hr time auto-sync with your Phone time (when your Watch is connected to the phone).
Clean and stylish design, lots of the useful info at a glance + a set of Shortcuts for getting more details.
Select one of the 8 beautiful watercolor designs by just a Tap to the 'Themes' icon (upper right of the screen).

Please check 'Features' image for more details about Tap Zones.

ACTIVE Mode features:

- 8 Aquarelle Themes - easy to change
- 12/24hr Digital Time HH:MM:SS (auto-sync with your Phone)
- Day of Week/Date/Month
- Schedule Shortcut
- Battery level in %
- Step counter + Shortcut 
- Heart Rate + Shortcut to Measuring app
- Burned Calorie + Shortcut
- Floors + Shortcut
- Always-ON mode

Please feel free to contact us by email if you have any questions or suggestions!
OVERVIEW
Version1.0.3 (2018.10.26)
Size3.1 MB
Age restriction For all ages
ExpirationNo expiration date
bren**
Watch face is super cute. Very clear and looks great on my galaxy watch. Always on mode is very pretty! I am happy with my purchase!
giak**
I like this face and bought it before but I didn't catch DE was Dutch version so technically I have bought this 3X- otherwise 5 star