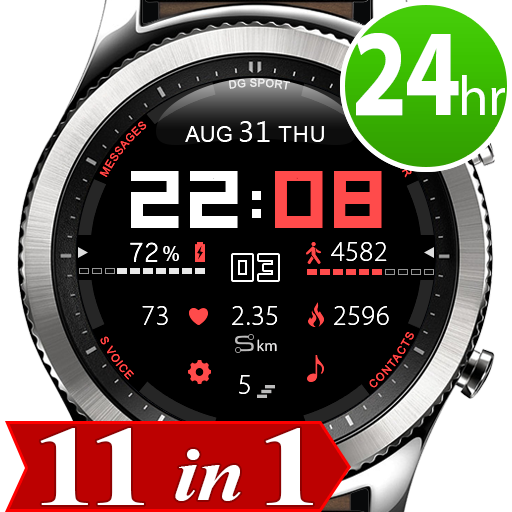 What's New
ver 1.0.1 Minor issue with a Floor field fixed.
ver 1.0.2 Bright red theme added
Description
DG Sport 24h Watch Face is a sporty, interactive, informative and battery friendly watch face for your Gear S2, Gear S3. 
Big, clean and bright digits, lots of the useful info at a glance + a set of shortcuts for getting more details.
11 in 1 - select any of the 11 Color Themes. Easy way to change color - just tap to the 'Themes' icon( 6 o'clock area). Please check our screenshots for the Tap Zones.
High Color AOD mode available for Gear S3.
Low-bit Color AOD mode available for Gear S2.
 
ACTIVE MODE includes:

- 24hr Digital time HH:mm:ss
- 11 Color Themes - easy to change
- Day of Week/Date/Month
- Battery level in %
- Battery visual indication (%)
- Burned Calorie(kcal) + Shortcut (S Health)
- Floor - available for Gear S3, Gear Sport
- Heart Rate + Shortcut 
- Steps counter + Shortcut 
- Steps visual progress (%)
- Moved Distance (km)
- Schedule Shortcut
- Music Player Shortcut
- Settings Shortcut (last selected option)
- Messages Shortcut
- S Voice Shortcut
- Contacts Shortcut
- Weather Shortcut
- High Color AOD mode for Gear S3
- Low-bit Color AOD mode for Gear S2

 
You can find detailed info about Tap Zones on the first screenshot.
 
Please feel free to contact us by email if you have any questions or suggestions!
OVERVIEW
Version1.0.2 (2017.11.04)
Size529.95 KB
Age restriction For all ages
ExpirationNo expiration date
phop**
I watch spGreat watch face. All the info that I want to see at a glance and then some. I only wish this would allow me to have 12 or 24 hour
jdud**
Excellent design. Lots of great colors and tapable targets. Great job.