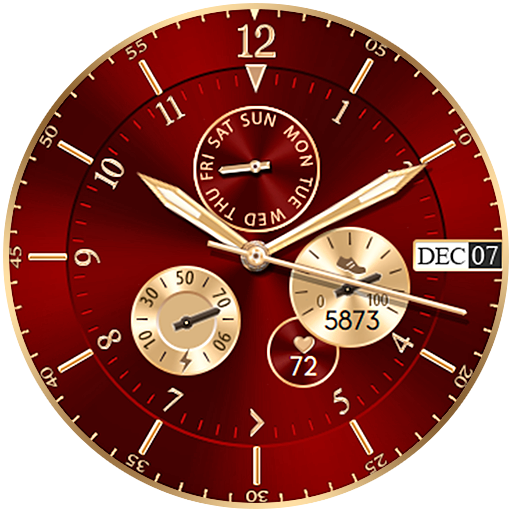 Glossy Classic Watch Face
Description
Glossy Classic Watch Face is an elegant and classy interactive watch face for your Galaxy Watch, Gear S2, Gear S3. 
Analog Time + a Set of the useful Interactive Features.
12 in 1. Superb classic design and rich color shades in the 12 fabulous themes.  
Easy way to switch between Themes - by just a Tap the 'Next' icon (bottom of the screen).
Please check our screenshots for the Tap Zones.

FEATURES

- Analog Time
- Month/Date
- Day of Week + Schedule Shortcut
- Battery % visualization + Battery Status Shortcut
- Steps counter + Steps Shortcut
- Heart Rate + Measuring Heart Rate Shortcut
- 12 Fabulous Themes
- High Color Always-On mode for Gear S3
- Low-bit Color Always-On mode for Gear S2

You can find detailed info about Tap Zones at the first screenshot.

Please feel free to contact us by email if you have any questions or suggestions!
OVERVIEW
Version1.0.3 (2018.12.11)
Size1.69 MB
Age restriction For all ages
ExpirationNo expiration date
matt**
Cool watch. I dont like how always on mode goes black when not looking. It also gets darker. I want it always on, not just when I'm looking.
niky**
Súper Nice.. I love it.. has 12 differents colors..5stars..thanks
perk**
Love the watch face wish the date was a black background with red or black or white letters.
chri**
Love it! It took me a minute to figure out how to switch through the colors though. Once you have the face set, click on the 6 to switch
nath**
Instant favorite. Wish info (date, batt, etc) overlayed when hands go over them, more color combos would be welcomed. Where's ambient mode?
mish**
Love this watch face and all the info at a glance. Wish the dial and numbers had silver as an option to match my watch. But one of my favs!
dari**
I only got 1 watch face
russ**
Amazing watch face. Everything I need by just tapping including 12 colors. I can recommend!