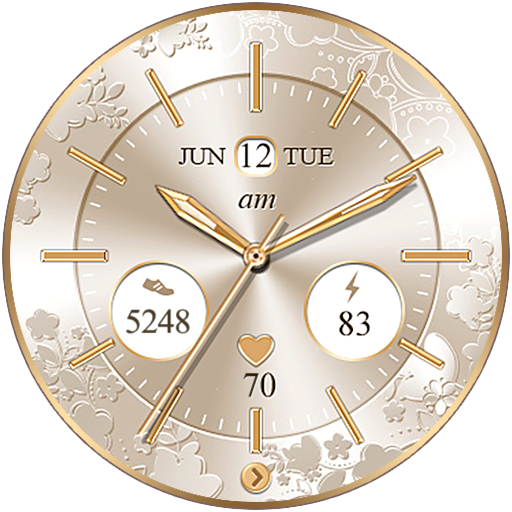 What's New
ver 1.0.2 AOD mode for Gear S3 updated.
ver 1.0.3 Heart Rate feature added.
ver 1.0.3 Always-ON mode minor issue fixed
Description
Silky Watch Face is a beautiful & elegant interactive watch face for your Galaxy Watch, Galaxy Watch Active, Gear S2, S3 or Gear Sport. 
Analog Time, useful info at a glance + a set of Shortcuts for more details. 
Select one of the 10 Silky Color Themes by just  Tapping the 'Next' icon (6 o'clock area). 
Please check our screenshots for the Tap Zones.

FEATURES

- Analog Time
- Month/Date/Day of Week
- Shortcut to Schedule
- Battery level in %
- Shortcut to Battery Status
- Step counter 
- Shortcut to Steps
- Hear Rate 
- Shortcut to Measuring Heart rate app
- 10 lovely themes - easy to change
- High Color Always-On mode for Gear S3
- Low-bit Color Always-On mode for Gear S2


You can find detailed info about Tap Zones at the Features screenshot.

Please feel free to contact us by email if you have any questions or suggestions!
OVERVIEW
Version1.0.4 (2019.05.17)
Size1.09 MB
Age restriction For all ages
ExpirationNo expiration date
dhwr**
Like it very much, but had some difficulty finding out how to work some features.
dlka**
Love the design and colors. Please add customization for the watch hands. Would like silver and pewter options.
batc**
Exactly what I wanted. I wish you would make this same face with watch hands that are silver or black
davi**
Excellent
purr**
Question!! Will not complete installation, but took my payment. Now what?
carr**
Question: On May 9th I bought a darker teal watch face that was the same as this design, now it's gone? Was it from you? Where did it go?
lan0**
Like the colors!
resc**
Doesn't change color. Want my money back. Very disappointed.