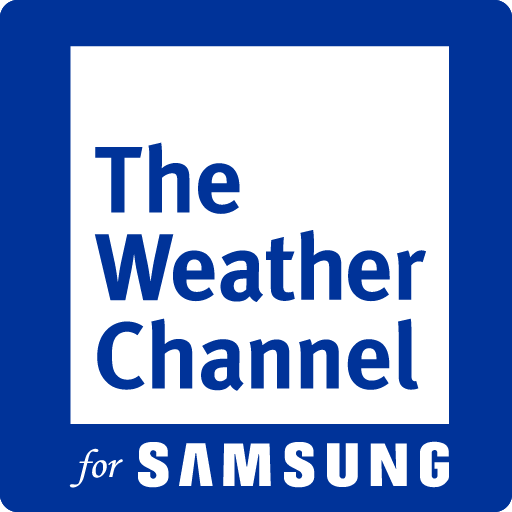 The Weather Channel for Samsung
Free
Offers in-app purchases
What's New
We are constantly working to improve your app experience. In this update:

• Plan for the week with a 15-day forecast overview with the new Daily Forecast Card
• Scroll down to explore more great weather data like UV Index, precipitation, heat index and air quality
• Premium users can now access Extended Hourly to get 72-hours of detailed forecast information
• Bug fixes and performance enhancements

Please email us at android.support@weather.com with any suggestions or questions.
Description
The Weather Channel is excited to bring you a fully reimagined app, carefully crafted with you in mind.

New Features Include:
• New home screen: Weather graphs and instant insights
• Your daily weather snapshot: Personalized weather stories
• Trending conditions (tap the icon in the upper-right part of the home screen)
• New navigation bar (and you can still swipe up for more)
• Edge Panel Feature: A look at current conditions, plus the next 4 hours of weather forecasts, news & events.

Make confident decisions based on the most accurate, reliable forecast available with The Weather Channel, an IBM Business. Get live radar updates and check the local weather on precise maps from your phone or tablet. Get ready to tackle what's ahead with your weather map and local weather forecast.

Live local weather radar and storm tracker - available wherever you are! Get your daily local weather map, pollen and sun alerts, so you can travel with confidence. The Weather Channel provides an accurate weather forecast that helps you plan up to 15 days in advance.

Track weather alerts & our storm radar! Discover The Weather Channel's top 5 features:

1. Weather your way! With your daily weather news, get a personalized weather map and enjoy a new visual way to learn about your daily conditions. Discover instant insights, a live radar & more! 
2. Weather alerts that you can subscribe to - Press push notifications to track live weather news!
3. Track Weather alerts & conditions - Stay alert for travel with our storm tracker, and track weather alerts with our weather radar.
4. Severe weather alerts, from heavy rain to unexpected heat wave. Our storm radar and weather news will ensure you stay safe no matter the weather!
5. Weather maps for pollen & weather forecast updates give you all the information you need, wherever you are! 

Stay alert: track travel weather and plan outdoor activities with confidence.
• Get faster access to weather news with our new navigation bar! Or if you prefer the old navigation swipe down for more content. 
• Don't get caught in the rain! Our storm radar will help you weather anything thrown your way. Check the daily forecast and come rain, shine or even thunder, you will be prepared for everything!
• Daily temperature, wind speed and weather maps let you know if you need to bring a light jacket, sunglasses or your umbrella! 
• Run smart with Running Index! Find the best running conditions by analyzing the temperature and examining detailed wind speed updates to help you plan your perfect route! 

• Concerned about pollen? Get high-risk allergy alerts and medical advice to help you beat them!


Keep informed on the latest weather news.
• Stay safe during extreme events with our weather radar and storm tracker. From wildfires to thunder to severe storms, we'll send you a weather forecast based on our live radar, with expert safety advice.
• Our live radar will help you beat spring allergies or a late cold, with pollen and in-depth temperature reports.
Be alert and get all the information you need to plan. Live news about wind speed, thunder and live maps mean that you can make the most out of your day! 

Download The Weather Channel today to get any weather alert, big or small delivered directly to your smartphone or tablet. Brave severe storms or face the spring fully prepared- it couldn't be easier! 

-

Privacy & Feedback 
• Our Privacy Policy can be viewed here: https://weather.com/en-US/twc/privacy-policy 

• Our Terms of Use can be viewed here:http://www.weather.com/common/home/legal.html

• If you have any questions or suggestions about our weather service, please do not hesitate to get in touch at feedback@weather.com

Be a force of nature. Update The Weather Channel app now.
Permissions required
The following permissions are required to use this app.
Location

access this device's location
OVERVIEW
Version
9.8.1 (2019.06.10)
Expiration
No expiration date
Seller info
Seller
: The Weather Company, LLC
Corporate/rep. name
: The Weather Company, LLC/Larry Burton
View details
stew**
Been using this app for a long time. The latest update took away easy access to the tropical weather outlook. I live in Florida....
hdcs**
Terrific app, fast and accurate. Great for road trips.
daws**
Excellent app fast and accurate plus very user friendly
mleg**
Best weather app I have used, Very useful advanced alerts for severe weather conditions
njhb**
Great
macl**
This new update sucks. Simple is more efficent than whatever this is. I don't need all this fancy give me the old one back
nurs**
useful tool in planning activities
thet**
On time weather always available with speed and ease
sbro**
Best weather app I have come across. Works really well and is always current
bent**
Very helpful
juan**
Very useful
logo**
Great
jarh**
Great app
davi**
I love this app!!+++
damo**
Awesome and very helpful