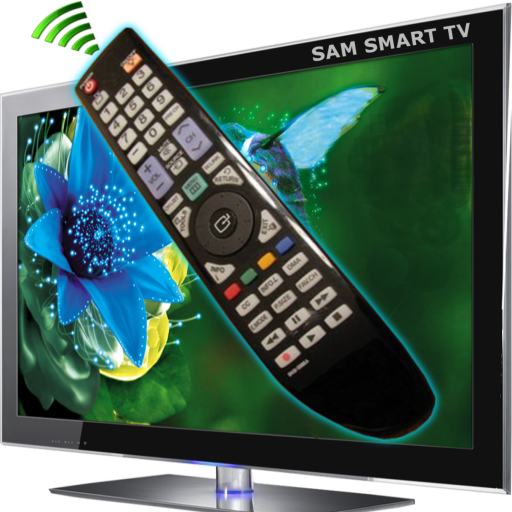 Description
TV Remote for Samsung is a great application to control your Samsung Smart TV over local network(WI-FI) as well as across the networks and IR. DLNA (Phone photos on TV), Sleep Timer , Macro function , Audio/Video Player.
Mainly Voice Command Control, Custom remote, Favorite channels, Auto Discovery, Control TV from anywhere, Check remote TV Connection and other attractive features makes it unique.

This application supports B-Series/C-Series/D-Series/E-Series/F-Series Smart TVs.


Feature List:-
✓ Image mirroring feature. Watch photos on TV
✓ Sleep Timer
✓ Macro function. Multiple operation with single click.
✓ Audio/Video Player
✓ Voice recognition Commands to control your TV
✓ Voice Media Controls (Play,Pause,Forward, Backward, Volume) are main attractions
✓ Type Text or URL directly from application to TV
✓ Customized remote
✓ Favourite channels 
✓ Choose TV to Play/Pause/Mute on Incoming call
✓ Volume Control by side buttons
✓ Test the Connection of your TV(useful in cases when there is no physical access available to your TV)
✓ Automatic TV Discovery
✓ Multiple TVs can be controlled separately or altogether
✓ Continuous button press handling for volume/program/left-right-up-down buttons
✓ Manual Language selection
✓ Notification shortcut
✓ Control your TV from anywhere in the world 
✓ Display the TV response messages for every key press to check command execution status
✓ Display the Present Connection status always in the Application Settings 
✓ Dedicated Separate Media Remote
✓ Choose Full Screen ON/OFF of remote
✓ Manual configuration of TV IP Address
✓ Dedicated Miscellaneous key press in separate Remote 
✓ Fastest key press responses from the TV using this application
Permissions required
The following permissions are required to use this app.
Telephonemake and manage phone calls
Storageaccess photos, media and files on your device
OVERVIEW
Version1.98 (2019.03.19)
Size4.74 MB
Age restriction For all ages
ExpirationNo expiration date
clau**
Works great!
ata2**
Sucks. Has to be in wifi.. deleted.
theg**
Isn't doing a thing but just showing adds
bunc**
Does not work. Says connect phone and tv to same wifi, done! Does not work
ashu**
Extremely poor app
msn1**
Well since I have to put some kind of star. After 15 times of searching for my TV, it finally connected (well it said it was) but nope.
eber**
Works great
dool**
Doesn't work.
ty.f**
Fake!!! I cant use the remote at all. It connects for a second and stops. It's better to use smart view between the two Samsung devices.
bald**
Hey it worked to e for me I'm happy with it. I was stuck in a hospital for a month. It actually helped me hack the hospital set up tv
serg**
Intermittent scanning
rgas**
Finds tv but doesn't connect and pushes ads every minute even when closed
putn**
Finds tv but cant connect and constantly pushes ads in settings menu
nguy**
HORRIBLE
just**
Horrible