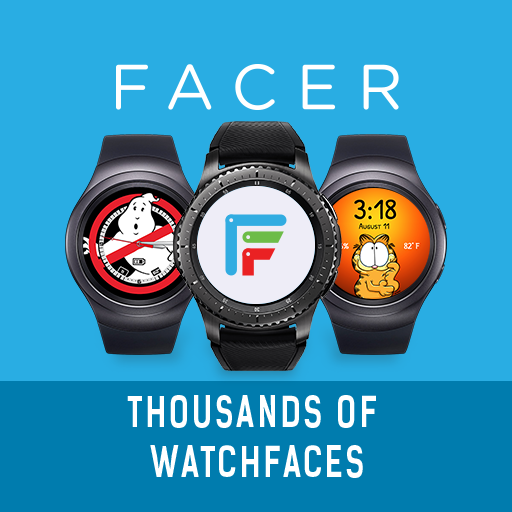 Facer Companion for Samsung Watches
Free
Offers in-app purchases
Description
IMPORTANT: If you currently have version 4.2.6 or lower of the companion app installed, you'll need to uninstall it from your Gear device before updating. You can check the version by navigating to the settings section in the triple-tap menu. 

Facer, the #1 watch face platform is finally available for Samsung Gear S2 & Gear S3 on Tizen!

Installation tips for Gear S3 & Gear S2 users:
-Download & Install "Facer" app from the Google Play App store
-Make sure your Gear S3 or Gear S2 is connected with your smartphone through the "Samsung Gear" app & bluetooth is turned on for both your phone and smartwatch
-Download & Install "Facer Companion for Gear S2 & S3" from the Samsung Galaxy App Store
-Long press on your Gear S2/S3 smartwatch and scroll to select "Facer" as your chosen watchface
-Open the Facer App from your phone and enjoy the full Facer experience with over 10,000 watchfaces or create your own using our world-renowned Facer Creator at www.facer.io/creator 


Facer is the ultimate smartwatch customization platform. Facer offers everything you need to customize & personalize your Samsung Gear S3/S2 smartwatch, including thousands of free & premium watch faces from leading artists and brands. You can even create your own watch faces and share them with the world using the creator tool. Don't be default, start customizing your style today!


FEEDBACK & TROUBLESHOOTING
If you're having any issues using our app & watch faces or are dissatisfied in any way, please give us a chance to fix it for you before expressing dissatisfaction through ratings.  
-You can send feedback directly to facer-support@little-labs.com 
-If you are enjoying our watch faces, we always appreciate a positive review


-THOUSANDS OF WATCH FACES
The largest single destination for free and premium faces, there is something for everyone in our vast collection.  Explore the newest & most popular watch faces or use the new search feature to discover the perfect watch face for your mood.


TOP BRANDS
Find premium faces from the world's leading brands like Tetris, Star Trek, Garfield, Ghostbusters, American Dad & more. There are new brands being added all the time so keep an eye out for new watch faces.


ORIGINAL DESIGNS
Facer curates collections of original designs from talented watch face designers to bring you the most beautiful and dynamic faces available for Samsung Gear.


PUBLISH YOUR WATCH FACE DESIGNS WITH FACER!
Want to create your own watch face designs & publish them through Facer, reaching thousands of smartwatch users?  If so, we're looking for talented artists to join our growing community of Facer-certified designers.  Find out more by contacting us at facerdesigners@little-labs.com


DESIGN YOUR OWN WATCH FACE
Make your own watch faces with our powerful web-based editor at www.facer.io/creator (note: view on your laptop or desktop for full functionality). 


Facer Creator Features include:
-Import and edit any image you'd like
-Included free watch hands and weather icon collection
-Large custom font collections
-Numerous Time and Date layouts
-Interactive and Animated Design capabilities
-Weather Conditions with Fahrenheit and Celsius support
-Battery Level, Step Counter, Wifi Indicator, and Dynamic Backgrounds


CONNECT
-Facer Creator & Community: www.facer.io
-Google+ Community: https://plus.google.com/communities/107456884368395361653
-Twitter: https://twitter.com/GetFacer
-Instagram: https://instagram.com/getfacer/
OVERVIEW
Version5.1.15 (2019.08.23)
Size1.18 MB
Age restriction For all ages
ExpirationNo expiration date
Seller info
Seller : Little Labs
Corporate/rep. name : Little Labs/Kris Mcdonald
View details
bout**
Not bad
puck**
So far, so good. Lots of very nice watch faces, many of which are free!
nico**
I love having an app with many options, Also this one is very easy to use.
sean**
Best app for Samsung for sure
eaol**
Excellent
lmot**
Love all the watch face choices! Works great on my galaxy watch!
mepr**
Excellent watch face app! Many options available.
azik**
Great app
yell**
Best app for watch faces out there. Thanks for the thousands of options.
redq**
Excellent
ebar**
Loving the app. Tons of faces and designs
lord**
Loving this app! Tons of watch faces to choose from. My only wish is for the ability to buy faces with samsung pay or points.
brod**
Great app to have
pret**
Love it
tjdu**
Great options and alot if fun. Easy to use. Cant with to try out more.