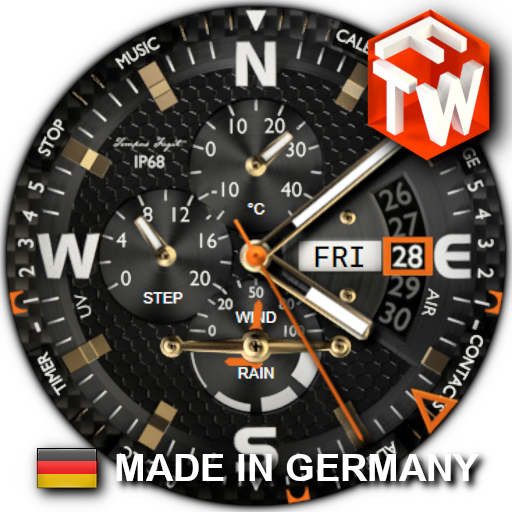 Navy Salt Weather, Air quality, UV Index, Pollution
What's New
1.3.0
 - Added weather status display in settings

1.2.0
 - Added option to manually set step counter
 - Added weekday display
 - Translated the watchface to German, French, Italian and Spanish (language is selected based on the language setting on your watch)

1.1.1
 - Fixed problem with humidity gauge

1.1.0
 - Added humidity gauge
Description
Stylish, highly customizable and informative analog watch face for Samsung Gear S2/S3/Sport/Galaxy with a bold and sportive design. Besides all important weather information it also displays the UV Index and Air Quality Index (air pollution) for your location. Features include:

	- time 
	- date and weekday
	- UV Index
	- Air Quality Index
	- weather
		- rain in millimeter
		- temperature (Celsius + Fahrenheit)
		- wind direction and speed (km/h and mph)
		- humidity (%)
	- step counter
	- moon phase
	- battery level
	- app shortcuts for all important apps 
	- 7 backgrounds, 7 hands, 6 accent colors
	- adjustable AOD brightness (not for S2)
	- supports English, German, Italian, French and Spanish localization based on the language setting on your watch

	
WEATHER AND UV INDEX

The Weather and UV Index data is provided by OpenWeatherMap.org. Find out more about the UV Index at http://wikipedia.org/wiki/Ultraviolet_index. The watch can show the current weather or a 3 hours forecast. The weather information is refreshed every hour.


AIR QUALITY INDEX

The data for air quality and pollutants is provided by OpenAQ.org. They provide PM10 and PM25 (fine dust), SO2 (sulfur dioxide), CO (carbon monoxide), O3 (ozone) and NO2 (nitrogen dioxide) concentration from sensor stations in 64 countries. The Air Quality Index is then calculated using the threshold values of the Pollutant Standards Index (PSI). The watch face will automatically select the closest sensor station within a 50km radius around your location. If there is no sensor station within that radius no Air Quality Index will be shown. Here you can find a list of all sensor stations: https://openaq.org/#/locations. Find out more about the Air Quality Index at http://wikipedia.org/wiki/Air_quality_index. 


SETTINGS

Double tap the 6-oclock position of the screen to enter the settings. The settings screen offers the following options:

- manually set the step counter
- change weather information (current / forecast)
- change the design (dials, hands, colors)
- change the units
	- Celsius / Fahrenheit
	- km/h / mph
- set AOD brightness


SUPPORT

If you have any questions or problems please send an E-Mail to info@tempus-fugit-watches.com .

Enjoy!


DISCLAIMER 

All reasonable measures have been taken to ensure the quality and accuracy of the Data provided by the above watch face. However:

- We do not make warranty, express or implied, nor assume any legal liability or responsibility for the accuracy, correctness, completeness of the information.
- We do not assume any legal liability or responsibility for any damage or loss that may directly or indirectly result from any information contained on this watch face or any actions taken as a result of the content of this watch face.
- Under no circumstances will we be liable in contract, tort or otherwise for any loss, injury or damage arising directly or indirectly from the supply of this data.


DATA PRIVACY INFORMATION

The watch face uses your location in order to get information for your location from OpenWeatherMap.org and OpenAQ.org. For this purpose your location is transferred to the respective partners once an hour.


REQUIRED ACCESS PERMISSIONS

In order for this watch face to work as designed we need your permission to use the following data on your watch:

- Location and networking: To request local information from OpenWeatherMap.org and OpenAQ.org.
- Storage: To store the settings of the watch face on your Gear.
- Pedometer sensor: To show the steps counter.
OVERVIEW
Version1.3.2 (2019.04.09)
Size4.94 MB
Age restriction For all ages
ExpirationNo expiration date
Seller info
Seller : Tempus Fugit Watches
Corporate/rep. name : Tempus Fugit Watches/Michael Muecke
View details
njax**
Used to be the one and only. All the weather info was super useful for me as a crane operator. But now none of it works. Wind is always north no precipitation percent nothin. Will change to 5 stars if it gets fixed.
feli**
I want refound
bill**
Loved it til I didn't. Same problems, after update all real time weather data non functional. "No internet." Unfortunate, it was my favorite.
simo**
Stopped Working. I have a couple different faces from Navy Salt, all of a sudden stopped working and no way to fix it. Keeps saying no internet, no updates. Tried everything to fix it, thought it was me but seeing the comments here made me realize it's not so. I guess nobody has been replies to for a fix. SMH. Take the money and run as usual. If I could do zero stars I would.
madf**
Same problem no internet/wont load weather info. How do i get a refund?
snpr**
FRIGGIN LOVE LOVE LOVE IT!!!
mitc**
I love the way this watch face looks, but like others the weather information no longer works after the recent updates and I get the no internet message as well. Hopefully the developers can address this issue soon.
ggte**
Doesn't work any more. When I first installed it, it was great. All weather components have stopped working.
jimr**
This is my favorite watch face. It displays a lot of information very well. Recently though it says it has no internet for weather.
ayce**
Weather features no longer work. Have contacted support to fix the issue. Will change review upon satisfactory repair
pein**
Installed on Gear Sport in spite of bad reviews. I thought maybe it was operator error. Nice looking, but none of the weather features work. Minneapolis, Minnesota
tfsi**
Air quality and precipitation not working
cleg**
Does not work
shaw**
Nice watch face
sued**
Not sure what the problem is with other users. Works flawlessly for me. Beautiful face thanks.