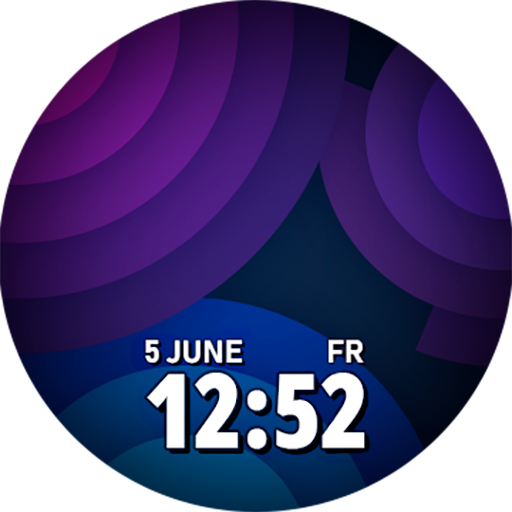 What's New
- Fixed small text lag every screen launch with previous time data displayes a little bit of time
- Change text size feature. 6 gradation of size (available on triple tap menu, top left icon)
Description
You can customize your watchface, just assign still picture from your gallery (jpeg, png, bmp or tga) or animated picture (gif). Don't send gif animated pictures directly to the watchface. Use this app to convert it to appropriate format https://play.google.com/store/apps/details?id=com.GifToGear It's available for free download.
Here is the video instructions how to use the app https://youtu.be/CUEVNuf7KEU If you waht to purchase the watchface please make sure that you don't have any issues or questions with the app and you can succesfully send converted images to the watch.

Upcoming improvements may take significant time so let me know what next improvements do you want first, please let me know on the mail or in comments:
1. Ability to assing presets: 3-5 different style sets that you assign (different fonts, battery, images, etc.) So you can faster switch between that presets with one button
2. Steps, floors and heart rate widget near the time
3. Ability to crop still images and create loop transition from gif animations that doesn't have loop

Some short tips:
1. How to assign static or animated picture for the watchface - https://youtu.be/rJETmi7SyUs?t=3
2. How to toggle between once, loop and reverse animation modes - https://youtu.be/rJETmi7SyUs?t=13 
3. Change vertical position of the text - https://youtu.be/rJETmi7SyUs?t=40
4. Change font style - https://youtu.be/rJETmi7SyUs?t=63
5. Edit color of the text - https://youtu.be/rJETmi7SyUs?t=106
6. Change 'image fade in' effect time - https://youtu.be/rJETmi7SyUs?t=130
7. Change 'text reveal' delay - https://youtu.be/rJETmi7SyUs?t=155
8. Edit battery indicator position - https://youtu.be/rJETmi7SyUs?t=200
9. Change battery indicator style - https://youtu.be/rJETmi7SyUs?t=207

'Edit Design' mode. Double tap on the center area to enter this mode. Second double tap on the center area will hide the menu. You can see instructions how to setup the watchface design with double tap menu here https://youtu.be/rJETmi7SyUs
In the menu you can see 9 buttons: 
1. Single tap on 'Background' button will launch image gallery. You can select here static images or animated GIF. When you select GIF animation it will take some time to optimize image, watchface can reload during that process.  Watchface will save image into internal storage, so even if you delete original image from gallery it will work fine.
2. Tap on the 'Text position button' will shift vertical position of the time and date text. In case if it reach the top edge of the screen it will appear on the bottom of the screen
3. Tap on the 'Font color' will open color palette. The right side can changle the color, the right one will change the brightness of that color. In case if you select white on the bottol left side of the palette, the right side will change the brightness in grey gradation
4. Tap on the 'Fade in image' will change the duration of the effect where the image will reveal from the darkness. You can set in to zero for immediate effect.
5. Top left button will change the 'Text reveal delay'. You can set that text will appear after or during the animation plays.
6. Top right button change the 'Battery rotation' so it can be aligned to the one of four sides of the sceen in case if design of the current watchface allow to do this.
7. Bottom right button change the battery indicator style. You can also hide it.
8. Bottom left button can change the animation playback modes: play once (after each screen wake up), play in loop and play in reverse (forward and backward).
9. Central button can change the font style. You can choose one of 12 different styles.

'Launch areas' edit mode. Tripple tap on the center area to enter this mode. Each side can launch one of 20 standart apps: 'Alarm','Contacts','Email','Find My Device','Gallery','Message','Music Player','Phone','S Health','S Health Steps','S Health Stress','S Health Heart Rate','S Health Caffeine','S Health Water','S Health Floors','MMS','S Voice','Schedule','Settings','Weather', plus custom installed apps.
Single tap on each side toggle through this list. Triple tap again on center area to exit from this mode. Once you out fromm the menu you can tap on any of four sides of the watchface and assigned to the area app will be launched.

Don't worry if you will see big watchface battery usage in battery statistic. It just show distribution between apps, but it doesn't show total battery usage. In my practice this watchface doesn't drain the battery more than stock watchfaces.
If you'll experienced with too much actual battery drain, please, let me know.
OVERVIEW
Version1.0.1 (2019.12.23)
Size2.18 MB
Age restriction For all ages
ExpirationNo expiration date
just**
Work wonderfully, if you read and follow the instructions
sean**
App to create gifs does not work on S10+, when creating a file from a gif it states "unsupported file" and crashes
cmgo**
I loooove this face but I really want a 12 hour format.
jckm**
Does this include a feature to cycle through multiple gifs/images? It looks like you can select multiple images, but only one image is actually displayed.
yota**
Love the face , just waiting on your next update , I really need the 12 hr format , so I'm not using it at the moment , how much longer for the next update? 5 stars when 12hr format is available
sakk**
Ugh I purchased hoping to use one of my favorite gifs and it's giving me a platform error. Frustrated
take**
Is the 12 HR update coming soon? Just wondering.
sant**
Didnt realize using my Gif would mean 24hr format. Only use 12hr. Hate having to do math when its after 12. Hope a fix comes quick.
rich**
Paid and downloaded and theres no customization features at all.