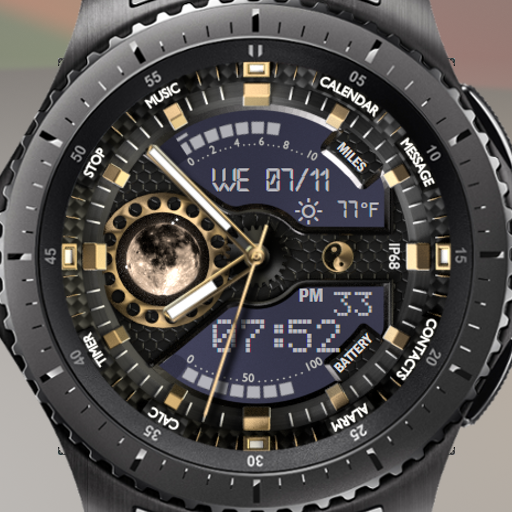 Tactical Gear, weather, moon, worldtime, metric and imperial units
What's New
Changelog

V 5.1.0
- Added new LCD colors

V 5.0.0
- added several new designs for backgrounds, hands and lcd colors
- added adjustable AOD brightness

V 4.0.0
- optimized design settings usability
- optimized CPU utilization
- added new dials
- added option to choose °C/°F and km/mi independently
Description
Stylish watch face with 

- time (12hr + 24hr)
- date (MM/DD and DD/MM format)
- 2nd timezone (12hr + 24hr)
- moon-phase
- weather (Celsius + Fahrenheit)
- step distance or % goal (km + miles)
- battery level 
- sunset / sunrise information
- app shortcuts for all important apps 
- 23 backgrounds, 20 hands, 6 lcd colors
- adjustable AOD brightness (not for S2)

The Weather data is provided by OpenWeatherMap.org and is refreshed every hour. The weather information includes

- temperature (Celsius + Fahrenheit)
- weather condition

The digital display at the bottom features 

- digital clock (12hr + 24hr)
- secondary timezone clock (12hr + 24hr) 
- time of sunrise (will show NO-GPS if there is no GPS information available)
- time of sunset (will show NO-GPS if there is no GPS information available)
- date of the next full moon
- date of next new moon 

A tap on the bottom lcd selects the displayed information. The two progress bars at the top and at the bottom show the steps distance or % goal (big squares = km/miles or 10%, small dashes = 10km/miles) and battery level in percent. The date display at the top shows the day of week, day of month and month. A tap on it opens the calendar app. Below it the weather is displayed with current weather condition and temperature (updated every hour only if the watch has GPS acticated and internet access is available). 

Double tap the yin-yang symbol to open the settings screen. Here you can customize the following settings:

- Choose design (dials, hands and lcd colors)
- Set step goal
- Units (Temperature, Time format and distance)
- 2nd time zone
- AOD brightness

USAGE NOTICE 

All reasonable measures have been taken to ensure the quality and accuracy of the Data provided by the above watch face. However:

- We do not make warranty, express or implied, nor assume any legal liability or responsibility for the accuracy, correctness, completeness of the information.
- We do not assume any legal liability or responsibility for any damage or loss that may directly or indirectly result from any information contained on this watch face or any actions taken as a result of the content of this watch face.
- Under no circumstances will we be liable in contract, tort or otherwise for any loss, injury or damage arising directly or indirectly from the supply of this data.

DATA PRIVACY INFORMATION

The watch face uses your location in order to get information for your location from OpenWeatherMap.org. For this purpose your location is transferred to the respective partner once an hour.

REQUIRED ACCESS PERMISSIONS

In order for this watch face to work as designed we need your permission to use the following data on your watch:

- Location and networking: To request local information from OpenWeatherMap.org.
- Storage: To store the settings of the watch face on your Gear.
- Pedometer sensor: To show the steps counter.

Enjoy!

CHANGELOG

V 5.0.0
- added several new designs for backgrounds, hands and lcd colors
- added adjustable AOD brightness

V 4.0.0
- optimized design settings usability
- optimized CPU utilization
- added new dials
- added option to choose units independently
OVERVIEW
Version5.1.0 (2018.12.03)
Size5.87 MB
Age restriction For all ages
ExpirationNo expiration date
Seller info
Seller : Tempus Fugit Watches
Corporate/rep. name : Tempus Fugit Watches/Michael Muecke
View details
cr50**
Bought it for the weather. But, it's in Celsius instead of Fahrenheit. Also, the AOD is digital and not Analog. I wish it was analog like the watch face.
mrmu**
Awesome watch one of my favorite faces worth every penny thank you to the creator well done
tysi**
Temp not working
ssmc**
Temp not working: I have location on and I'm connected through my phone, bjt the temp is not showing up at all. Just a dash.
kzx6**
Time is wrong when I apply the 12hr its behind 2 hours but it works ok in 24h. Not happy with 🤷‍♂️
4902**
From all the reviews, it is quite obvious that THIS FACE WILL NOT WORK ON GEAR S2!!!!! THE SCREEN ON MY S2 IS A TOTALLY MEANINGLESS SCREEN WITH NO USABLE DATA AT ALL, NOT EVEN THE TIME!!! DO NOT BUY IF YOU HAVE A GEAR S2!
jays**
Doesn't work, and haven't been able to get a refund. Avoid this.
mr.s**
This watchface is really nice! I love all the custom options and the overall look and feel. I like how the customizer works, it's much easier to customize than many other watchfaces I've purchased.
adia**
I give this face no stars it doesn't work I cant access the settings the face literally does nothing but apparently I have to put 1star
c.ma**
Fantastic watch face, very customizable, works perfectly!
jcve**
Garbage, waste of money. All I am showing is a gray screen with numerical scales.
bmar**
Not represented accurately.. Please refund!
azar**
WORTHLESS, Not working. I WANT A REFUND!!!
kidz**
Nice watch face. Everything works, but weather shows "feels like" temp from weather app, not actual temp, like other watch faces
jay.**
Not working!! I just paid for this??