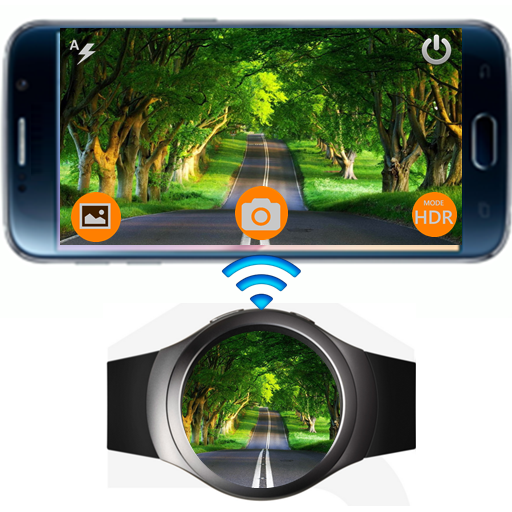 What's New
30-03-2016:
- Fix swipe issue to open setting.
- Fix issue connection when connect to android devices Marshmallow 6.0.
Description
This software supports to remote mobile camera from gear( smart watch)
Main features:
- Take picture and record video using gear
- Setting options for camera from gear: Mode, Flash, Timer, Dim off Screen... more and more
- Swipe from right to left to show setting.
- Very very useful and convenient . It is very interesting
- To co-work with phone, phone need to install Remote Camera Pro app from Samsung Apps
HOW TO USE:
  - Install "Remote Camera Pro" app from Samsung Apps both phone( mobile) and gear.
  - Unlock phone screen before setting up connection between gear and phone.
OVERVIEW
Version1.1.0 (2018.11.04)
Size3.7 MB
Age restriction For all ages
ExpirationNo expiration date
lind**
Refund please? Did not work! All I want is to be able to take a picture via Samsung Gear. This was suppose to but of course no go! Credit my account the $1.50+ tax
hayd**
App did not work for me. I'd like a refund please.
jona**
App does connect and works sorta. Photo mode is okayish but far from great. Video mode would not do live preview and although the resolution is okay the framerate is about 10fps when you watch the video. Overall its terrible. App is also far from operating smoothly. Would like a refund.
ryou**
App never connects. Terrible How do I process a return?
suns**
It's a sh*tty app. Crashes consistently.
calv**
10/14/19 I uninstalled the app then installed again. App seeks to be working so far so I change from 1 to 3 star
chap**
Terrible
paul**
Don't puchase!
royb**
How do I get a refund???
tiff**
I just paid for this and it won't connect 🤬
dark**
Connect error every time application has never successfully launched.
lame**
Did not ever get it to link. Refund is requested.
mmer**
Didn't ever work. I need a refund.
kelr**
Doesn't work, I want a refund
rams**
Doesn't work