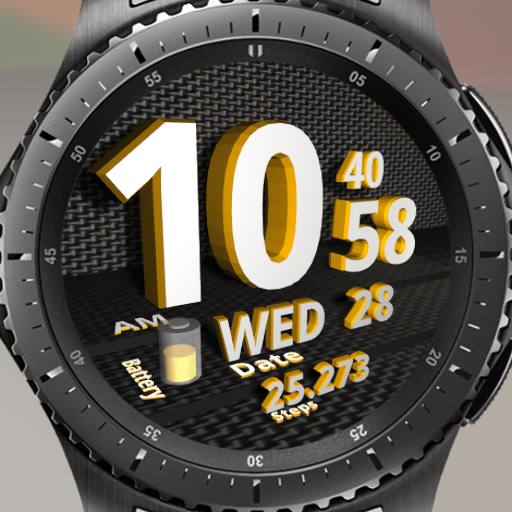 What's New
V 1.0.1
- Added AOD Mode
- Optimized performance
Description
Stylish watch face with unique 3D look and feel. You can customize the color, the backgrounds, the font and also the perspective of the camera to adjust the watch face to your needs. It shows the time in either 24hr or 12hr format, the date, your step count and the battery level. 

- time (24 and 12 hours format)
- date
- step count
- battery level
- 56 backgrounds
- 17 colors
- 4 font styles
- infinite camera perspectives
- super energy efficient AOD mode

If you want to test it before purchase there is a light version of this watch face in the app store for free. It has all features of the pro version but only has 1 color, 1 background and 1 font style.

Enjoy!
OVERVIEW
Version1.0.6 (2019.04.02)
Size4.5 MB
Age restriction For all ages
ExpirationNo expiration date
Seller info
Seller : Tempus Fugit Watches
Corporate/rep. name : Tempus Fugit Watches/Michael Muecke
View details
kell**
Love the design but doesnt sync activity such as steps with galaxy watch. Constantly off by several hundred steps between the two
blis**
Love the fact I can customize it. My new favorite.
jyes**
I great watch face is ruined by a terrible ambient mode. Great face u c 4 3secs? What's the point then? Just turn off camera in ambient.
ngan**
Very customizable....
mgul**
Little slower on tap response than I like, but overall it's great. Not sure what people are griping for?
rcas**
Not working on gear s3.. Showes installed but does not function. Cannot access settings.
mylu**
How do you change military time. To 12 hour.
good**
Unable to change military time
torb**
The concept and options are nice but it's very glitchy and slow. Also the AOD is very basic, wish I would've known that before purchasing.