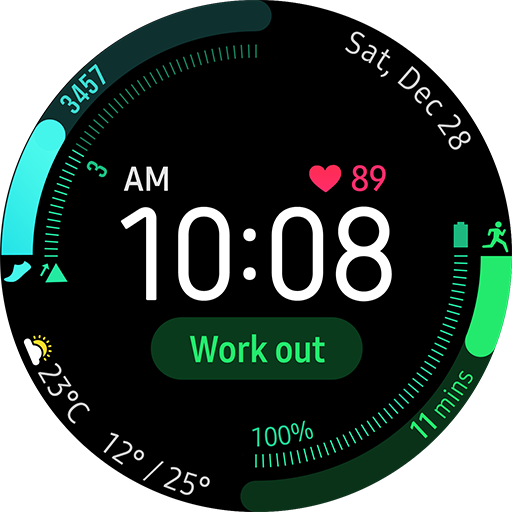 Description
See health data at a glance, including step count, floors climbed, workout time, and heart rate.

[Required permissions] 
- Sensor(Health) : floor number, number of calories to walk, need human detection sensor authority to mark heart rate

[Optional permissions]
- 

If your system software version is lower than Tizen 4.0, please update the software to configure App permissions.
Previously allowed permissions can be reset on Apps menu in device settings after software update.
OVERVIEW
Version1.0.2 (2020.04.24)
Size216.58 KB
Age restriction For all ages
ExpirationNo expiration date
Seller info
Seller : Samsung Electronics Co., Ltd.
Corporate/rep. name : Samsung Electronics Co., Ltd./김기남, 김현석, 고동진
Business license number : 1248100998
View details
prze**
Useful
rona**
Wish it could be customized to allow for larger font and gauges for 2 items instead of 4
stev**
Would love, but the features don't work. Guess I'll try out a paid one.
ilov**
Wish there were more color options, but this is one of the only minimalist faces with All the info I want that I've found so far.
alex**
Love it, my absolute favorite, would love to be able to add or change some stuff on display like how you can with other watch faces.
droc**
I would like to see Calories burned on the watch face.
terr**
Why is it not like the one on the active 2 with the health heart? How do we get that one?
blue**
Well done. Has eveything you need
adam**
Worked until I got my new gear sport, now it wont show my steps. Will change if this issue gets fixed.
oneb**
This is the ONLY watch face I use for months it has everything I need and I can track my workouts with a push of a button on the main screen
ceda**
Accurate. My favorite watch face.
kevi**
Nice design one of my favorites..
chri**
Great watch face, but for me, the steps don't show up so if that could be fixed in the next update, perfect.
mang**
Love love love how much information is on this without it being too crowded.
kjco**
Exactly what I was looking for, barely any watch faces that I've found includes the outside temperature, this one does