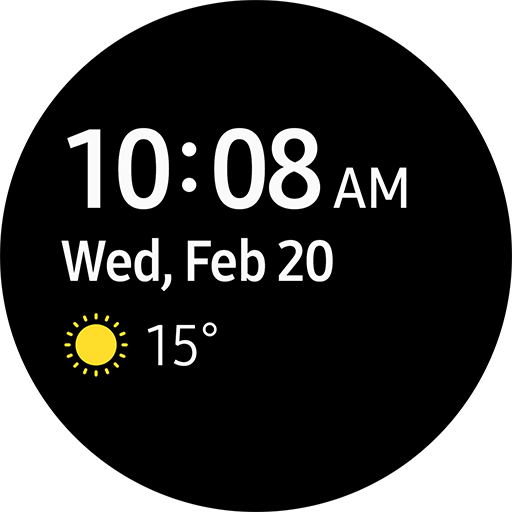 Description
The information you need. Clear, bold, simple.
OVERVIEW
Version1.0.0 (2020.05.15)
Size139.64 KB
Age restriction For all ages
ExpirationNo expiration date
Seller info
Seller : Samsung Electronics Co., Ltd.
Corporate/rep. name : Samsung Electronics Co., Ltd./김기남, 김현석, 고동진
Business license number : 1248100998
View details
fran**
I love this but wish the time was centered and there was a battery icon.
lenn**
the temperature stay the same
roth**
Temp says no info except when reduced size to change faces. No place tp change C to F.
dtaa**
Would give 5* if you add battery life
king**
Love this watchface, simple and clean. Would rate this 5 star if it showed battery percentage, that's the only thing missing.
alex**
This is my first review. Best watchface what i seen!
logo**
Please make more like this someone
pes-**
Battery percent would be good and some color changes
gcnj**
Loved
tlel**
Very simple. Temp info stop updating, just says no info.
baun**
Perfect
vanh**
Finally, a nice, simple, elegant watchface that literally has everything you need on a watch. Great job Samsung!
land**
Perfect. Very practical. Most of the time I usually use my watch for time, date, or weather. Reduced battery power is a must with these watches.
cher**
One of my favs. Its on my top 3 go tos
eric**
Love it! Please also make a white background one as well.