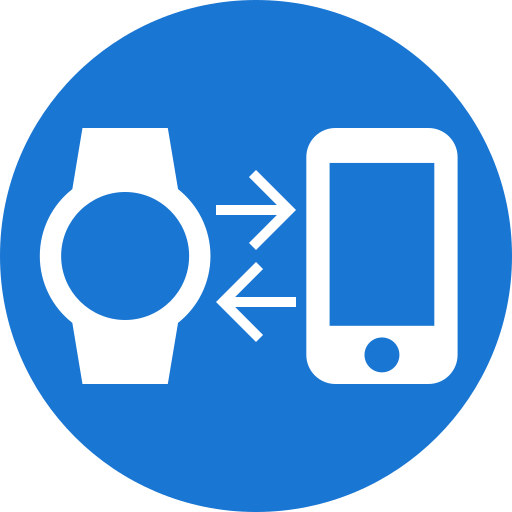 File Transfer And Manager Standalone
What's New
version 1.4.0:
+ redesigned main view
+ text file editor
+ zip/unzip option
+ search file option
+ added start screen

version 1.3.0:
+ added file/dir info view
+ improved performance

version 1.2.0:
+ added support for new languages
Description
☆ GET UNIQUE STANDALONE FILE TRANSFER APP ☆
☆ SHARE AND MANAGE FILES WITHOUT LIMITS ☆

NOTE: IF YOUR SMARTWATCH NAME IS NOT VISIBLE ON THE BLUETOOTH DEVICE LIST IN THE PHONE/TABLET/PC READ INSTRUCTIONS BELOW HOW TO RECEIVE FILES.

File Transfer allows you to manage, view, send and receive files in your smartwatch. 
This is unique app in the store that works in standalone mode - does not require any additional software in the PHONE/TABLET/PC to send and receive data. From now you can use your favourite file manager in Android/Tizen/iOS device to send and receive files from the smartwatch.

KEY FEATURES:
✓ send files to any Bluetooth device - SMARTWATCH/PHONE/TABLET/PC
✓ receive files from any Bluetooth device
✓ browse folders and files
✓ view files content
✓ copy/paste/rename/sort/delete options
✓ view memory information
✓ search files
✓ text editor
✓ zip/unzip option
✓ intuitive menu

SENDING FILES FROM THE SMARTWATCH:
1. launch File Transfer
2. long tap on the file list to enter edit mode
3. pick files to send
4. select Menu -> Share option
5. select receiver from the Bluetooth device list
6. accept files in the receiver

RECEIVING FILES IN THE SMARTWATCH:
1. before first data transfer - in the PHONE/TABLET/PC remove connection (unpair) with the SMARTWATCH
2. launch File Transfer
3. in the PHONE/TABLET/PC use Share -> Bluetooth option
4. if the SMARTWATCH name is not visible on the Bluetooth device list: 
4.1. in the SMARTWATCH: open Settings -> Connections -> Bluetooth panel
4.2. in the PHONE/TABLET/PC: select Bluetooth->Scan option
5. pick SMARTWATCH name from the Bluetooth device list in the PHONE/TABLET/PC
6. accept receiving files in the SMARTWATCH
OVERVIEW
Version1.4.0 (2020.02.07)
Size5.08 MB
Age restriction For all ages
ExpirationNo expiration date
Seller info
Seller : Somyac
Corporate/rep. name : Somyac Slawomir Baranowski/Slawomir Baranowski
View details
icat**
Okay
simp**
Not working
jaco**
Doesn't work I need a refund
dfei**
Works great!
dark**
I'm connected to my phone but I can't figure out how to transfer files. Can you help please?
ro88**
Doesn't work dont spend mon6on this.
yeis**
This app not works, I have images and music files and I don't see them. Refund please
hira**
My blutoothis discoverable and my smart watch is connected to my phone. In the app it says device is invisible but it also says that my phone is connected. I keep tapping where it says my phone is connected and nothing is happening. I don't see any option anywhere to transfer files TO my watch.
soft**
I can't find "settings -> connections -> bluetooth panel" on my smartwatch. My device is not visible! Pls, any solution