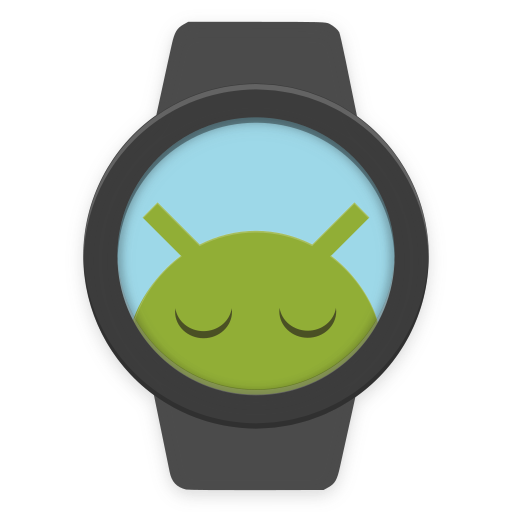 Sleep as Android - Native Gear Companion
What's New
Release notes

1.0.17
- Fixed issue where sleep tracking will not continue after a brief disconnect
- Fixed another autostarting scenario

1.0.16
- Lucid dreaming / Anti snoring hint 50% weaker
- Fixed issue where dismissing alarm caused sleep tracking to start if there was no tracking before the alarm
- Alarm will wake up the screen reliably, also fixes the issue when alarm vibrations would sometimes stop at random or not occur at all
Description
This is an add-on to a popular Sleep As Android application. You must have Sleep As Android installed. Main features:
 - Tracking of movement using watch, so no longer phone in bed!
 - Alarm on watch


Quick instructions how to use:
 - Install Sleep As Android from play store
 - Install Gear Add-on from play store.
 - Enable smart watch tracking in Settings→Sleep tracking→Use smartwatch.
 - Either start application on the watch - this will start also the application on the phone. Or start tracking from phone, this starts the watch application.
 - Everything works as normal, but the movement is captured on watch instead of phone, so you no longer need phone in bed!

Note: On some watches, the app may have battery impact larger than expected. Some troubleshooting steps are:

- some users report a reboot helped them to lower battery usage
- please use a default watchface 
- please put the device in DND mode (theather/sleep mode on some devices?) and turn off all radios

If there is still an issue, it might be a problem with the Samsung Accessory Service that sometimes happens and we cannot do much about it on our end.
To make it work again, please uninstall Samsung Accessory Service, reboot the phone and install it again.
OVERVIEW
Version1.0.17 (2019.10.04)
Size157.34 KB
Age restriction For all ages
ExpirationNo expiration date
scol**
Pretty good.
rhal**
Drains the battery to FAST the best watchface that does the same thing and doesn't kill your battery is G'Night Sleep Smart. Been using it for years.
josh**
It's been a few years since I've had Sleep As Android working correctly with Samsung phones and Pebble watch. Decided to try an Active2, and right away tracking worked flawlessly! Amazing! One huge problem = Battery drain. My active2 drops about 40%-50% during a day of heavy use, hundreds of notifications, always on screen, constant heartrate tracking, etc. But with screen off and no notifications over an 8 hour sleep watch drops 60%-70%. Something is killing the battery while tracking sleep. Also the watch app has no useful information. Pebble would show if you had a wakeup alarm enabled and what time is what set for. Active 2 doesn't, so you have to go check the phone app. Also the time is in 24 hour format and I can't find the setting to make it follow the system time setting. At least it tracks though so happy about that.
mpri**
I used this for one night on my galaxy active and woke up to a completely dead watch. It doesn't have auto track for when you fall asleep, you have to manually turn it on. The one thing I like about this is that it does catch my sleep better then the Samsung health app. Other then that this needs a complete overhaul to fix the battery drain
anto**
Works great for me using sonar and battery drain isn't much on my Note 19 plus. If you use sleep phsser light the drain is a lot so I don't use that.
hear**
Drained my active2 watch battery really fast - some nights my watch died before I got up in the morning - I would have paid to upgrade if it used significantly less battery.
jnbe**
Works well, but eats up a lot of battery and would be nice to have cancel option on watch.
pier**
You can pause and start the app, but no way to stop. Continues to run in background. Checked my phone said I'd been sleeping for 27 hrs wtf.
ga**
Sucks the Battery Dry even if I fully charge my watch before I go to bed. Something is not right!
venk**
Love the phone app. But always stuck at starting tracking screen when using on my Samsung Galaxy watch. Please Help!
pino**
Love this app but it keep saying to update it. The update doesn't work no matter how many times I update it...
Holl**
I've had this app for years and love it! I've had several phones, now use a gear s2, and their customer support has been responsive. I recommend this app.
m.ka**
Battery consumption is terrible, for 7 hours sleep monitor consumes %50 of the battery, always appears in the update lis but is not any new updates, don't waste your money
sank**
Great app! I've used this app almost every night for over a year. I have had no issues. Only 4.5 stars because it lacks two features: 1. does not have auto sleep detection for the nights I forget to start tracking. 2. The app runs in the background after I've stopped tracking and uses battery. Would be great if it would close the app at the conclusion of sleep tracking. Thanks for this awesome app! It's given me a better picture of my sleep habits so I can make changes to get more sleep!
myem**
"WHY HAVE YOU ABANDONED ME?!?!" - Sleep as Android Native Gear Companion