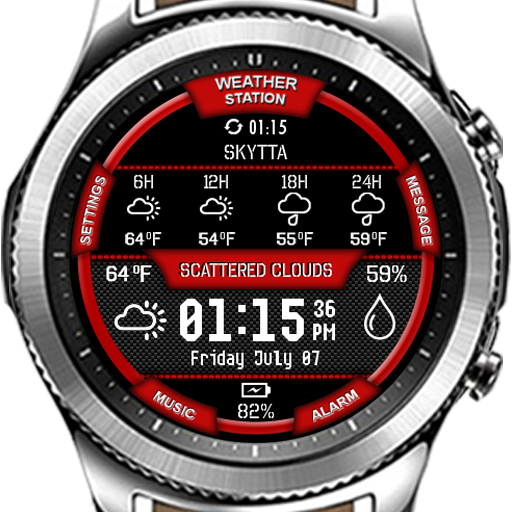 78ºN Weather Station, 12H Fahrenheit
Description
Digital watch face with current weather information and forecast for the next 24 hours (6, 12, 18, 24h)
Temperatures are in Fahrenheit.

Features:
- Digital 12h clock
- Day / Date / Month
- Current weather, temperature and humidity
- Current City
- Battery Level
- Forecast, weather type and temperature, for the next 24 hours (6, 12, 18, 24 hours)
- Weather description
- Shortcuts to:
          - Watch settings
          - Music Player
          - Alarm
          - Messages
- Ambient modes, with weather information, for Gear S2 and S3
- 12 different colors
  
Double tap humidity icon (drop) to change color.

Please note:
Weather information is pulled from an external service and is updated approximately every 2 hours.
If Your watch is not Connected to phone/internet at the time of update, values may be blank.
Pulling weather information at regular intervals will also have an affect on battery consumption.
If you experience battery drainage with this watchface, try disabling Always-On mode on your watch.
OVERVIEW
Version1.0.1 (2018.04.11)
Size2.3 MB
Age restriction For all ages
ExpirationNo expiration date
tyle**
2nd face from this designer and it's useless to pick unless you want it to only last MAYBE 1/2 day. Wasted money
kjai**
Does not install on my s3 frontier. I have tried resetting my s3, still didn't work. When I try to install, it freezes.
rmcl**
Nice design but real battery hog.
vicv**
Beautiful face. Love every aspect. I especially like the AOD on the S2.
wmra**
Would love this watch face if the weather feature updated more than once every 2 hours and it didn't run my watch down to 50% in 5 hours.
jdud**
Thanks for allowing me to test. Looks outstanding. Finished product rocks. Great job. Color options are beautiful.