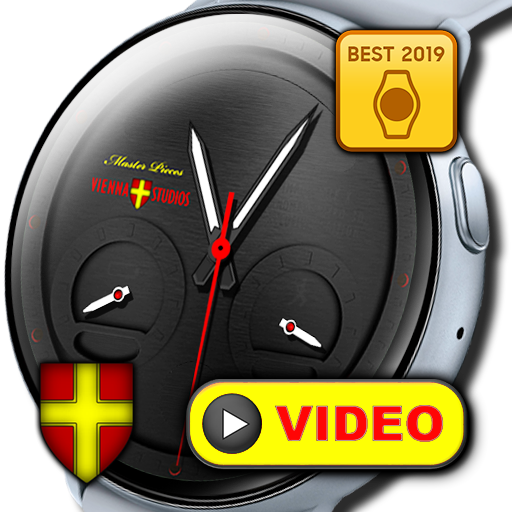 Master Pieces | ImpossibleX
What's New
Updated harmonized presentation for the whole Master Pieces store https://galaxy.store/mpvs
Description
Subscribe for chance to WIN A SMARTWATCH at www.viennastudios.com

Your new watch is composed directly on your wrist in a live time. Enjoy this satisfying feeling every time you look at your smart watch. Please check the description, promo pictures & video for more information.

My name is Tomas, I'm the designer of this model and if you do have any questions before or after purchasing, I would be happy to answer it at master.vienna.studios@gmail.com 

Real Watch Face Video Link at YouTube:
https://youtu.be/Utvri2LJj5c

Pilot Complications in Overview

Handmade Animation
Special 3D Wrist Rotation
Micro Animations (Heart & Flame)
Analog Time incl. Seconds
Digital Time incl. Seconds (12h / 24h)
Battery Level Digital
Steps Total Digital
Goal Steps Indicator
Heart Rate Digital
Burned Calories
Day in Week
Day in Month
Direct App Launcher
  Phone
  Calendar
  Fitness App
  Weather
  Alarm

High Contrast Hands
Realistic Hand Shadows
Smooth Hand Movement
3D Deep Effects
Double Quality Control (Developer Team & Samsung Galaxy Validation Team)
Intuitive Design
Premium Handcrafted
Video Presentation
Auto Mode for Digital Time (12h/24h)
Multi Language Date**
Three Colors Digital Battery Indicator
Battery Charging Indicator
Heart Rate Measurement
Steps Goal Indicator
Optimized Battery Consumption
One Tap Color Changer
One Tap App Launcher

** Supported Languages: Arabic, Belarusian, Bulgarian, Catalan, Chinese, Croatian, Czech, Danish, Dutch, English, Estonian, Finnish, French, French, German, Greek, Hebrew, Hindi, Hungarian, Icelandic, Irish, Italian, Japanese, Korean, Latvian, Macedonian, Malay, Maltese, Norwegian, Polish, Portuguese, Romanian, Russian, Serbian, Slovak, Slovenian, Spanish, Swedish, Taiwan, Thai, Turkish, Ukrainian, Vietnamese

More Master Pieces VIENNA STUDIOS watch faces: https://galaxy.store/mpvs
OVERVIEW
Version1.1.4 (2020.02.25)
Size3.95 MB
Age restriction For all ages
ExpirationNo expiration date
Seller info
Seller : Master Pieces VIENNA STUDIOS Design
View details
josh**
Honestly one of my favorites! It's a must buy if you are into a brilliantly designed transition. Along with WatchX these are perfectly put together. Great display and app launcher. This is another one added to my Vienna studios collection. Thanks again for the amazing art work I get to display every day!!
3j**
Beautiful design, looks wonderful on my Galaxy Watch.
jerr**
This watch face is phenomenal! The name sure fits the watch face, Tomas you are truly a very gifted watchmaker!
tcjc**
This watch face is amazing, in fact it's magical! You have a gift for this Thomas, thank you! Please keep them coming.