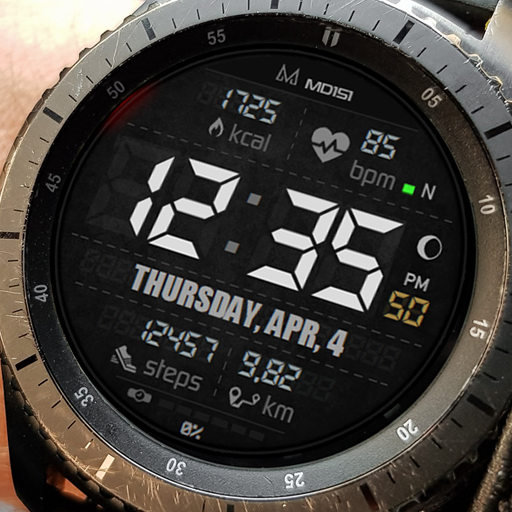 MD151 - Classic Digital Watch Face
Description
The MD151 is a classic digital watch face based on my previous MD89 with changeable Font colors..

It contains 4 Preset App shortcuts, 1 Customizable shortcut, Health Data.

KEEP IN MIND: for the best results, please clean the cache on the device before install any watchfaces.
Reboot the device keeping hold the home button until "Rebooting..." it appear on screen and release.
Set off the wi-fi connection if unused.

Features:

- 12/24hr Digital Time based on phone settings
- Moved distance in KM or Miles, based on Samsung Health settings
- Step Count
- BPM Heart Rate
- HR Interval
- kCal
- Battery bar
- 1 Persona App Shortcut
- 4 Preset App Shortcuts
- Changeable Font Colors on Digital Time
- Always ON Display supported on Gear S3, Sport and Galaxy Watch series, Active included
- Multi Languate Day+Date
- LED sweep secon effect
- Moon Phase

Preset APP Shortcuts (see the screenshots):

- Steps
- Samsung Health
- Heart Rate
- Calendar

Custom App Shortcuts (see the screenshots):

- DOUBLE TAP on the "MOON" to set the custom shortcut.

CHANGE FONT COLORS (see the screenshot):

- DOUBLE TAP on the hour and minute  to change colors

Check my home page: http:/galaxy.store/matteodini

FB: https://www.facebook.com/matteodiniwatchfaces
Instagram: https://www.instagram.com/mdwatchfaces/
MeWe: mewe.com/i/matteodini

For any question and support, write me an email.

Thank you.
OVERVIEW
Version
1.0.8 (2019.06.20)
Age restriction
For all ages
Expiration
No expiration date
maur**
Very nice watch face. Thank you!
xsga**
Love this watch face and I love that I'm able to change the colors to my college colors so I can still represent it!!
robo**
I love this watch face. Full of info that's easy to read & it looks great.
deni**
Very nice watch face. Using the Galaxy Watch.
heav**
Very cool!
bari**
Simple and cool.
bobc**
I McLove it. This is a great face. Bob C.
jess**
Love it!
scot**
Great watch face ...by the way for the poster who asked...the N means you have a Normal BPM I'm guessing!! Love this designer
jdud**
Simple and colorful. You can't beat free but Mateo has some amazing paid designs also.
juan**
What does the "N" beside bpm means?
osca**
Love this one like always. Matt could you please make MD120 available I changed phone and watch and I can't redownload it was my favorite.
ko0k**
Works great and looks cool. Thanks
mkj0**
Clean look. Love it!
jtck**
Misleading. Background isn't truly black.